ECHO Center's online tool targets pain management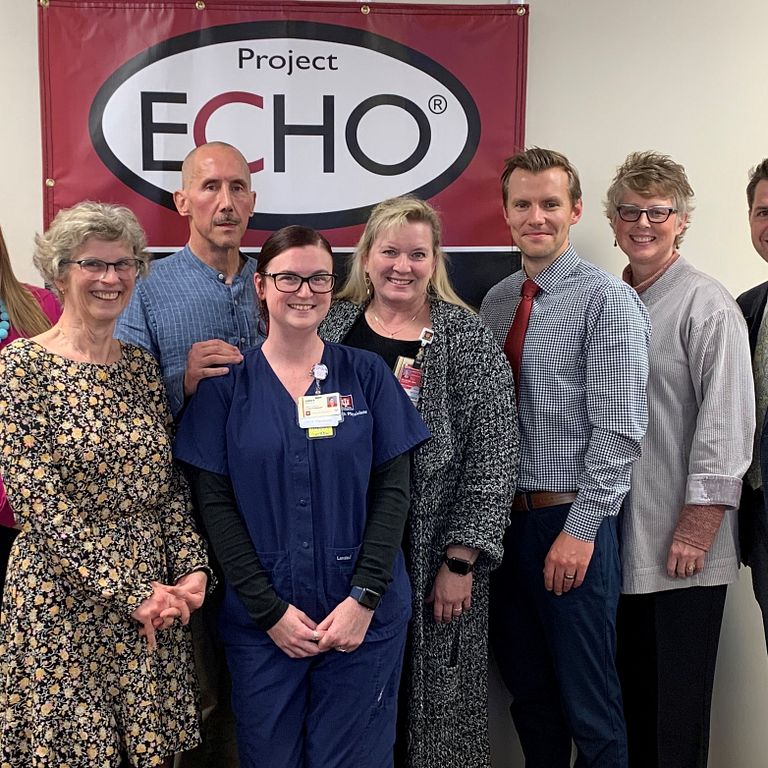 IUPUI faculty and staff have launched a new online training tool that aims to share best practices in pain management and care with health professionals statewide.
The IU Richard M. Fairbanks School of Public Health ECHO Center at IUPUI has launched the state's first Integrated Pain Management ECHO program – making this the seventh ECHO program offered through the center.
Project ECHO is a case-based learning system and guided practice model that increases medical education and workforce capacity to provide best-practice specialty care and reduce health disparities. Health care providers from multiple locations will connect with a specialist – or team of specialists – through videoconferencing at regularly scheduled times.
Dr. Joan Duwve, director of the ECHO Center, said the center is expanding rapidly to meet the needs of Hoosier health care providers and their patients.
The Integrated Pain Management ECHO includes an interprofessional team of pain-management experts and a cohort of health care providers from across Indiana – including physicians, pharmacists, advance practice nurses, physical therapists and social workers – who work together using brief presentations and case-based discussions to enhance the care of people with chronic pain.
Shop Herron artists' works for gifts
People seeking gifts for the holiday season can choose from a selection of affordable prints, ceramic wares and wooden objects made by Herron School of Art and Design artists, while supporting student clubs in the process.
Herron Winter Market is open to the public from 11 a.m. to 7 p.m. Dec. 13 in the grand hall of Eskenazi Hall. Cash and credit card payments will be accepted.
Visitors may park in the Sports Complex Garage adjacent to Eskenazi Hall or on levels 5 and 6 of the Riverwalk Garage.
Photo caption contest
Now is the time to enter the December Special Collections and Archives Caption Contest for a chance to win a prize.
This month's vintage photo has a terpsichorean flavor and shows a dance in the old Union Building from about 50 years ago.
Jenee Johnson won November's contest with the caption "Mom said we can have the SLEEPOVER!"
Top 100 nominations
Nominations for the IUPUI Top 100 are now being accepted at top100.iupui.edu.
Eligible students are juniors and seniors seeking their first bachelor's degree with a minimum cumulative GPA of 3.2 and who have completed 56 credit hours applicable to her/his degree program. Also, 25 or more of those hours must have been completed at the Indianapolis campus as of the fall 2019 semester.
Successful candidates for this award will have experience and/or performance in three categories: scholastic achievement, collegiate and co-curricular activities, and service learning/volunteer activities
December 2019 graduates are not eligible, and students can receive this award only twice, typically once as a junior and once as a senior.
The nomination deadline is Dec. 13. Students may also self-nominate.
For questions, contact the IUPUI Office of Alumni Relations at top100@iupui.edu or 317-278-1720.