Imagine you're sitting across the table from a longtime friend, having lunch. You're chatting and catching up, enjoying the meal and conversation, and things suddenly take a frightening turn.
Your friend starts to choke on their food. And not the kind of choking that happens when a bite goes down the wrong way, you start coughing and after a short time you're OK. This is choking that indicates an obstructed airway.
Your friend reflexively brings their hands to their throat and can't breathe – it's a life-and-death situation.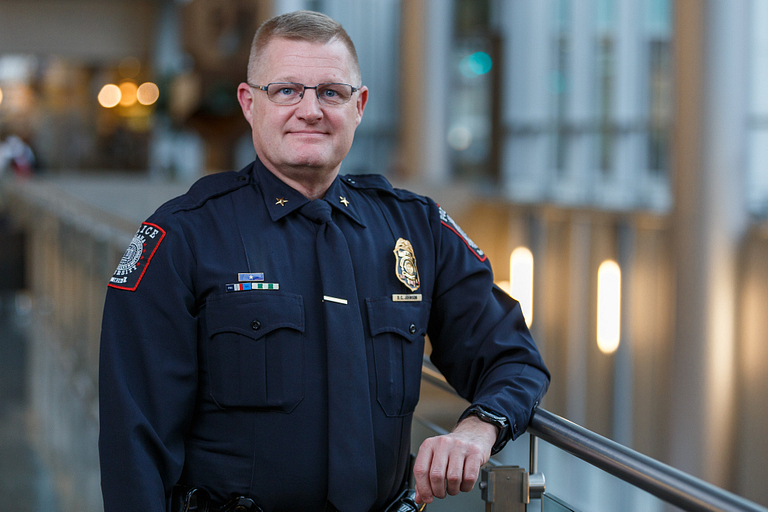 Doug Johnson, chief of the Indiana University Police Department at IUPUI, knows exactly what it's like to be in that position. And in his case, that confluence of circumstances happened twice in one month – once on Aug. 21 in South Korea while on military deployment as an Army Reserve soldier, and again Aug. 30, right here at IUPUI while having lunch with a friend.
Chief Johnson will receive IUPD's Life Saving Award on Dec. 13 as a result of his actions on those two days in August – in each case, saving a person's life by performing the Heimlich maneuver to dislodge food that was blocking their airway.
Johnson's actions are a testament to the fact that being in the right place at exactly the right moment with the right training – and, crucially, the impulse to act – during this type of emergency can prove to be the difference between life and death.
His lunch companion at IUPUI, a retired military officer, told him there were three times in his life when he thought he might die: twice during the Vietnam War, and the third time on Aug. 30.
"When you see someone truly choking, it's an intense experience," Johnson recalled. "The whole episode lasts from 10 to 15 seconds. If you're trained and can recognize what's happening, you know what you need to do to provide effective care. You have the opportunity to save a life. And you never know when the circumstances will present themselves."
Ben Hunter, associate vice president for IU Public Safety and Institutional Assurance and superintendent for public safety, wasn't at all surprised when he learned Johnson would receive the award.
"The fact that Doug stepped in to help people and is credited with saving their lives is completely in line with who I know him to be," Hunter said. "He takes his administrative role as chief of police seriously while never losing sight that he is there to help in any situation."
When asked what it means to him to receive the Life Saving Award, Johnson didn't skip a beat. "That's easy," he replied. "It's a reflection of the fact that there are two people here who wouldn't be otherwise. When I see the award Dec. 13, that's what it will represent. I'm just thankful I was there to do that."
"Each of these events lasted no longer than 15 seconds," he added. "The key to being able to provide effective care is to be CPR-trained. If you're trained and can recognize what is happening, you'll be in a position to potentially save someone's life."
The Office of Insurance, Loss Control & Claims offers first aid training on all of IU's campuses. Schedule training on its website.