A student-focused initiative is underway at IUPUI that's designed to help change the face of neuroscience research. Literally.
Lack of diversity in neuroscience graduate programs and advanced positions is a substantial problem. Too few minorities and females are in those programs and positions, and there are too few underrepresented undergraduate students preparing to study neuroscience.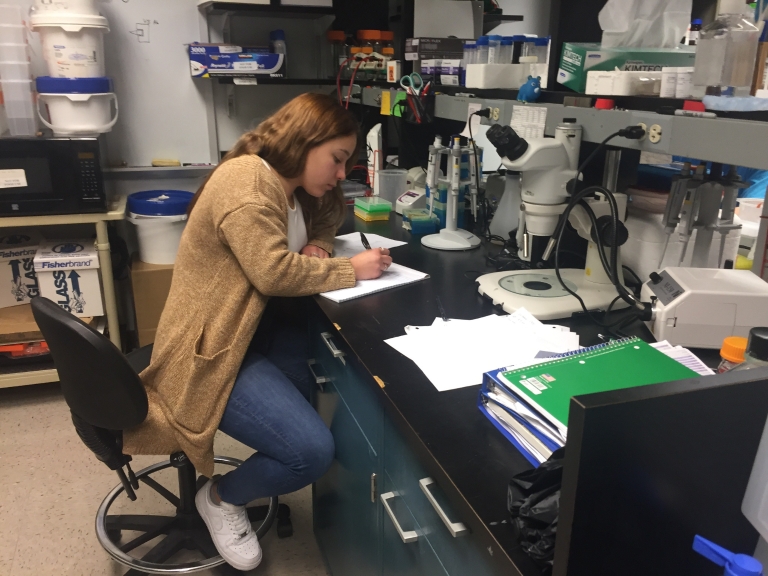 Three School of Science faculty members and an assistant dean in the IUPUI Graduate Office set out to change that, landing a $1.2 million National Institutes of Health grant to fund the Neuroscience Experience and Undergraduate Research Opportunities Program at IUPUI.
The faculty members and assistant dean are AJ Baucum, an associate professor in the School of Science's biology department and its neuroscience program; Steve Boehm, a professor of psychology, director of the undergraduate neuroscience program and primary faculty at the Stark Neurosciences Research Institute; Tabitha Hardy, assistant dean for student development and academic affairs; and Ted Cummins, chair of the biology department in the School of Science.
NEUROP will expand the exposure of undergraduate underrepresented minority students to neuroscience research and enhance the exposure of graduate underrepresented students to cutting-edge research and professional skills training, with the goal of fostering the next generation of minority scientists.
The fact that few students set their sights on becoming a research scientist isn't surprising, said Baucum, who is an underrepresented neuroscience research scientist.
Many, especially those from underrepresented minority households, aren't familiar with what a research scientist is or what they do, day-to-day, Baucum said. Further, becoming a doctor or a lawyer is regarded as being successful. Becoming a research scientist just isn't viewed in the same way.
"One of the aims of the grant is to particularly target underrepresented groups to give them exposure to these other careers and paths," he said. "We want to give students the opportunity to figure out what they want to be. If you want to go to medical school, into public policy or any of these different fields, these research experiences will help you do that."
Ultimately, a goal of the program is to increase the number of underrepresented minorities in faculty positions, Baucum said. "We know that not everyone wants to go that route. But we want to catch those who have never heard of neuroscience and have them give it a try."
Another aim of the program has to do with what underrepresented students aren't likely to see: others who look like them.
To help students overcome any feelings that they don't belong, Baucum said, "We let people know they should be here if it's something they are passionate about. We tell them they can do this if it's something they want to do, and here are the steps you need to take to get there."
NEUROP launched this fall, reaching out to undergraduates with a bridge program and a first-year science seminar that introduces students to neuroscience. The program also provides paid research opportunities, making it possible for students to conduct research in lieu of a paid job off-campus.
The bridge program targeted students who had a general interest in biology, psychology or neuroscience who were underrepresented minorities or economically disadvantaged. Many of those students are now in a first-year science seminar, Windows on Science, that exposes them to cutting-edge neuroscience research.
That approach is helpful, said Ines Rivera, a first-year undergraduate student who works in Baucum's neuroscience research lab. "I think it's helpful for students to know that the university has these resources for them. Maybe they didn't even know they were interested in research, and they started thinking, 'What if I did this internship here, and what if I did this there, and what if I worked with someone in a lab.' It opens up opportunities for students they maybe didn't even know were there."
Program success will be measured in different ways, Cummins said. "But we hope we will have more students taking advantage of the great resources that are available on our campus and become involved in research, whether it be in the School of Science or in the Indiana University School of Medicine with the Stark Neurosciences Research Institute," he continued. "These are world-class programs students can get involved with. So, if we can get students into labs, doing hands-on research, and some of those students go on to apply for graduate school, then the program will be successful."