It's time to lace up those sneakers and get moving! Climb IU, Indiana University's online, three-week stair-climbing and active-minutes challenge, returns Feb. 3.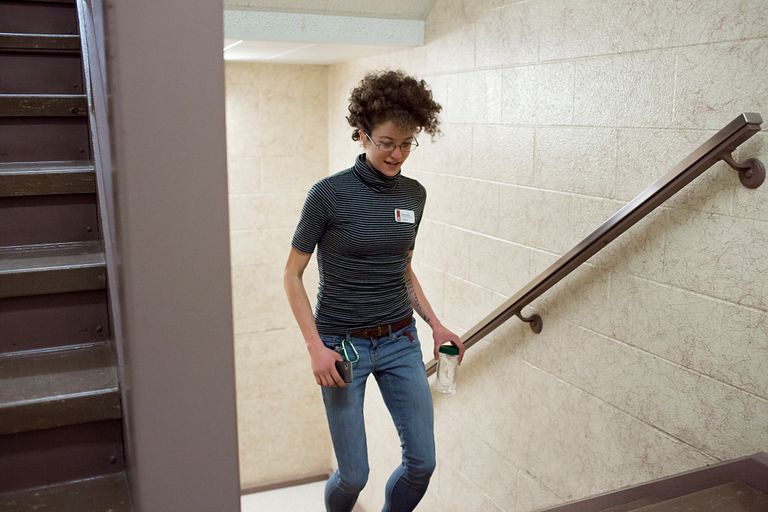 Offered by IU's workplace wellness program, Healthy IU, Climb IU is an opportunity to move more throughout the workday. All IU employees and their spouses are encouraged to sign up.
How it works
On Feb. 3, everyone who signed up for the challenge will receive a link to their personal online tracker, where they can set personal weekly goals and manually log their activity. Participants can choose what kind of activity they would like to track during the challenge:
Climbing stairs: Those who want to participate in Climb IU by climbing stairs will count every 12 stairs climbed as one flight in their tracker.
Active minutes: Those who want to participate in Climb IU by active minutes will count every three minutes of physical activity (stretching, walking, moving as able) as one flight in their tracker. A conversion calculator is provided to make it simple.
Participants have the option to count both.
The intention of Climb IU is for every IU employee to feel supported in moving more at work, while also having fun and encouraging social support from colleagues and leadership along the way. For those who are curious about the progress of Climb IU overall, weekly results will be shared.
Team spirit
One of the fun and unique aspects of Climb IU is the option to be on a team or participate individually. Participating on a team can offer extra motivation and camaraderie, and it takes just a little extra planning.
To be on a team, ask your co-workers and colleagues if there is an existing team you can join, or start your own team by asking co-workers and/or your spouse to join you. Here are a few tips about a team sign-up:
There's no limit to how many people can be on a team.
Get your creativity flowing and think of a fun team name.
Every team needs a team captain, whom Healthy IU will contact if it has a question.
All team members will need to register themselves, and will need to provide the team name and the name of the team captain when they sign up.
Want more team tips? Read more about how to be a great teammate on the Health IU site.
Moving more throughout the day
Current physical activity guidelines call for at least 150 minutes of physical activity per week. But Climb IU strongly emphasizes the importance of moving in short bouts throughout the day. Not only does every single minute of physical activity count toward the weekly goal, research finds that short bouts of physical activity boost overall health, lower stress and improve cognitive function. They also reduce the risk of heart disease and high blood pressure associated with sedentary behavior.
Climb inspiration
Sedentary behavior is highly prevalent in the U.S. population. The U.S. National Health and Nutrition Examination Survey indicates that children and adults spend about 7.7 hours per day – 55 percent of their monitored waking time – being sedentary.
In line with national statistics, sedentary behavior is also prevalent at IU. The 2019 IU Workplace Health & Wellness Survey found that 82 percent of IU employees have sedentary jobs. Of those employees who describe their job as mostly sitting, less than half – 43 percent – say they are able to get up and move around or stand and stretch once every hour during a typical eight-hour workday. This is an 18 percent relative decrease from 2013.
Climb IU is one opportunity Healthy IU provides to reduce sitting time at work.
"It can be hard to tear ourselves away from our workstations, for even a few minutes," Healthy IU manager Samantha Schaefer said. "We hope that Climb IU inspires people to take microbreaks for movement, and discover how they feel more energized mentally and physically."
This will be the fourth time that Healthy IU has offered Climb IU. Participants this year have two goal options: Setting a personalized goal or, in honor of the IU Bicentennial, climbing 200 flights (or the equivalent in active minutes) over the course of the challenge.
Registration for Climb IU is open through Jan. 31.
Julie Newsom is a communications specialist for Healthy IU.