BLOOMINGTON, Ind. – Tens of thousands of individuals from around Indiana, the nation and the world took part in Indiana University's special Day of Commemoration to celebrate Martin Luther King Jr. Day and the IU Bicentennial on Jan. 20.
Members of IU's worldwide community came together in person – or joined online and across social media – to experience multiple milestone events on IU's Bloomington campus. These events included:
The dedication of the university's new Big Red 200 supercomputer.
The inaugural ringing of the Arthur R. Metz Bicentennial Grand Carillon.
The unveiling of two new allegorical paintings representing the university's Latin motto, "Lux et Veritas," and a six-panel mural depicting the modern history of IU Bloomington.
The debut of Megalonyx jeffersonii, or "Megajeff," a digitally reconstructed skeleton of a giant sloth that roamed Indiana during the ice age.
The headline event of the day, a keynote lecture by acclaimed actress Viola Davis.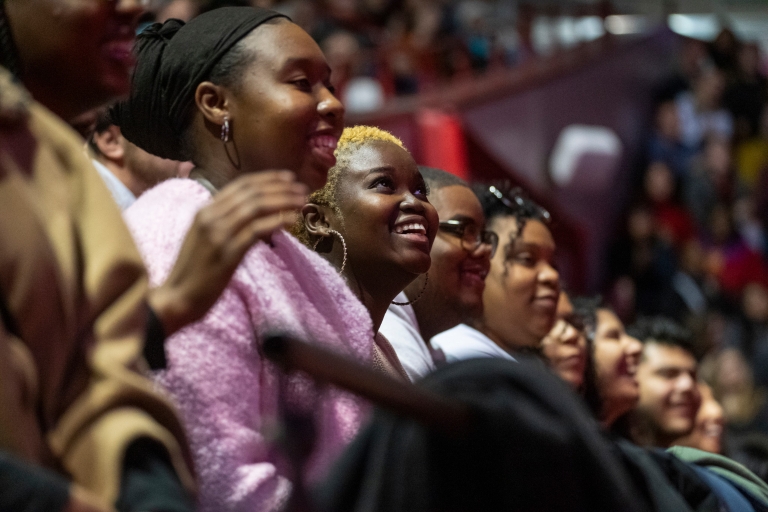 Around 6,000 current and former students, faculty, staff and friends gathered at Simon Skjodt Assembly Hall to hear Davis' lecture and see IU President Michael A. McRobbie present her with an honorary IU doctoral degree. Davis, the first black actor to win acting's triple crown – Oscar, Emmy and Tony awards – also met with a group of IU students and gave a pep talk to members of the critically acclaimed IU African American Choral Ensemble, who delivered a rousing performance before her address.
During Davis' lecture, and throughout the day's events, IU's social media channels served as virtual gathering spaces for members of IU's worldwide community to celebrate IU's founding on Jan. 20, 1820, and the legacy of Martin Luther King Jr. Reflecting the energy and excitement of the day and the start of IU's third century, IU news stories, photos and videos – including a video of prominent IU alumni and friends from around the world wishing the university a happy birthday – have been viewed more than 870,000 times and have been liked, shared or commented on more than 21,000 times.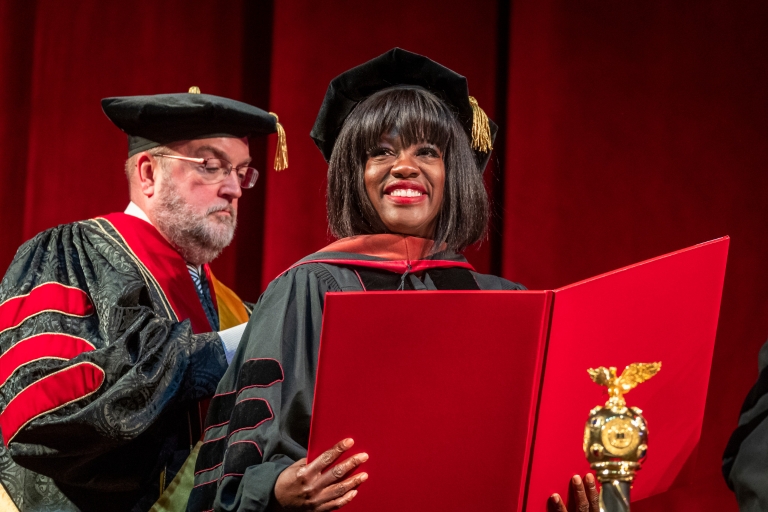 "The stories of Indiana University are the stories of its people – the students, faculty and staff who have helped to build and sustain the university," McRobbie said during a special Bicentennial Anniversary Luncheon. "For 200 years, the faculty and staff members of this great university have not only been responsible for the day-to-day operations without which the university could not function, they have also helped to build at Indiana University a closely knit university community with a tradition of mutual respect and commitment."
Also included in IU's Day of Commemoration were:
Big Red 200
IU's Day of Commemoration began Monday morning at IU Bloomington's Cyberinfrastructure Building with the dedication of Big Red 200, IU's new supercomputer and one of the fastest university-owned, artificial intelligence-capable supercomputers in the nation.
Nearly 500 audience members attended the standing-room-only dedication ceremony, where they learned about the power of Big Red 200 and heard IU faculty describe how the supercomputer's capabilities will push the boundaries of public-impact-focused research at the university across a wide range of disciplines, including health and medicine, artificial intelligence, cybersecurity, environmental science, machine learning and physics.
Metz Bicentennial Grand Carillon
The Metz Bicentennial Grand Carillon, a musical instrument composed of 65 bells in a bell tower, made its symbolic debut. The original carillon was built in 1970 and dedicated in 1971, but in conjunction with the IU Bicentennial, it was upgraded and relocated from 17th Street by Jordan Avenue to the center of IU Bloomington campus, in the middle of the IU Cox Arboretum.
The upgrade included adding four new bells, bringing the total to 65 and making it a grand carillon – one of fewer than 30 in the world and one of only a handful nationwide.
About 300 onlookers braved 20-degree weather at midday Monday to hear world-renowned carillonneur and IU Jacobs School of Music alumnus John Gouwens perform the IU alma mater on the carillon, which more than 64,000 people have viewed online. The carillon, which will be formally dedicated and host its first official concert on April 26, also tolled 200 times on Monday in acknowledgement of IU's first 200 years.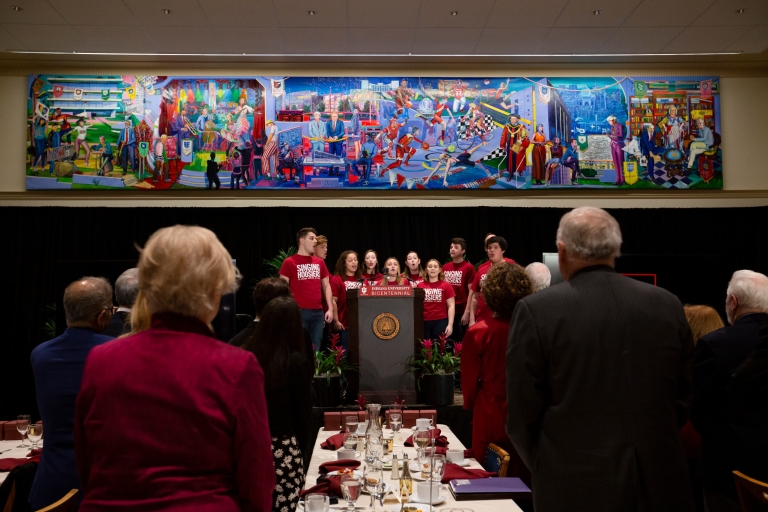 200th Anniversary Lunch
A 200th Anniversary Lunch was held for about 250 faculty, staff and students who have developed numerous IU Bicentennial-related projects. There, McRobbie helped unveil "Lux et Veritas" by Bonnie Sklarski, professor emerita in the IU Eskenazi School of Art, Architecture + Design. The work, one of two commissioned for the IU Bicentennial, features two allegorical paintings representing IU's motto, which means "light and truth."
At the luncheon, researchers from IU's Indiana Geological and Water Survey helped debut "Megajeff," a digitally reconstructed skeleton of a giant sloth that had been housed at IU during the late 19th and early 20th centuries. Megalonyx jeffersonii, as it is officially known, will remain in The Commons at Franklin Hall for several weeks. Then it will begin a tour of other buildings at IU Bloomington and other IU campuses and schools around the state.
200th Anniversary Dinner
At the 200th Anniversary Dinner on Monday evening, a six-panel mural depicting the modern history of IU Bloomington was unveiled before about 500 invited guests.
The mural, created by Caleb Weintraub, associate professor of painting in the IU Eskenazi School of Art, Architecture + Design, has been permanently installed in the Wright Quadrangle dining hall alongside seven existing murals that depict IU's history from 1820 to 1998, and it fills the gap through 2020. As McRobbie noted, it highlights IU's commitment to building a diverse, multicultural community with its inclusion of IU's first African American president, Adam Herbert, as well as the first vice president focused on diversity matters in any Big Ten institution, Charlie Nelms.
It also depicts the commitment of IU students to the pursuit of social justice, equality for all and to improving the quality of life for members of the IU community and Indiana residents. Included in the mural are student government leaders and IU Dance Marathon participants, who have raised record amounts in support of Riley Hospital for Children at IU Health. The new mural also spotlights IU's stature as one of the most international universities in the nation in a montage that represents the university's global engagement and in a depiction of new and planned facilities that support this engagement.
IU's yearlong Bicentennial celebration will continue through June. Visit the IU Bicentennial website for more information about upcoming events and projects.