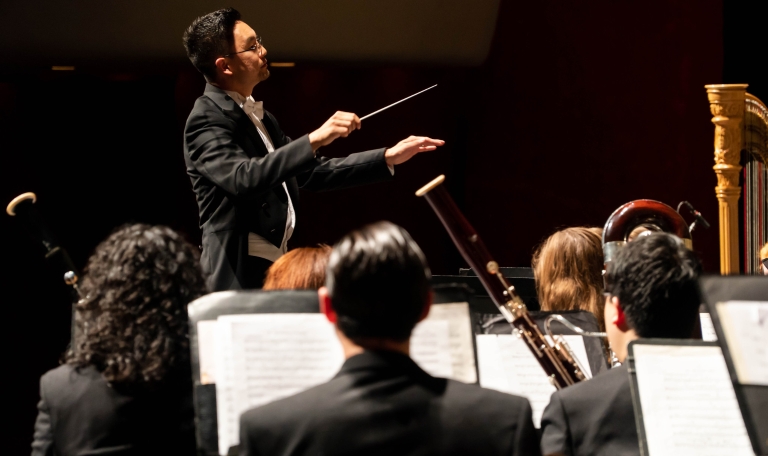 BLOOMINGTON, Ind. – The Indiana University Jacobs School of Music Concert Band has been selected to perform for the first time at the North Central Division Conference of the College Band Directors National Association.
Directed by assistant professor Jason H. Nam, the band will perform at 4:30 p.m. Feb. 20 at the Holtschneider Performance Center at DePaul University in Chicago.
Fellow Jacobs faculty members Eric M. Smedley and Otis Murphy will serve as guest conductor and guest saxophone soloist, respectively.
The Concert Band was invited to perform following submission of a live recording to a blind audition process and is one of only eight collegiate ensembles across the Midwest to be selected.
"The IU Jacobs School of Music Department of Bands will have had all three of its music-major concert bands perform at a CBDNA convention in the past five years," said Rodney Dorsey, chair of the department. "I can't think of any other institution that has had three different concert bands selected for this honor."
Smedley, former department chair, conducted the IU Jacobs Symphonic Band at the previous CBDNA North Central Division Conference, two years ago in Kalamazoo, Michigan. Longtime department chair Stephen W. Pratt, now retired, conducted the school's Wind Ensemble at the CBDNA national conference in 2015.
The trip to Illinois will include a side-by-side concert with the Downers Grove South High School Wind Ensemble in Downers Grove at 7 p.m. Feb. 19.
Part of the Feb. 20 repertoire – including the world premiere of "And Sings the Tune Without the Words" by award-winning guest composer Aaron Perrine – may be heard at 8 p.m. Feb. 11 in Bloomington's Musical Arts Center. The piece was commissioned by Nam and his wife, Melissa, in memory of their daughter, Evelyn. The concert will also feature the IU Symphonic Band, directed by Smedley and Dorsey.
The IU Jacobs School of Music Concert Band performs major works of the traditional wind band repertoire as well as new compositions by leading composers.
Consisting of both graduate and undergraduate music majors, the ensemble performs two or three concerts per semester, and a core group is often taken from the membership of the ensemble to form various chamber winds groups.