Those who love Indiana University sports have a chance to possess a bit of Hoosiers history.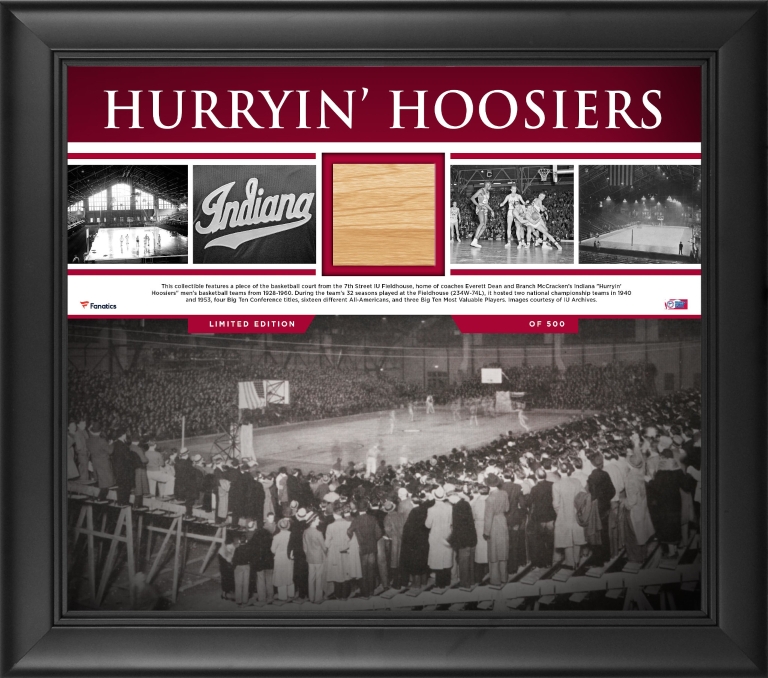 Pieces of the basketball court used from 1928 to 1960 at the old Seventh Street IU Fieldhouse are being sold at the IU Online Store, and staff and faculty with a valid IU email address can enter a giveaway contest for a chance to win one of the products being sold.
Among the basketball teams to play on the court were IU's 1940 and 1953 men's NCAA championship squads. The old court was donated to IU by alumna Betty Toombs.
Four products were developed, with 500 of each made. The products feature pieces of game-used court, historical photos or images, descriptive text and display framing or casing. They range in price from $89.99 to $179.99.
IU Licensing and Trademarks worked with IU Athletics, IU Surplus, the IU Office of the Bicentennial and IU Archives to develop the commemorative court pieces with the IU Online Store, in celebration of the bicentennial, said Associate Vice President of Business Partnerships for the IU Office of the Vice President for Research Valerie Gill.
"We love to create unique pieces that celebrate IU's history and traditions," Gill said. "This invites fans and graduates from this period to reflect on the time. The memorabilia pieces provide younger fans insight into IU's rich history."
Fanatics, an online sports apparel and memorabilia retailer, cut the flooring into pieces to fabricate the products, but otherwise left the flooring in its original state.
"We believe that in order to preserve the authentic nature of the court, we do not touch up or adhere any special treatment to the court before manufacturing," said Sean Berg, director of product and licensing for Fanatics. "When looking at the court, you can tell the age and wear from years of use."