It took many trials to craft what Indianapolis Monthly named 2017's Best Barbecue Sauce that is now served all over the Indiana University Bloomington campus.
Lathay Pegues had the idea while he was a student, pondering what could be in his late grandfather's delicious barbecue sauce that had no written recipe.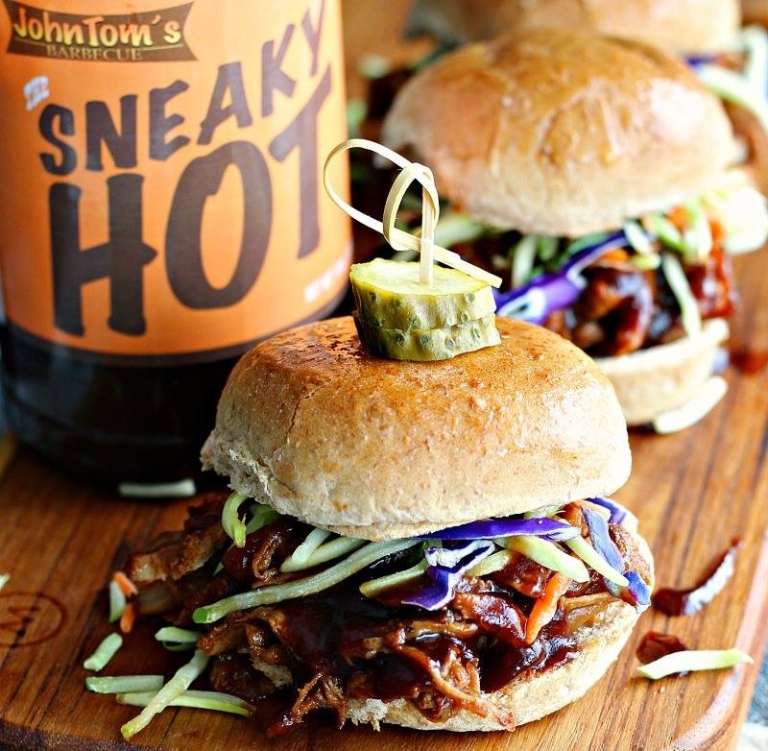 Later, the 2000 graduate – along with cousin Terrell Cooper and their friend Rodney Robinson – banded together to start JohnTom's Barbecue, named after Pegues and Cooper's grandfather.
"He was passionate about barbecue," Cooper said. "It was like his pastime, and his pastime was really his passion."
After retiring from factory work, John Tom wanted to open up his own barbecue restaurant. He was looking into locations when he passed away from a heart attack in 1986. Pegues said his grandfather had memorized his recipe and never wrote it down.
For five years, Pegues spent many weekends experimenting in the kitchen to try to uncover the secret to his grandfather's delicious barbecue sauce.
"I would just turn my jazz on and get my notebook out and try another batch," Pegues said. "After I was done, my wife was usually the taste tester."
Pegues realized he couldn't quite replicate his grandfather's sauce, but he created another tasty option. After he lost his job at a news station due to budget cuts, he approached Cooper and Robinson with the idea of launching a barbecue business.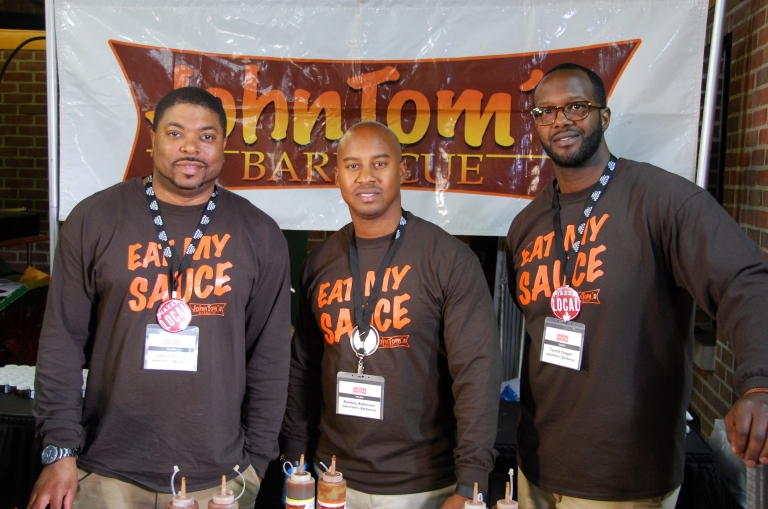 Pegues had always loved to cook since age 5 – Robinson and Cooper got a later start – but a barbecue business wasn't always the game plan. Pegues graduated from IU in 2000 with a degree in journalism. Cooper graduated in 2005 from what is now The Media School. Robinson was in the Kelley School of Business and graduated in 1998.
"We found ourselves on that campus," Cooper said. "IU gave us the foundation to be the young professionals and men that we are today."
Pegues said he now runs the business full time, while Cooper and Robinson help out part time. For their day jobs, Cooper works in advertising and Robinson in sales.
They started the business in 2006, but it didn't really take off until the end of 2014 when Pegues started working full time for JohnTom's.
"We literally started off selling sauce from the trunks of our cars," Robinson said. "For the first several years, business growth was very slow."
In January 2019, the alumni approached IU Dining with their sauce. Pegues said there were chefs and decision-makers who loved the sauce and their story, which resulted in a partnership. IU Dining and IU Catering use the sauce on their dishes and now sell it in on-campus convenience stores. The sauce is bottled in an Indianapolis facility.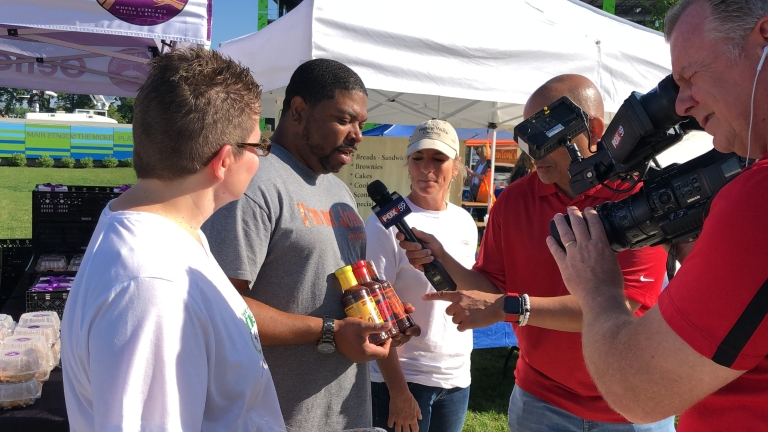 "This was a dream of ours," Pegues said. "IU has always been in the conversation. I began trying to make the sauce while I was attending IU, and now we have an IU account. It's like a full circle thing."
Cooper said no words are able to properly capture the dynamics of who the men are as partners.
"I think people equally enjoy spending time with us as much as they do enjoying our product," Cooper said. "It is about the story. It is about the Indiana pride, but it's also about who we are as individuals."
And as individuals, the three men said they're just like John Tom: passionate. Pegues said they genuinely care about their customers' satisfaction and will do anything to help. He once spent over 20 minutes at a food show showing a man how to use a smoker. When the man later called and asked for more advice, Pegues said he was happy to help.
Andrew Smith, the area manager of all the convenience stores and cafes on the IU Bloomington campus, said you can find JohnTom's sauce on top items like barbecue pizza, chicken tenders and pulled pork sandwiches.
"It is really good, and I know I look for them when I am out shopping for barbecue sauce," Smith said. "A bonus is they are a local company and graduates from this university."
JohnTom's Barbecue offers Hoosier Heat, Original and Sneaky Hot barbecue sauces. They can be found on IU Catering dishes and can be purchased online, in IU's convenience stores, and in other stores across the Midwest.