SALEM, Ind. – Building upon the energy of nearly two years of arts, cultural and quality-of-place planning and programming with the Indiana University Center for Rural Engagement, Washington County will partner with the center's Sustaining Hoosier Communities initiative to connect faculty and students with community-identified projects.
A yearlong engaged teaching collaboration, Sustaining Hoosier Communities harnesses more than 20 IU Bloomington courses and the energy of hundreds of students to address projects including health and wellness, infrastructure planning, and natural resources management. This initiative received international recognition as the 2019 Outstanding Program of the Year from the Educational Partnerships for Innovation in Communities-Network.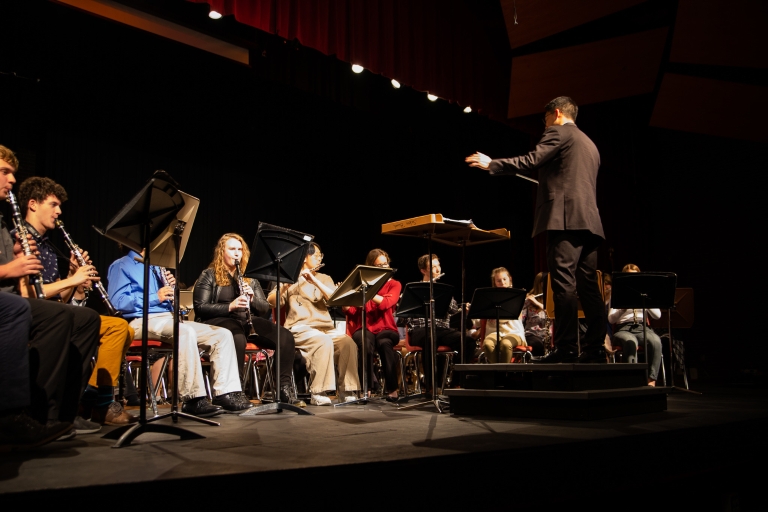 "We are so excited to partner with the Center for Rural Engagement," said Judy Johnson, executive director of the Washington County Community Foundation. "Over the last year, we have had many community meetings and opportunities for our citizens to express their ideas for creating our preferred future in Washington County. I think the timing is perfect for Washington County; as we begin a new decade, we have the opportunity to work together to make our community an amazing place to live, work, play and raise a family."
About 50 miles southeast of the IU Bloomington campus, Washington County is home to 28,415 residents, vast natural resources including a portion of the state's longest hiking trail – the Knobstone Trail – and historic sites such as the John Hay Center complex and Beck's Mill. The county's economy is rooted in agriculture and the metal and lumber industry. Washington County will be the fourth county to partner with the center on the Sustaining Hoosier Communities initiative.
With the center's launch in 2018, Washington County established a strategic effort focused on quality of place, including an ongoing rural arts series involving the Jacobs School of Music, IU Cinema, the Department of English, and other Arts and Humanities Council campus partners.
"The IU Center for Rural Engagement welcomes this opportunity to deepen our partnership with Washington County during the 2020-21 academic year," said Kerry Thomson, the center's executive director. "This engaged teaching initiative will connect a breadth of resources to projects that meet the community's goals and continue to expand local capacity for new initiatives with an intensive, comprehensive approach."
Community meetings to generate ideas, hear feedback, and discuss possible projects and plans will be held throughout the county in February. Each meeting will take place from 5:30 to 7:30 p.m. on the following dates:
Feb. 4: Campbellsburg Community Building, 21 W. Oak St. in Campbellsburg.
Feb. 6: Pekin Park Community Building, 325 E. Karnes Court in New Pekin.
Feb. 11: Senior Citizen Center, 1705 N. Shelby St. in Salem.
These meetings are open to the public, and light refreshments will be served. Residents are encouraged to attend any of the scheduled sessions for a full discussion and planning activities. Residents are also welcome to contact the Washington County Community Foundation at 812-883-7334 or email Judy Johnson at director@wccf.biz to share ideas and learn more about this partnership.
IU Center for Rural Engagement
The Indiana University Center for Rural Engagement improves the lives of Hoosiers through collaborative initiatives that discover and deploy scalable and flexible solutions to common challenges facing rural communities. Working in full-spectrum community innovation through research, community-engaged teaching and student service, the center builds vision, harnesses assets and cultivates sustainable leadership structures within the communities with which it engages to ensure long-term success.