Students, faculty, staff volunteer as part of MLK Day of Service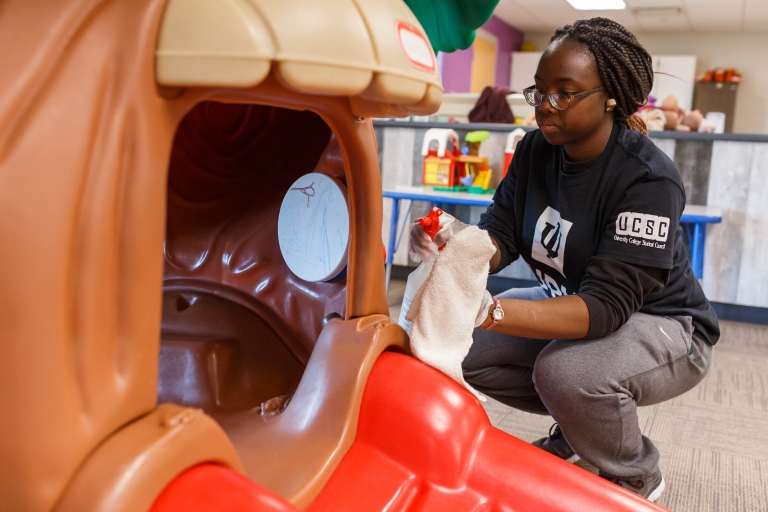 IUPUI students, faculty and staff volunteered at several community sites across Indianapolis on Jan. 20 as a way to honor Martin Luther King Jr.'s commitment to service and social justice. Projects for the 2020 Week of Action were at sites including Newfields, Baxter YMCA, Concord Neighborhood Center, Coburn Place and The Milk Bank.
If you'd like to know more about Martin Luther King Jr. Week of Action or ask questions about next year's volunteer opportunities, contact Community Service and Civic Engagement at commserv@iupui.edu or 317-278-2662.
ICYMI: Use NameCoach to help with pronunciation of names
NameCoach is a tool designed to help instructors and students learn how to pronounce names. Students, faculty and staff can also use it to specify and share gender pronouns. Learn more about how to use it via the Knowledge Base.
Faculty, if you'd like to encourage students to record their names in NameCoach, consider creating an assignment in Canvas.
New food offering at Simply Puur
Simply Puur in the Campus Center has a new offering for the new year: delicious baked potatoes with a variety of toppings.
Learn more about the new food item in this video from Food at IUPUI.
Nominate colleagues for the 2020 Glenn W. Irwin recognition award
Nominations are now open for the IUPUI Glenn W. Irwin, Jr., M.D. Experience Excellence Recognition Award.
The award recognizes those individuals whose service activities go above and beyond the responsibilities of their basic job. Any full-time IUPUI faculty member who has worked for the university a minimum of 12 months can be nominated.
Nominations are due no later than 5 p.m. Feb. 10. Nomination guidelines and submission information are available from the Office of Academic Affairs. Questions? Contact Karen Lee at klee2@iupui.edu or 317-274-2215.
Register now for LGBTQ Health Care Conference
The LGBTQ Health Care Conference is a two-day event designed for nurses, physicians, physician assistants, psychologists, speech pathologists, social workers, students, trainees, community members and other allied health providers who seek to understand the unique health considerations and barriers to health care in the LGBTQ population.
IUPUI students and IU School of Medicine residents may register at no cost. The conference will take place at the Campus Center.
For additional information about the conference or to register, visit the School of Medicine's website.
Holocaust remembrance events planned at IUPUI
Staff, faculty and students are encouraged to attend the 2020 Holocaust Remembrance Ceremony at noon Jan. 27 in the Campus Center.
At the ceremony, Dee Schwartz will share her family's story of survival during and after the Holocaust. Community leaders and IUPUI students, faculty and staff will be invited to participate in memorial candlelighting. Attendees will enjoy a special performance of music from Brundibar and Vedem, a four-month project presented by the Indianapolis Opera in partnership with the Indianapolis Children's Choir and local Jewish community organizations, combining two operas related to the Terezin concentration camp and demonstrating the power of music to save lives.
The Campus Center will also host an International Holocaust Remembrance Program at 6:30 p.m. Jan. 27 featuring Dr. Sabine Hildebrandt of Harvard Medical School, who will speak about the ethics of using anatomical research conducted by Nazis on concentration camp victims. Hildebrandt will also deliver the Dr. William S. Silvers Lecture on Holocaust, Genocide and Contemporary Bioethics at 7 p.m. in the Campus Center Auditorium.