INDIANAPOLIS – The IUPUI Herron School of Art and Design's first exhibitions of 2020 open Jan. 15 with a reception from 5:30 to 8 p.m., kicking off another chapter of visual art encounters on the IUPUI campus.
The school's galleries will present two posthumous displays of works by Ronald Bladen (1918-1988), a pivotal figure of postwar American art, and painter-printmaker Sam Francis (1923-1994), as well as new works by artist-in-residence Sylvie Rosenthal.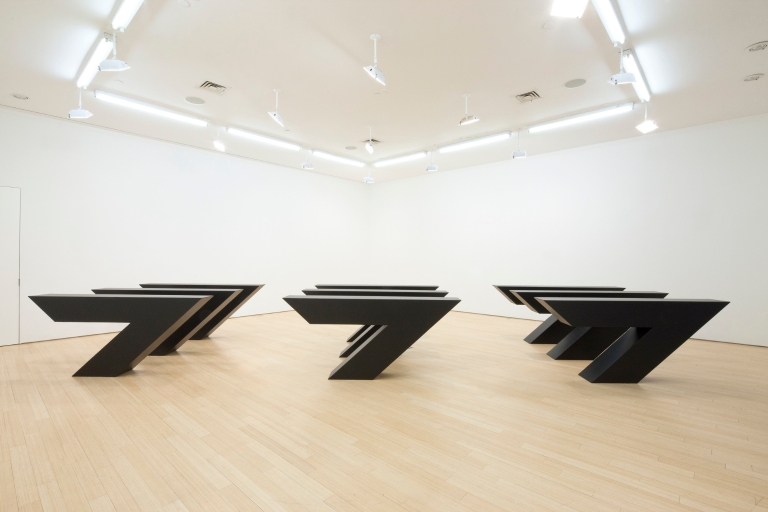 "Angle / Edge / Plane" focuses on Bladen's practice as a sculptor, whose aesthetic influenced fellow minimalists Carl André, Donald Judd and Sol LeWitt. A collection of models, drawings and photographs from the early 1960s to the 1980s are on loan from the estate of Ronald Bladen and the Loretta Howard Gallery in New York, including an exhibition copy of Bladen's 1974 large-scale sculpture, "Chevrons," that serves as the fulcrum of the exhibition. "Angle / Edge / Plane" is supported by a generous gift from the Creative Motif Fund and was organized by the Ewing Gallery of Art and Architecture at the University of Tennessee, Knoxville.
"Form & Color" draws from the extensive private collections of Jordan D. Schnitzer and the Jordan Schnitzer Family Foundation and highlights over 20 years of prints by abstract expressionist Sam Francis. In conjunction with the opening reception, Francis' master printer, George Page, will deliver an artist's talk centered on their collaborations at The Litho Shop – a Santa Monica, California, printmaking studio founded by Francis in 1970. Page's talk is supported by a generous gift from the Sam Francis Foundation.
"Intersecting Flight Patterns / Natural and Hybrid Histories" features the imaginative creations of Wisconsin-based woodworker and sculptor Sylvie Rosenthal. Merging high-end production skills with a conceptually driven practice, Rosenthal imbues her objects with layers of meaning that reflect her fascination with human history and our material culture that defines us. Rosenthal will discuss her work and studio practice during the 2020 Phillip Tennant Furniture Artisan Lecture from 5:30 to 6:30 p.m. Wednesday, Feb. 19.
All three exhibitions will remain on view through Feb. 22. Herron's events and exhibitions are free and open to the public and take place in Eskenazi Hall, located at 735 W. New York St. Gallery hours are 10 a.m. to 5 p.m. Monday through Saturday and 10 a.m. to 8 p.m. Wednesdays. Visit HerronGalleries.org for more information.
About the Herron Galleries
Since 2005, the Galleries at IUPUI's Herron School of Art and Design have served as a vibrant site of exploration, participation and learning. Herron's galleries continue to be an innovative educational forum for diverse audiences by providing direct and meaningful encounters with art and artists through a wide range of curatorial projects and public programming.