In 1911, 15-year-old Maggie works 12-hour days in a Belfast linen mill, making tablecloths for the Titanic, which is being built nearby. Amid dust fibers filling the air and standing water drenching her feet, Maggie aspires to go to America and marry a man like her sister's husband. When she finally gets there 10 years later, she doesn't marry a man like her sister's husband; she marries the man himself.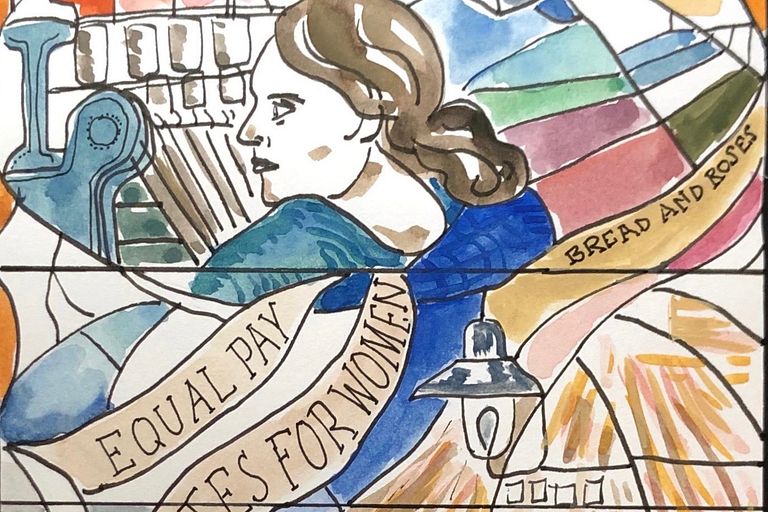 Maggie's story forms the basis of "Bread and Roses," a full-length graphic novel being written and illustrated by Kelcey Ervick, a professor of English at Indiana University South Bend. Ervick received one of 16 New Frontiers in Arts and Humanities grants recently awarded to IU faculty members from four campuses.
While Ervick's project is a novel, the 100-year-old story is based on the life of her great-grandmother and is "as true as it can possibly be," Ervick said. "The novel offers both a personal and a historical look at immigration, equal rights and labor issues, especially for women."
Launched in 2004, IU's New Frontiers in Arts and Humanities program has invested nearly $13 million in projects involving more than 530 faculty members across the state. Funded projects for 2019-20 include new books, musical compositions, films, museum exhibitions and more.
These are the final projects awarded under IU's New Frontiers system, which was revised in late 2019 to broaden the pool of eligible projects and activities. The new program, called the IU Presidential Arts and Humanities Program, acknowledges President Michael A. McRobbie's longstanding commitment to advancing the work of artists and humanists and increasing the reach of the program.
Grants help tell other stories
Other New Frontiers awardees include Lasana Kazembe, an assistant professor of education at IUPUI, for his project called "'The Voodoo of Hell's Half Acre': The Travelin' Genius of Richard Wright from Natchez to Chicago: A Blues Poetry Opera." Kazembe's work will combine live performance, photography and scholarly writing to tell the story of the African diaspora as channeled through the life of writer Richard Wright.
At IU Bloomington, Jawshing Arthur Liou, Herman B Wells Endowed Professor in the Eskenazi School of Art, Architecture + Design, will use his New Frontiers award to complete his Human-Cannabis video art trilogy with "Tracing Green." This last installment will explore humans' complicated relationship with cannabis around the world.
Hasan Reza, an assistant professor in the School of Social Work at IU South Bend, will make a documentary film called "Tears and Joy of Green Foot Soldiers: A Documentary Film on Environmental Contributions of Street Children in Bangladesh."
"A common livelihood for thousands of children is collecting scrap items and selling them to informal recycling companies," said Reza, who has spent two decades studying the lives of Bangladeshi street children. "In fact, street children are known as 'Tokai' in Bangladesh, which means 'those who survive on collecting waste.' How street children serve inhabitants of Dhaka, Bangladesh's largest city, and ultimately serve the environment is a fascinating story that I felt must be shared."
Katherine Gustafson, an assistant professor of English at IU Northwest, is using her grant to finish "Novel Marketing, Novel Writing, and the Development of the Adolescent, 1740-1815." In the book, Gustafson argues that the impact of adolescent audiences in the 18th century transformed the way novels were written and marketed.
Here's a complete list of 2020 New Frontiers in Arts and Humanities grant awardees:
New Frontiers of Creativity and Scholarship Grants
Betty Dlamini, African Studies Program, IU Bloomington: "The Influence of the Emaganu (Marula) Festival on Women Empowerment in the Kingdom of Eswatini."
Kelcey Ervick, Department of English, IU South Bend: "Bread and Roses: A Graphic Novel."
Shannon Gayk, Department of English, IU Bloomington: "Apocalyptic Ecologies: Environmental Interpretation at the Dawn of the Anthropocene."
Katherine Gustafson, Department of English, IU Northwest: "Novel Marketing, Novel Writing, and the Development of the Adolescent, 1740-1815."
Benjamin Irvin, Department of History, IU Bloomington: "Independent Spirit: Revolutionary War Veterans and Disability in the Early United States."
Lasana Kazembe, School of Education, IUPUI: "'The Voodoo of Hell's Half Acre': The Travelin' Genius of Richard Wright from Natchez to Chicago: A Blues Poetry Opera."
Jawshing Arthur Liou, Eskenazi School of Art, Architecture + Design, IU Bloomington: "Human-Cannabis III: Tracing Green."
Patricia Matos Amaral, Department of Spanish and Portuguese, IU Bloomington: "The Company Words Keep: Tracing Semantic Change in Ibero-Romance with Distributional Methods."
Hasan Reza, School of Social Work, IUPUI: "Tears and Joy of Green Foot Soldiers: A Documentary Film on Environmental Contributions of Street Children in Bangladesh."
Jonathan Risner, Department of Spanish and Portuguese, IU Bloomington: "Home Movies in Francoist Spain."
Wendy Vogt, Department of Anthropology, IUPUI: "The Silent Caravan: Creative Mobilities, Survival & Solidarity Among Central American Asylum Seekers in Spain."
New Frontiers Experimentation Fellowship
Micol Seigel, Department of American Studies, IU Bloomington: "Places Without Police: North American Research."
New Frontiers New Currents
Christopher Beckwith, Department of Central Eurasian Studies, IU Bloomington: "Attested Middle Chinese in Early Foreign Transcriptions and Loanwords."
Rebecca Fasman, Kinsey Institute for Research in Sex, Gender and Reproduction, IU Bloomington: "Exhibitionism: Sexuality at the Museum."
Doug Noonan, O'Neill School of Public and Environmental Affairs, IUPUI: "A Symposium on Arts Entrepreneurship Research."
Elizabeth Stirratt, Eskenazi School of Art, Architecture + Design, IU Bloomington: "Picturing Indiana Biodiversity."