Indiana University has appointed Simran Trana as the university's first associate vice president of its Innovation and Commercialization Office.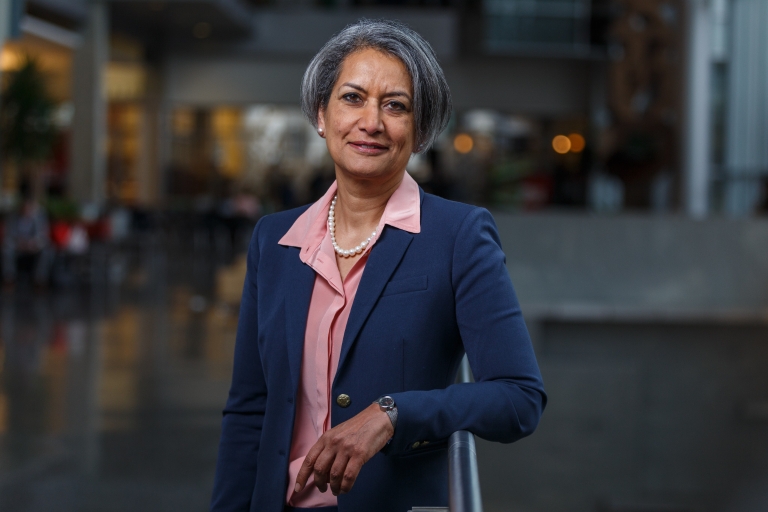 The ICO identifies, protects and commercializes technology that comes from discoveries and innovations born from IU research. In recent years, under the umbrella of IU's Office of the Vice President for Research, the ICO has restructured to better serve IU inventors and those seeking to partner in bringing IU innovations to the public.
The new position of associate vice president reflects the university's increased focus on facilitating faculty innovation and the translation of innovations into the marketplace to serve the public. Among Trana's responsibilities will be enhancing strategic alliances with private- and public-sector partners and expanding the commercialization of IU discoveries and inventions, ensuring a service-oriented gateway for all members of the IU community seeking assistance with innovation and entrepreneurship.
Trana began her new IU role on Feb. 10.
"Having success in both industry and higher education, Simran brings the right mix of skills and experience to work with IU inventors and industry partners to shorten the time between discovery and the marketplace," said Fred H. Cate, IU vice president for research. "I am delighted that we will have the benefit of Simran's leadership to enhance delivery of the positive outcomes of IU research to Hoosiers and beyond."
Trana has 15 years of experience in product and business development, licensing and venture creation. She spent the past 10 years with Dow AgroSciences, now called Corteva Agriscience, the Agriculture Division of DowDuPont. Trana held multiple roles during this time, managing strategic research collaborations, technology licensing, intellectual property and portfolio development, new product launches, and licensing and corporate development. From 2001 to 2008, she served as director of technology commercialization for the Purdue Research Foundation, which manages and licenses intellectual property for Purdue University.
"Indiana University researchers and entrepreneurs have a long history of driving scientific innovation that impacts global progress and plays a key role in enhancing the well-being of Indiana residents and the Indiana economy," Trana said. "Knowing well that lives have and will be saved, or drastically improved, through access to new IU inventions or treatments, I am eager to get started."
Trana holds a master's degree in plant genetics from Punjab Agricultural University and a master of business administration from University of Ottawa.
She was selected for the new role at IU following a nationwide search involving university leaders:
Gary Anderson, managing director emeritus of TL Ventures and a member of the IU Foundation Board of Directors
Tony Armstrong, president and CEO of IU Ventures
Travis Brown, senior executive assistant dean of innovation, entrepreneurship and technology commercialization at the Luddy School of Informatics, Computing and Engineering at IU Bloomington
Mohamed Razi Nalim, associate dean for research in the Purdue School of Engineering and Technology at IUPUI
Marisa Pratt, executive financial and operations officer in the Office of the Vice President for Research
Chandan Sen, IU associate dean for entrepreneurial research
J. Stanley Battersby, professor of surgery, associate vice president for military and applied research, and executive director of the Indiana Center for Regenerative Medicine and Engineering at the IU School of Medicine
Karen White, interim executive director of ICO
The committee also included IU faculty inventors:
David Allison, dean of the IU School of Public Health-Bloomington
David Crandall, associate professor in the Luddy School of Informatics, Computing and Engineering
Richard DiMarchi, the Linda and Jack Gill Chair in Biomolecular Sciences and professor of chemistry in the College of Arts and Sciences at IU Bloomington
Merv Yoder, Distinguished Professor Emeritus at the IU School of Medicine
About the IU Innovation and Commercialization Office
The Indiana University Innovation and Commercialization Office is tasked with the protection and commercialization of technology emanating from innovations by IU researchers. Since 1997, IU research has generated almost 3,200 inventions resulting in more than 4,800 global patent applications. These discoveries have generated more than $145 million in licensing and royalty income, including more than $115 million in funding for IU departments, labs and inventors.
IU Research
Indiana University's world-class researchers have driven innovation and creative initiatives that matter for 200 years. From curing testicular cancer to collaborating with NASA to search for life on Mars, IU has earned its reputation as a world-class research institution. Supported by $680 million in 2019 from our partners, IU researchers are building collaborations and uncovering new solutions that improve lives in Indiana and around the globe.
Nicole Wilkins is executive director of research communications in the Office of the Vice President for Research.