EDITOR'S NOTE: This story was originally published on Feb. 18, 2020, and some details may be out of date.
As a boy growing up on a farm in Greenwood, Indiana, 10 years before the first Apollo mission, John Shepherd would gaze at the night sky with his father and dream about the day that man would walk on the moon.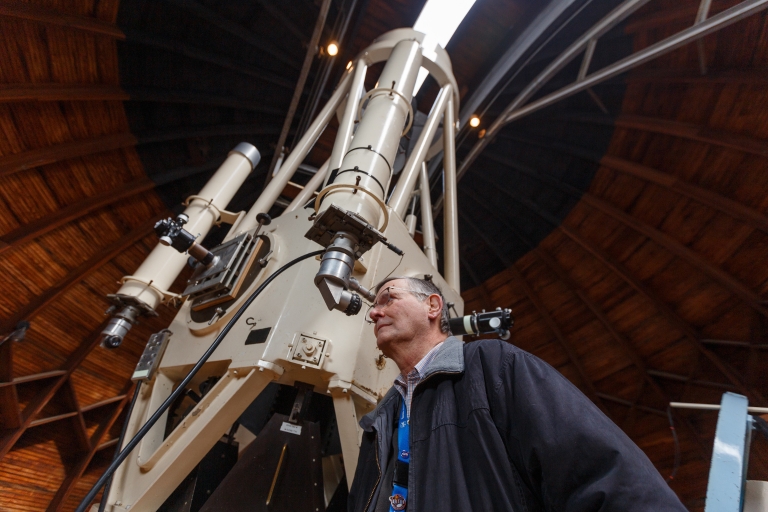 Now, the IUPUC astronomy faculty member's lifetime love of space exploration has brought him to the verge of an ambitious new effort to inspire another generation's desire to step forth into new worlds: Grand Universe, a 105,000-square-foot space science center in Westfield, Indiana.
The project, unanimously approved Feb. 10 by the Westfield City Council for construction adjacent to the city's Grand Park sports and event center, will feature exhibition and education spaces, twin solar and celestial telescopes, a radio telescope, and the largest planetarium in the Midwest.
"For years, the United States was No. 1 in the world for science, technology, engineering and math, and you could connect that energy to the nation's interest in space and space exploration," Shepherd said. "This project will put Indiana in the middle of that excitement again as our country prepares to return to the stars – starting with the moon, and then Mars."
A part-time faculty member teaching planetary and stellar astronomy at IUPUC, Shepherd is a co-leader of the Grand Universe project through his position as senior astronomer and director of science engagement at the Link Observatory Space Science Institute, a nonprofit organization that operates from the Indiana University-owned Goethe Link Observatory near Martinsville. In this role, he and others, including Link Institute CEO Greg McCauley, have worked tirelessly to expand the organization's mission and secure financial support for Grand Universe through an ongoing capital campaign. The space center is currently expected to open in 2024, the same year that NASA plans to return astronauts to the moon under the Artemis Program.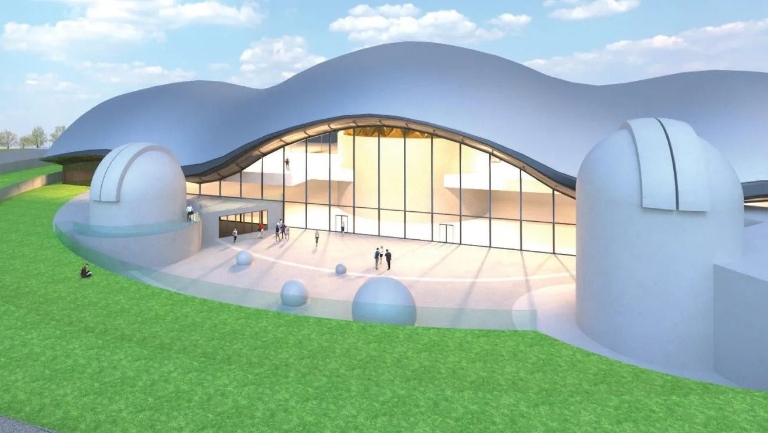 Other members of the Link Institute's executive leadership team include astronaut David Wolf, a graduate of the IU School of Medicine. An observatory named in honor of Wolf will be a part of Grand Universe.
According to Shepherd, Grand Universe is a major step forward in the Link Institute's long history of helping to educate young people in Indiana about space science, a mission that reaches back to the 1980s, after the Indiana Astronomical Society, or IAS – an organization for amateur astronomers in Central Indiana – started to use the observatory for public outreach events, such as tours and stargazing.
Previously, IU used the observatory for research activity, including the majority of scientific research on near-Earth asteroids in the 1950s and '60s, but ultimately ceased operations in 1988 due to rising light pollution from the Indianapolis suburbs. The university acquired the facility in 1948 from Dr. Goethe Link, a prominent Indianapolis surgeon and amateur astronomer who had built the observatory in 1939. At the time, it was the eighth-largest single-aperture telescope in the U.S., and the largest that was personally owned.
Shepherd's involvement with the observatory as an IAS member predates his official position at the Link Institute. He and others dubbed their efforts to resurrect the aging facility "The Phoenix Project."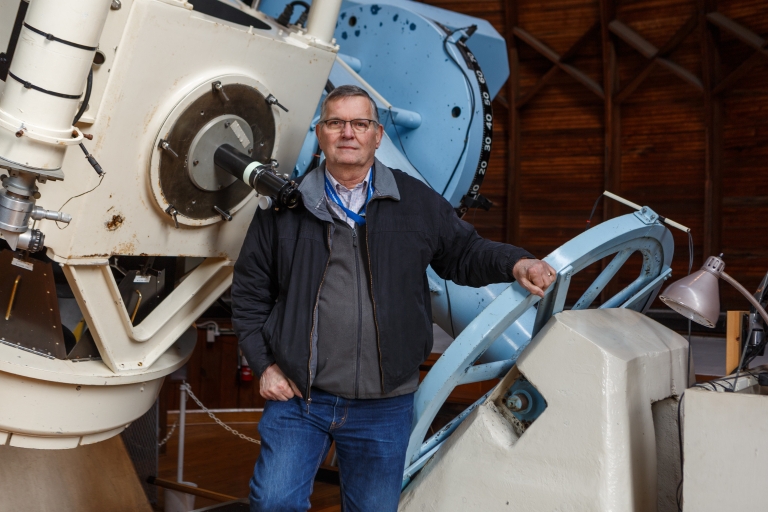 In additional public events, the institute gives local middle school, high school and college students access to educational materials on space science based on NASA mission and program data, said Shepherd, who accesses these materials through his role as a member of NASA's Solar System Ambassadors program. (McCauley is also a former member of the program.) Among the first groups to use these materials was the Brooklyn STEM Academy in Brooklyn, Indiana, then known as Brooklyn Elementary School, which has since become a state leader in STEM education.
"Our organization basically has a special contract with NASA to provide the general public with educational materials from the agency, as well as 10 of its other regional facilities," Shepherd said. "The materials are typically short videos featuring a scientist, astronaut or engineer, accompanied by a worksheet with questions. Teachers love them because they're educational but don't require a lot of prep time – and you don't need to be an astrophysicist to deliver the lesson."
Shepherd's connections at NASA also recently opened the door to his students' ability to apply to summer internship opportunities at the agency's headquarters in Langley, Virginia. Plus, he regularly engages students in his own research, providing the opportunity to help remotely control two radio telescopes in the Mojave Desert, among other things.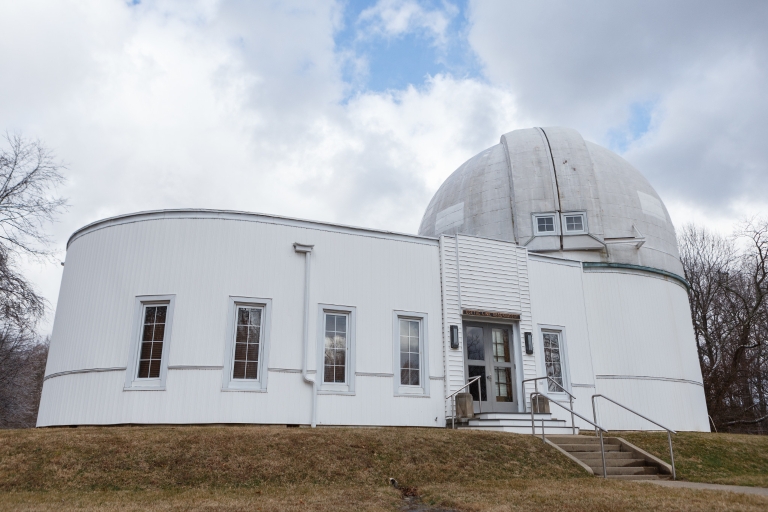 His personal history also puts Shepherd in a unique position to understand the power of amateur enthusiasm for space science and astronomy. Prior to his positions at the Link Institute and IUPUC, where he has taught since 2008, Shepherd spent 40 years at Eli Lilly and Co., starting as a molecular and cellular biologist and later serving as a systems analyst and global validation coordinator, a position responsible for the data integrity of seven clinical trials in 24 countries. His second career as an astronomer and educator began after a decision to pursue Ph.D. coursework in astrophysics, under the guidance of faculty members at IU and MIT, focusing on stellar nucleosynthesis, the process by which heavy elements form inside stars.
The desire to pursue this challenging topic of study, despite a successful career in the drug industry, was born of that lifelong passion for outer space that began with staring up at the night sky as a boy.
"Everything we're doing, we're doing to inspire the next generation," Shepherd said, noting that humanity is poised on the edge of another grand adventure. "There's a very real possibility that one of the students we touch could go on to be one of the first people who set foot on Martian soil."
"That, for me, would the ultimate high point," he said.