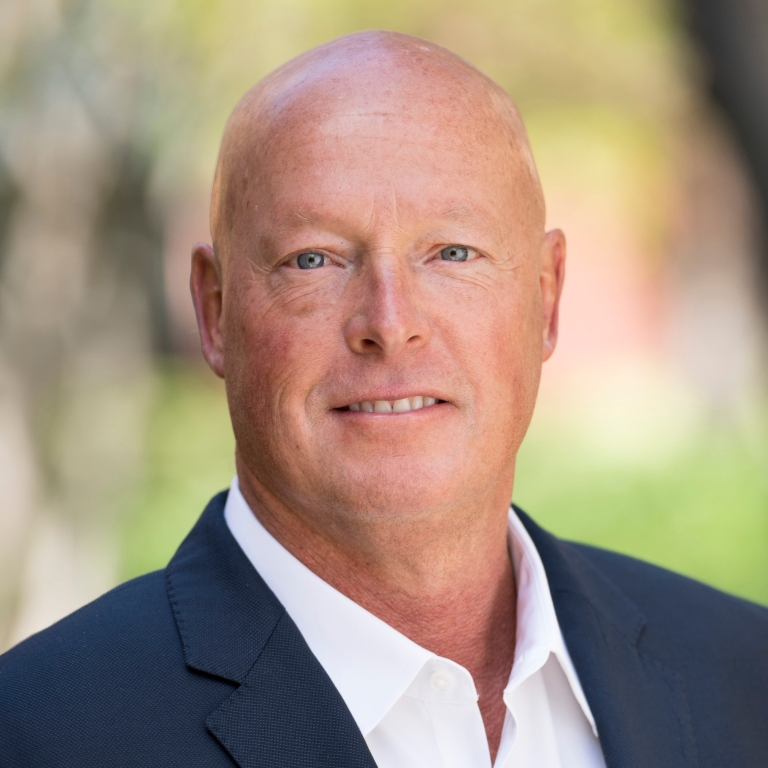 BLOOMINGTON, Ind. – Indiana University has congratulated alumnus Bob Chapek, who on Tuesday was named CEO of the Walt Disney Co., one of the world's largest and most influential media and entertainment companies.
Chapek, a 27-year veteran of Disney who earned a Bachelor of Science degree at IU Bloomington in 1981, replaces Robert A. Iger, who stepped down after running Disney for 15 years. Chapek becomes the seventh CEO in Disney's nearly 100-year history.
"Bob Chapek is one of Indiana University's most accomplished and distinguished alumni," IU President Michael A. McRobbie said. "For nearly three decades, he has served in the highest leadership roles at one of the most iconic, respected and successful brands in the world. His tenure at Disney has been marked by extraordinary growth and record-setting performance and innovation across nearly every major area of the company, and he has led key initiatives related to education and workforce development.
"At a time when some assert that a liberal arts education is not in tune with our modern technology-saturated times, Bob is a prime example of how the deep knowledge and practical skills learned in the liberal arts and sciences will always remain essential to nearly every profession and to the growth and development of our society."
Chapek, 60, served as chairman of Disney Parks, Experiences and Products since the segment's creation in 2018. There he oversaw Disney's largest business segment, with operations around the globe and more than 170,000 employees worldwide.
"I am incredibly honored and humbled to assume the role of CEO of what I truly believe is the greatest company in the world, and to lead our exceptionally talented and dedicated cast members and employees," Chapek said in Disney's press release.
Previously, Chapek was chairman of Walt Disney Parks and Resorts, where he oversaw the opening of Disney's first theme park and resort in mainland China, Shanghai Disney Resort; the addition of numerous guest offerings across Disney's six resort destinations in the U.S., Europe and Asia, including the creation of the new Star Wars: Galaxy's Edge lands at Disneyland and Walt Disney World and the addition of Marvel-inspired attractions around the globe; and the expansion of Disney Cruise Line with the announced construction of three new ships.
From 2011 to 2015, Chapek was president of the former Disney Consumer Products segment, where he drove the technology-led transformation of the company's consumer products, retail and publishing operations.
In his new role, he will directly oversee all of Disney's business segments and corporate functions.
Before joining Disney, Chapek worked in brand management at H.J. Heinz Co. and in advertising at J. Walter Thompson.
Chapek participated in the IU College of Arts and Sciences Luminaries Program during the program's inaugural year in 2013. The program connects current College students with prominent College alumni who guide the students along personal and professional pathways.