The nominations for the 92nd Academy Awards – the Oscars – were announced in early January. We asked IUPUI experts, two film studies faculty members in the School of Liberal Arts, to get their Oscars predictions.
The Academy Awards are given by the Academy of Motion Picture Arts and Sciences to filmmakers, artists, technicians, writers and directors for excellence in cinema and film. With 24 different categories and generally five nominees each, the awards ceremony is recognized internationally.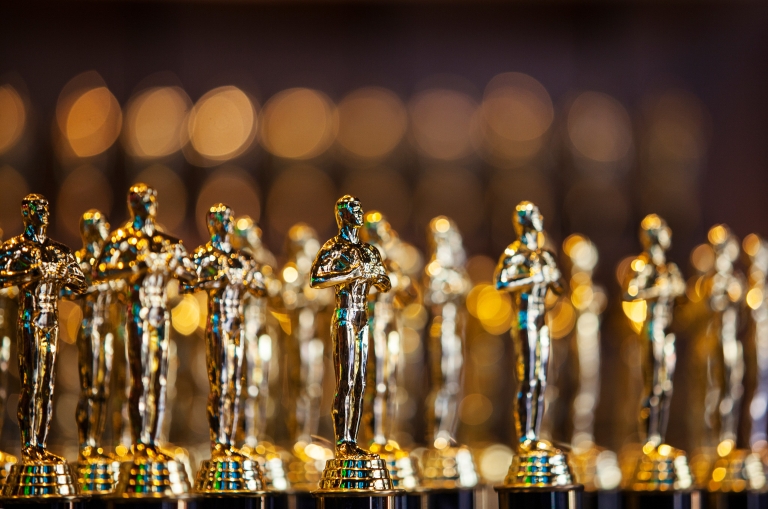 The ceremony is usually held on the last Sunday in February, but the academy set an early date for the ceremony this year: Feb. 9.
Dennis Bingham is director of the film studies program at IUPUI. He said that the awards show will return to the end of February in 2021. This year's decision to use an earlier date has resulted in an overly rushed nominations calendar, with the voters seeing fewer films.
"How else to explain the fact that four movies – 'Joker,' 'Once Upon a Time in Hollywood,' '1917' and 'The Irishman' – received 10 or more nominations each, and numerous well-received movies like 'The Farewell,' 'Us,' 'Uncut Gems' and 'Hustlers' were ignored?" he said.
Bingham said he has been following the Oscars for over half a century – he has watched the show every year since 1968.
"While many academics look down on the Academy Awards, I am an Oscar junkie," he said.
Sherra L. Schick, a visiting assistant professor of film studies, is also a fan of the Oscars.
"From age 10, the first time I wandered into a fading movie palace in Nashville, Tennessee, the world was a different place," she said.
However, she said, balancing her fan-girl love of movies with what she knows about the industry's habits can require a lot of restraint.
"When 'Kramer vs. Kramer' won over 'Apocalypse Now,' I almost threw my television set out of my Manhattan apartment window," Schick said.
"Kramer vs. Kramer," which won Best Picture in 1980, was one of many divisive Best Picture winners over the years.
Bingham said the winner of the Best Picture category, which, since 2010, can have as many as 10 nominations and has, since a rule change in 2012, averaged nine, is tabulated differently from all the other categories.
He said the preferential ballot, which is designed to produce a consensus winner out of the increased field, has resulted in Best Picture and Best Director going to different films five times since 2013.
"By contrast, split decisions occurred only four times in the four decades between 1957 and 1997," he said. "This is why this year's Best Picture and Best Director are nail-biters, while the four acting awards are considered to be 'locks,' deservedly or not."
To see their top picks, check out their comments after the lists of nominations below.
Schick: "1917" will win. It's a technological feat. "Once Upon a Time in Hollywood" should win. It's a fantasy that takes us on a tension-filled journey with a satisfying payoff. "Parasite" is a worthy contender, but I think it will take Best International Feature Film instead.
Bingham: "1917," a gimmicky World War I thriller meant to look as if it takes place in one shot, appears favored over classics-to-be "The Irishman," "Once Upon a Time in Hollywood," "Little Women" and "Parasite." It won the top award of the Producers Guild of America, many of whose members also belong to the Academy.
"Parasite" became the first foreign-language film to win the Best Ensemble prize from the Screen Actors Guild, a possible harbinger since actors make up by far the largest branch of the some-9,000-member academy.
But Quentin Tarantino's wonderful work of alternate history, "Once Upon a Time in Hollywood," won the Golden Globe for Best Motion Picture Musical or Comedy, giving it a chance as well.
I will go with Tarantino's movie very narrowly over "1917" and "Parasite." The latter film is a shoo-in to win Best International Feature, and would seem unlikely to win both.
Schick: Sam Mendes will win. Quentin Tarantino should.
Bingham: Sam Mendes has contributed more to musical theater with his revisionist 1998 and 2014 Broadway revival of "Cabaret" than to cinema. But his technical achievement in "1917" should cause him to win his second Oscar. (He won for his debut film, "American Beauty," in 1999.)
Mendes is expected to prevail over the far more cinematically resonant accomplishments of Tarantino, Martin Scorsese ("The Irishman") and Bong Joon-ho ("Parasite").
Full disclosure: Tarantino and Scorsese both have FILM C491 Authorship in Cinema courses at IUPUI devoted to them.
Schick: Joaquin Phoenix. He won the SAG and Golden Globe awards, and he's a stunning actor.
Bingham: Joaquin Phoenix's mesmerizing performance in "Joker" will win, making The Joker only the second character to win Oscars for two performers. Heath Ledger won a posthumous Best Supporting Actor for "The Dark Knight" (2008); Marlon Brando won Best Actor and Robert De Niro took Best Supporting Actor for playing Don Vito Corleone in 1972's "The Godfather" and 1974's "The Godfather Part II," respectively.
Schick: Renee Zellweger. As reviews noted, she channeled Judy Garland.
Bingham: The most deserving performance, that of Lupita Nyong'o in Jordan Peele's "Us," was not nominated. This leaves Renee Zellweger's high-wire Judy Garland impersonation in "Judy" the favorite to win.
Schick: Brad Pitt. He gave an unpredictable performance.
Bingham: Brad Pitt reminded audiences why he's a star with his smoother-than-life stunt double in "Once Upon a Time in Hollywood." Pitt wins easily over a category filled with former winners: Tom Hanks, Al Pacino, Joe Pesci and Anthony Hopkins.
Schick: Margot Robbie. I don't know why.
Bingham: Much-loved actress Laura Dern, who is in two Best Picture nominees – "Little Women" and "Marriage Story" – and is nominated for the latter film, in which she plays an alternately sweet and indomitable divorce lawyer.
Schick: "The Two Popes." Satisfies the Academy's conscience. "Little Women" might win for the same reason.
Bingham: A tight contest among Greta Gerwig's adaptation of "Little Women," which time-shifts the novel while centering on Louisa May Alcott's own life; Taika Waititi's Hitlerjungend satire, "Jojo Rabbit"; and Steven Zaillian's complex mob chronicle, "The Irishman."
The screenplay awards have often served as consolation prizes for films that miss out on Best Picture. I'll go with "The Irishman" here.
Schick: "Stand Up." It's an emotional anthem that reminds us who and what Harriet Tubman was.
Bingham: While Cynthia Erivo could become the youngest EGOT winner for "Stand Up," the anthem from "Harriet," the academy likes to put pop stars on the podium; thus Elton John will probably win for "(I'm Gonna) Love Me Again" from the otherwise-overlooked Elton biopic, "Rocketman."
Schick: "Once Upon a Time in Hollywood."
Bingham: Will Quentin Tarantino win his third Original Screenplay Oscar over Bong Joon-ho's "Parasite" or Noah Baumbach's highly naturalistic 21st-century "Kramer vs. Kramer"? I'd say probably – but it will be close.