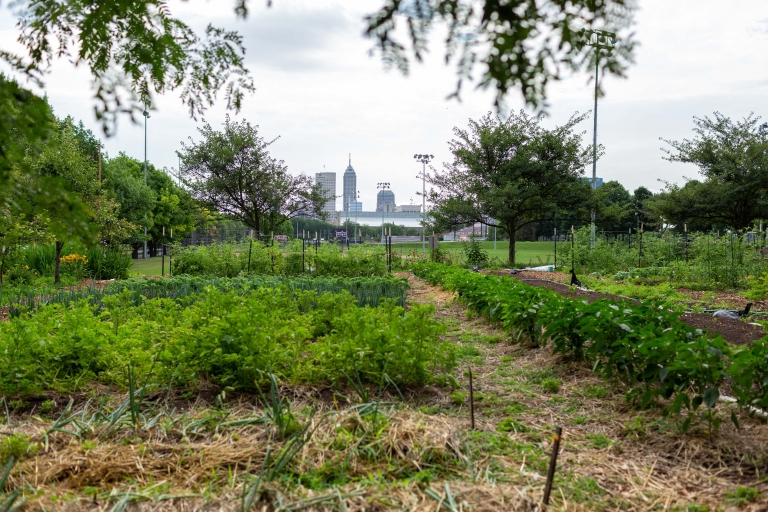 Winter is nearly over; spring is near.
These transitional weeks between the seasons offer no better time to anticipate the foreseeable warmth and plan a garden or gardening-related activity. While Indiana is in the midst of an unseasonably warm winter, IUPUI's director of sustainability Jessica Davis has spent this season plotting.
"The offseason is a good time to plan what you want to grow the next year," Davis said. "We've been thinking about what we want to grow on campus, and we help make those decisions by understanding what kind of foods the campus wants."
While a green thumb isn't required, the Office of Sustainability oversees a variety of resources and volunteer opportunities for students, faculty and staff who want to learn and participate in the campus's gardening activities.
"Folks who know anything can swing by – we'll train them," Davis said. "Luckily, it's not rocket science."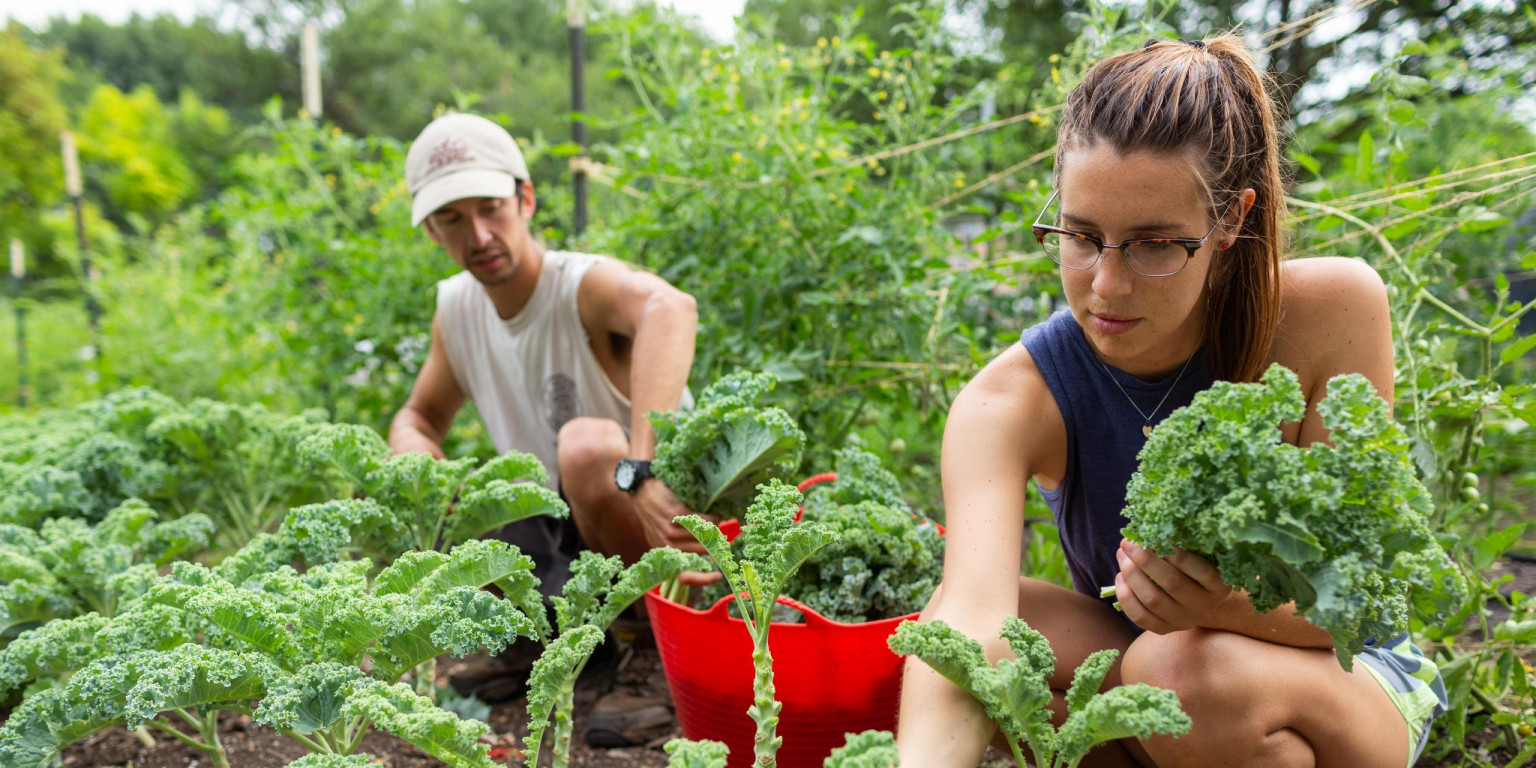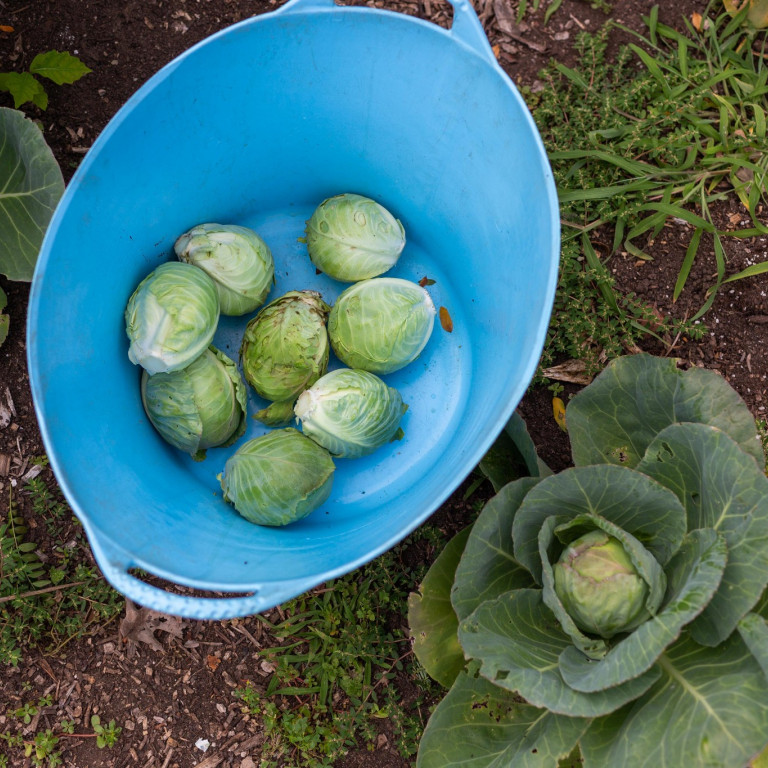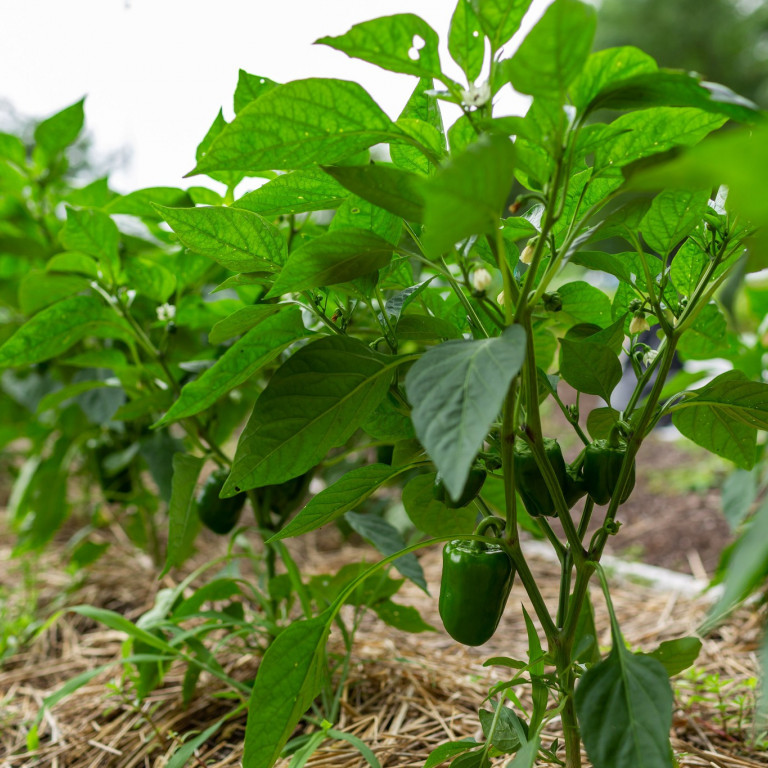 Photos by Liz Kaye, Indiana University
IUPUI Urban Gardens
Two urban gardens are located on campus: the New York Street Garden, located east of White River and next to Carroll Stadium, and the Central Garden, located east of University Library. These organic gardens produce hundreds of pounds of fresh produce annually that is used by IUPUI Food Services, the Campus Kitchen at IUPUI and Paws' Pantry, as well as sold at the IUPUI Fresh Produce Market.
Much of the garden is focused on growing leafy greens – such as spinach, kale, cabbage and collards – and squash. But there are also carrots, beets and sometimes, if they're lucky, a fruit.
"Every now and then, we get strawberries, but not a lot of them," Davis said.
The urban gardens experimented with watermelons, pumpkins and even edible flowers the past couple years; Chartwells' catering team integrated the flowers into some of its spreads for campus functions. Hopefully this year, the gardens will feature some fruit-bearing trees.
"In addition to creating food, we're trying to demonstrate how sustainable agricultural techniques can be successful," Davis said.
Depending on the weather, the gardens open in April after the last frost and close in October or November. There are regular open volunteer days during the growing season, typically from 9 a.m. to noon, with a tasty thanks for the day's work.
"We usually let the volunteers take home a handful of produce as a thank you," Davis said.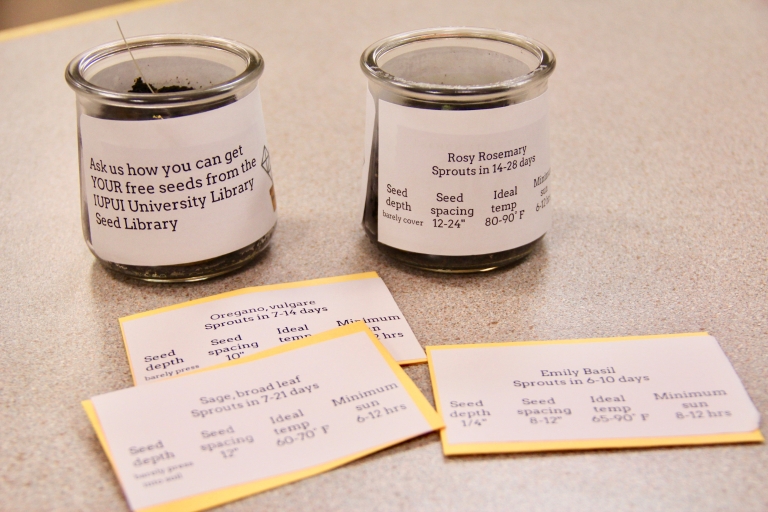 Seed Library
Books aren't the only items archived in University Library. Thanks to a Greening IUPUI grant from the Office of Sustainability, the library hosts the Seed Library.
Anyone with a CrimsonCard can "check out" seeds for personal use from the second-floor information desk. Three to five seeds come in each packet, with educational material on how to best plant them and raise them to maturity. At the end of the growing season, users are asked to return seeds from the plants they grew to help keep the library stocked.
The seed library featured herb seeds in its first year but has expanded to offer produce seeds as well.
Arbor Day tree planting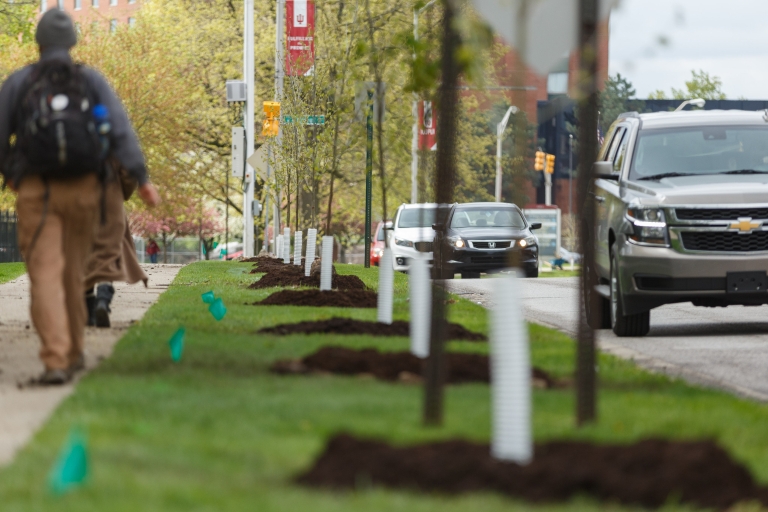 Each year on Arbor Day, the Office of Sustainability holds a campus tree-planting event. This year, the holiday is Friday, April 24. More than 50 students and staff typically participate in the event.
The tree planting includes a 30-minute instruction for the volunteers about how to correctly plant a tree because, as sustainability director Jessica Davis said, "it's not as simple as digging a hole and plopping a tree into it."
Davis cited the commonly visible "mulch volcano," where people just pile mulch around the base, and explained that it is not a good practice and causes the bottom to rot.
"A correct planting technique is vital to making sure the tree lives long," she said.
Fresh Produce Market
Every third Thursday of the month, the Fresh Produce Market is open in the Campus Center. Located in front of the food court, this mini farmers market sells local, organic produce. During the growing season, many of the items come from the IUPUI Urban Gardens. In the winter months, the produce is brought in from a USDA organic or local hydroponic farm.
"One of the reasons we do so much around food is because food is so tangible," Davis said. "Every day, we need it. You make decisions daily on what kind of food you're buying and eating. Every time you purchase food, you're voting for the food system you want with your dollars."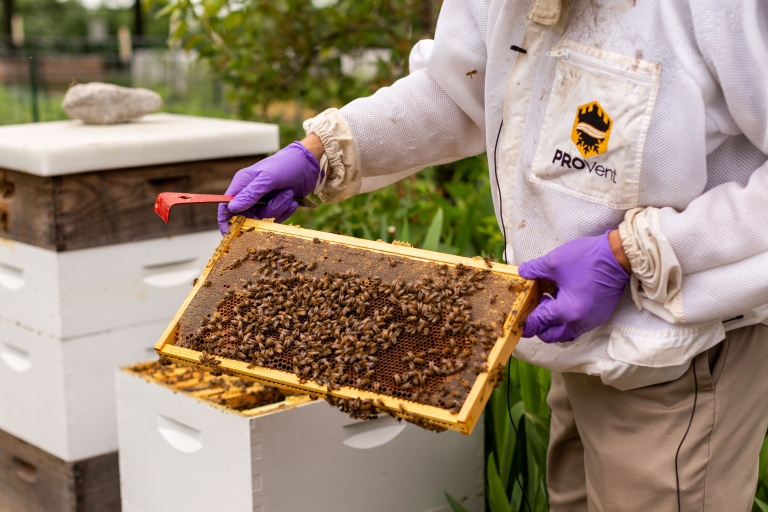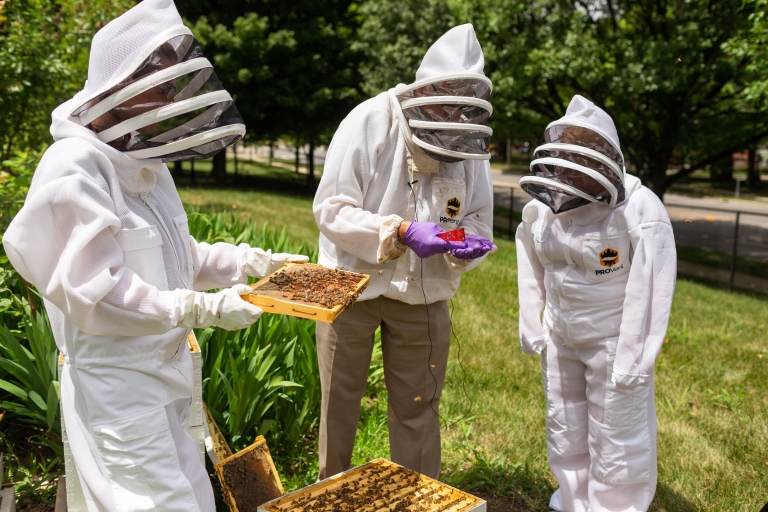 Urban beekeeping
Two beehives in the New York Street Garden are the base for Urban Beekeepers at IUPUI, a student organization that is also open to staff and faculty.
The beehives are currently hibernating and will remain that way until sometime in March. Once the bees wake up, the group will have one or two open sessions a month to maintain the hives. No prior knowledge of beekeeping is required.
BIOL-N 225: Urban and Suburban Gardening
As a formal class, the School of Science offers BIOL-N 225: Urban and Suburban Gardening, taught by Xianzhong Wang.
The class will use a handful of the raised beds in the Central Garden to do early plantings, monitoring them throughout the semester and learning different gardening techniques. Wang's class goes in-depth in its exploration of gardening in a nonrural setting.
Workspace plant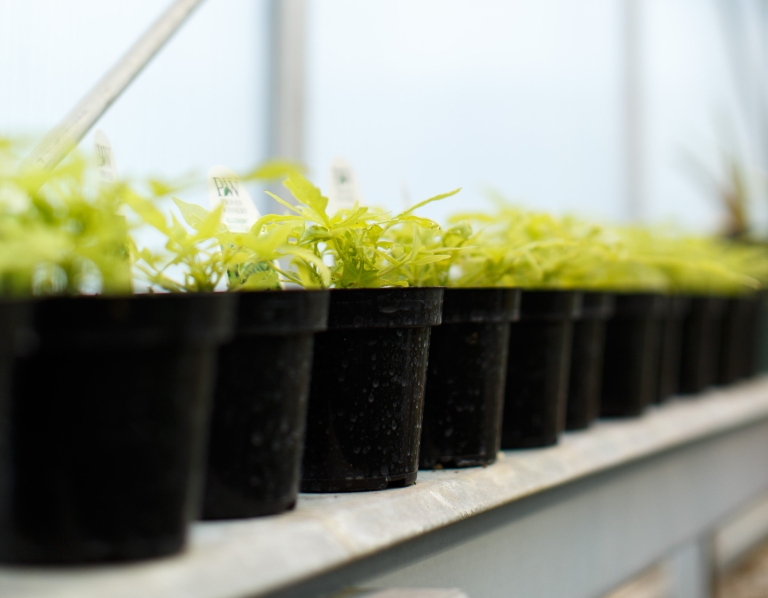 For some people, they don't have the yard – or desire – to plant a large garden at home, but a small plant or crop at their workspace is easily achievable. Three things are required for an indoor plant: sunlight, soil and water. Set your potted plant in front of a window where it will get consistent sunlight and then water it regularly, not constantly.
"The biggest thing that people tend to do is overwater," Davis said. "They get attached to their plants and think they're thirsty. They actually do better when you neglect them a little."
If someone wants to try to grow food, Davis recommended making sure it's something they like to eat.
"It's super-easy to do, and it's very fresh," she said. "It's better than any of the herbs you can buy at the store, it's going to taste better – and you're going to have the satisfaction of knowing that you grew it yourself."