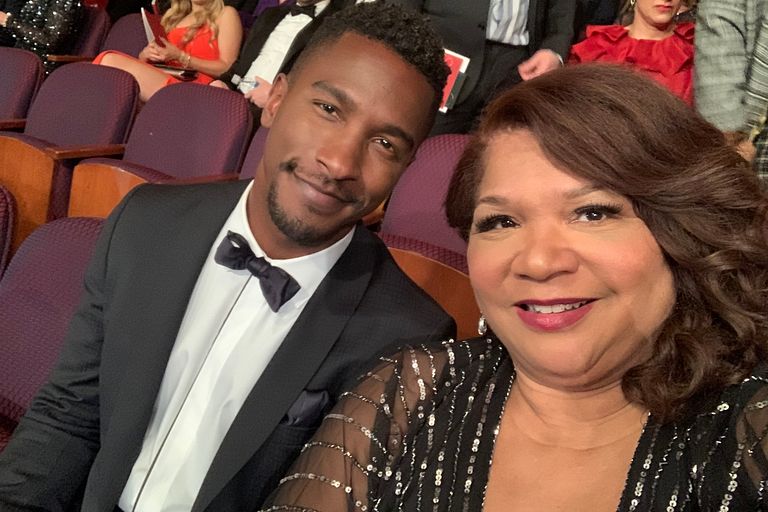 IUPUI communications student and movie-lover Kelly Johnson has always watched at least a portion of the Oscars every single year at home.
This year, Johnson experienced the Oscars firsthand after getting an invitation from her son, Scott Evans, the co-host for "Access Hollywood" and "Access Daily" and host of "World of Dance."
"The whole experience was just surreal," Johnson said. "It's really something you have to experience in its fullness."
This was the first awards show Johnson had been invited to attend. However, Evans took her to Tyler Perry's studio opening in Atlanta in October. She met Tyler Perry himself and had a full-blown conversation with Will Smith.
Her first thought after getting the Oscars invitation was: "What am I going to wear?" Evans told her a team of stylists would take care of everything from hair and makeup to her wardrobe, Johnson said.
On Feb. 9, the day of the Oscars, Johnson woke up to a team of stylists who came to her son's apartment.
"It would be wonderful if every day somebody dressed me and put makeup on me," Johnson said.
Once the mother-and-son duo's hair and makeup were ready, they made a pit stop to an interview. Evans was scheduled to meet with DeAndre Arnold, the teen who was told he couldn't walk in his high school graduation unless he cut off his dreadlocks.
Arnold and his mother would also be attending the Oscars as guests of the "Hair Love" animated short film crew. "Hair Love" ended up winning the Oscar for animated short film.
Johnson said that spending the afternoon with the Arnolds and helping her son interview them was one of the highlights of her experience.
"I started crying because you feel for them," Johnson said. "I felt her, mother to mother."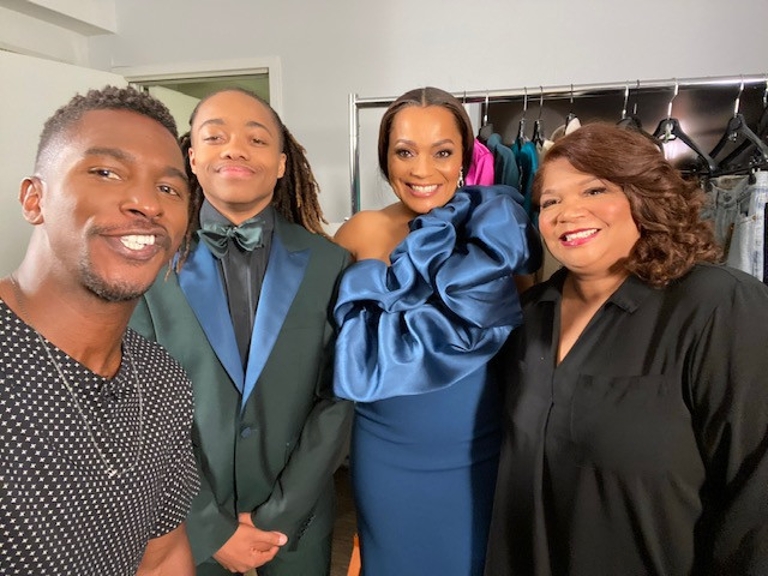 After the interview, Evans and Johnson had one more stop before the Oscars: wardrobe. They arrived at the Hollywood Roosevelt hotel, where Johnson was handed 10 dresses to pick from. Since it was difficult to choose just one, Johnson said, Evans put a poll on his Instagram story, letting his fans choose her dress.
"It was beautiful," Johnson said. "I literally stepped into the dress and thought, 'This is it.'"
Since it was raining, Johnson was driven right up to the theater, where she got to walk in on a red carpet. Evans forgot to bring his ID while signing in, which led them to a side room where Johnson met the event planner for the Oscars, another highlight from her experience.
Johnson also met "Hamilton" himself, Lin-Manuel Miranda, and Cynthia Erivo, who had the title role in "Harriet"; she even saw Brad Pitt 10 feet away from her.
Johnson said she was rooting for Erivo, who was nominated for best actress and best original song. Erivo did not take home any Oscars, and Johnson didn't take home any pictures in front of the Oscars sign. She said she was so in-the-moment that she forgot.
After the show, Johnson finished the night at the Governors Ball, a fancy after-party full of food selections from chef Wolfgang Puck like mini pot pies, chicken and waffles, and caviar for dessert. Johnson found her way to the dance floor to end the evening.
"I have a lot of highlights," Johnson said. "My favorite part was being with my son."
Johnson said she is proud of Evans regardless of the work he has done. She admires how he rose above the circumstances of hardly having any money as a kid to following his dreams and making it big.
Evans graduated from Pike High School in 2005. He attended Purdue for one year and studied communications. Johnson said Evans decided college wasn't for him and wanted to jump right into pursuing his dream.
"He has always done what he's needed to do to get to the next place," said Johnson, who is studying communications at the School of Liberal Arts at IUPUI and plans to graduate in 2023.
Evans moved to California to network and then came back to Indianapolis, where he served as the emcee for the Pacers and Fever and was the face of MyINDY-TV 23. He then relocated to New York City to work for Channel One, which led him to apply to co-host "Access Hollywood."
"He's really just walking into his destiny," Johnson said. "I am proud of all three of my children."
Johnson also has two daughters, Faith and Hannah. Faith is 20 years old and lives in Los Angeles near Evans, where she is pursuing her music career. She writes R&B songs, sings and produces.
Hannah, age 15, lives with Johnson in Indianapolis and is a freshman in high school. She loves the theater and wants to pursue a career on Broadway.
"I want them to feel good about the people they are today and the people they are becoming," Johnson said. "I've tried to pour that into them."