Indiana University has always worked to maintain clean and hygienic spaces for the staff, faculty and students who live and work on its campuses across the state. But university staff have recently begun additional cleaning and sanitizing measures due to the novel coronavirus (COVID-19).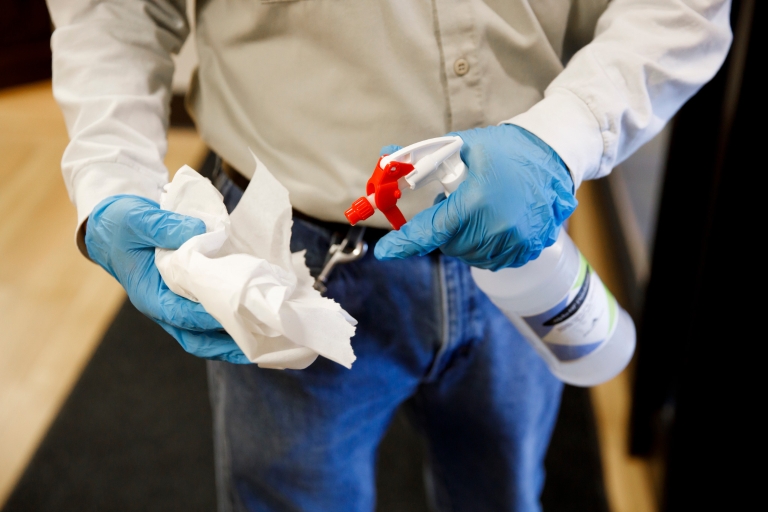 All campus facilities operations, auxiliaries and athletics staff, among others, have been working closely together to coordinate the university's response to the virus, said IU Assistant Vice President for Facility Operations, Energy Management and Utilities Keith Thompson.
"Our mission is to protect our students, staff and faculty, and we're in this together," he said. "We're in regular communication with all our campuses, all the auxiliaries, athletics, everyone, sharing information and talking with each other."
On the IU Bloomington campus, personnel have shifted staffing to have more people work during the day, said director of IU Bloomington Facility Operations Sam Robertson.
Those employees are doing all the normal cleaning they would usually do – sweeping floors and emptying trash cans, for example – but are also disinfecting all "common touch" surfaces, such as doorknobs and stair railings, he said.
They are also cleaning and disinfecting restrooms throughout the day and each night. And should someone on the Bloomington campus test positive for the novel coronavirus, there's a plan for facilities employees to wear safety gear, including a respirator, goggles and gloves, Robertson said.
On the IUPUI campus, additional action is being taken at Tower Dining, The Den and the Campus Center food court, said IUPUI Auxiliary Services Director of Operations Angie Hill. Those actions include:
Students swiping their own CrimsonCard on the point-of-sale equipment instead of handing it to the cashier.
Increased sanitation (every 30 minutes) of all customer food handled equipment, including serving utensils, salad dressing bottles, creamers/coffee spigots and fruit-infused water spigots.
Increased sanitation (every 30 minutes) of all customer non-food handled equipment in all areas, including credit card buttons, door handles and tables/chairs/booths.
Hand sanitizer at each station where there are shared utensils.
Signage placed throughout dining halls communicating the need to use the hand-washing stations and/or sanitizer before obtaining food and eating.
In addition, IUPUI's JagLine shuttles are now being disinfected daily instead of weekly, said Andrew McGee, IUPUI Parking and Transportation Services associate director of transportation demand and space management. Hand sanitizer is also being made available on each shuttle.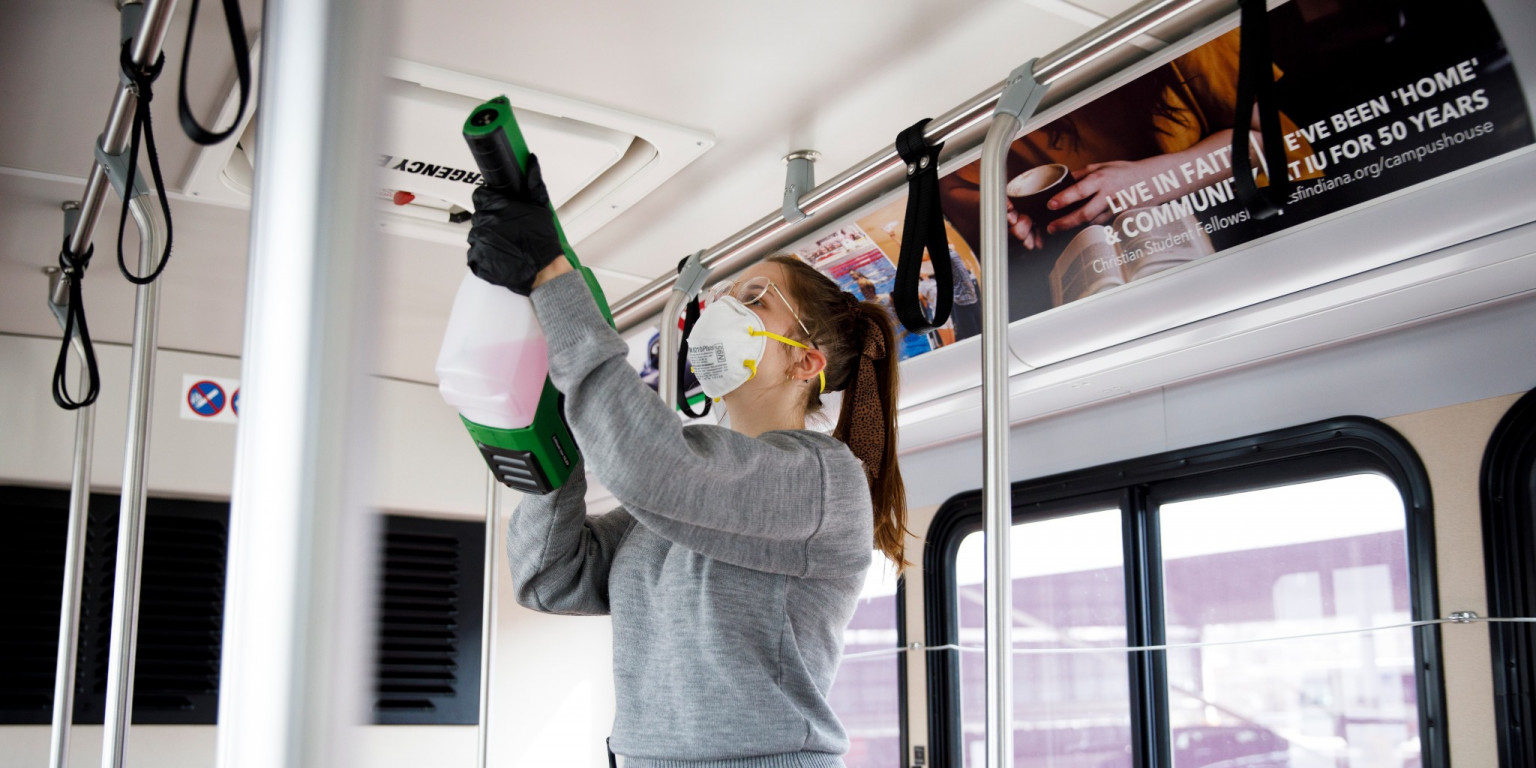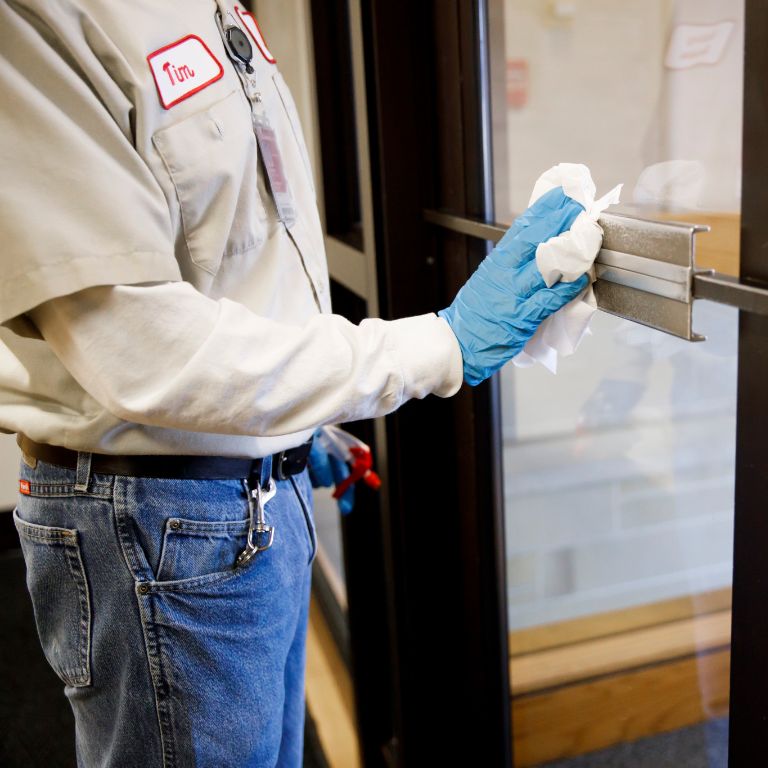 Photos by James Brosher and Liz Kaye, Indiana University
Regional campuses have also stepped up their cleaning regimens.
John Sarber, IU Kokomo's director of physical facilities, said his staff is paying special attention to all surfaces and is using hospital-grade disinfectant on a regular basis. They're also using two special pieces of atomizing equipment that spray special chemicals on "high touch" surfaces such as door handles and tables to ensure complete coverage. That equipment is also used on buses before and after academic and athletic trips, he said.
"The custodians are working diligently to keep the campus as safe and clean as possible and are documenting their work for each building and shift. We have reviewed and worked with our suppliers for any changes in product and levels of inventory," Sarber said. "At this time, we are confident in the work we are doing to protect the students, faculty, staff and visitors of IU Kokomo."
IU Northwest Executive Director of Facilities and Operations Andy Kapocius said his team has also begun making increased sweeps of "high touch" areas, including doors and drinking fountains. They're also paying attention to their supply levels of soap and toilet paper.
In addition, Kapocius said, University Information Technology Services staff has reported that keyboards, mice and touch screens in lab and classroom spaces will be cleaned more frequently.