With all the information swirling around about the novel coronavirus known as COVID-19, it can be confusing figuring out what steps to take to protect yourself and your family.
Inside IU Bloomington has pulled a few resources together to make that process easier: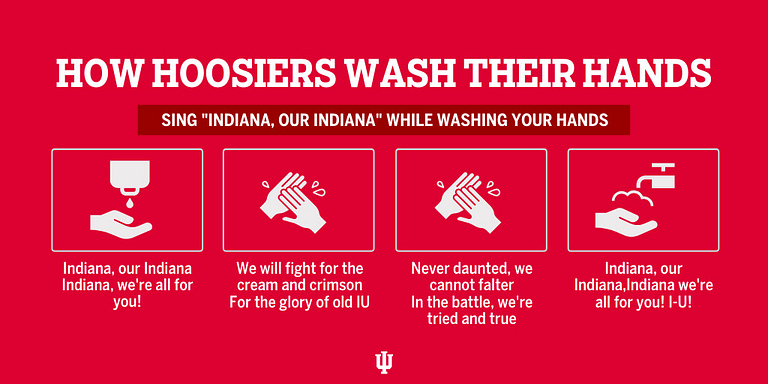 Stay informed
Stay apprised of the situation as it relates to the IU community by regularly visiting coronavirus.iu.edu. There you'll find all of IU's public safety advisories, travel information and frequently asked questions, as well as a link to IU Human Resources' frequently asked questions.
Avoid exposure
No vaccine is available to prevent the novel coronavirus. The best way to prevent illness is to avoid being exposed.
The Centers for Disease Control and Prevention recommends several everyday preventive actions, including:
Avoid close contact with people who are sick.
Avoid touching your eyes, nose and mouth.
Cover your cough or sneeze with a tissue, then throw the tissue into the trash. If a tissue isn't available, cough or sneeze into your elbow.
Clean and disinfect frequently touched objects and surfaces using a regular household cleaning spray or wipe.
Best practices for hand-washing
Wash your hands frequently with soap and water for at least 20 seconds, particularly after going to the bathroom, before eating, and after blowing your nose, coughing and sneezing. If soap and water are not readily available, use an alcohol-based hand sanitizer with at least 60 percent alcohol.
The CDC offers additional hand-washing guidelines, including the five steps for washing your hands the right way.
Cleaning the house
Not sure how best to disinfect the house? Diluted household bleach solutions, alcohol solutions with at least 70 percent alcohol and most common EPA-registered household disinfectants should be effective, according to the CDC.
Prepare your own bleach solution by mixing one-third cup of bleach per gallon of water or 4 teaspoons of bleach per quart of water. Products with EPA-approved emerging viral pathogens claims – including Clorox bleach wipes and Lysol – are expected to be effective against COVID-19 based on data for harder-to-kill viruses.