Many Indiana University faculty members are working through the logistics of transitioning their face-to-face classes into the online environment, following IU President Michael A. McRobbie's March 15 letter suspending in-person classes for the remainder of the spring semester in response to the novel coronavirus.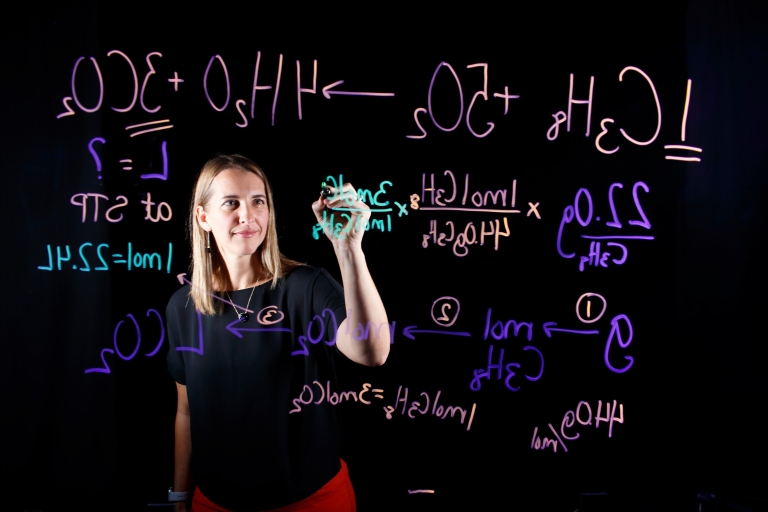 Faculty members are already reaching out to their centers for teaching and learning, which is exactly what IU Bloomington Center for Innovative Teaching and Learning director Greg Siering wants them to do.
"Each of the campus teaching centers works closely with their faculty and within their unique contexts," he said. "But we all collaborate, and, in this instance, we're working together even more closely to meet IU's common needs."
Making the transition easier for both faculty and students is the current focus at IU Southeast's Institute for Learning and Teaching Excellence, director Robin Morgan said.
"We've developed a packet of materials, including handouts and an online course shell, to provide faculty information in one place," she said. "We're encouraging our faculty to use universitywide resources, but we're also working one-on-one with faculty over the phone and in Zoom meetings. This one-on-one attention to the needs of individual faculty is critical, as some courses present challenges to quickly moving into an online environment."
Siering offered two tips for faculty currently transitioning their classes:
Keep it simple: "Use any tools that you and your students are familiar with," he said. "You don't need to add more cognitive load for yourself or your students."
Be compassionate: "A lot of students and faculty alike are going to be working in unusual places and circumstances. So they might not be able to join an online Zoom meeting if they don't have a laptop, or the ability to connect to the internet or a quiet place to do so. I suggest faculty communicate with their students, early and often."
The university offers additional resources intended to help faculty ease into the transition. If you still have questions even after you've looked at all this, contact your campus's Center for Teaching and Learning to schedule a one-on-one consultation.
Keepteaching.iu.edu
IU's keepteaching.iu.edu site was developed in 2009 in response to the H1N1 flu virus epidemic. Created by the University Information Technology Services team, the site provides faculty with the technical resources needed to move from face-to-face teaching to an online environment, while also considering pedagogical strategies.
The site also has instructions for using specific tools, including Canvas, Zoom, Kaltura and PowerPoint recordings.
Center for Innovative Teaching and Learning blog
And while you're at it, check out the IU Bloomington Center for Innovative Teaching and Learning's blog. It posts regularly on faculty-specific topics, including community-based teaching and learning as well as steps to adapt a class to an online environment for a short time period (as opposed to constructing a fully online course from scratch).
Webinars
Most of IU's centers for teaching and learning are hosting webinars to help faculty get up to speed on what's available to them, in addition to one-on-one instructional consultations.
Scheduled webinars include topics such as "Zoom for Instructors" and "Recording and Sharing Video using Kaltura."
Full webinar schedules are available on individual center sites.
In-person lecture recording
In-person lecture recording sessions are available at IUPUI's Informatics and Communications Technology Complex, or ICTC, and IU Bloomington's Ballantine Hall during spring break. Staff from UITS Learning Spaces will be onsite to assist faculty with Kaltura and classroom technologies from 8 a.m. to 5 p.m. March 16 through March 27. Email ctsin@iupui.edu for IUPUI and clastech@iu.edu for Bloomington with the following information:
Day(s) and time(s) you would like to record.  
Classroom technologies needed for your recordings. 
Any special accommodations or needs.