Indiana University has clear targets in its effort to raise the graduation rate of student veterans after a survey identified several areas for improvement.
According to John Summerlot, director of the Center for Veteran and Military Students at IU Bloomington, survey results included:
Female veterans are graduating at a lower rate than their male counterparts at IU Bloomington.
IU is one of just two Big Ten schools that doesn't offer priority enrollment for military students.
A gap exists between the actual costs of school versus what the GI Bill pays.
IU is involved in Operation Hoosier Promise. The three-year program is part of the university's implementation of the American Talent Initiative, a nationwide effort to provide academically talented low- and moderate-income students with access to colleges and universities with high graduation rates.
IU joined the American Talent Initiative in March 2018. In November 2018, the Office of Veterans Support Services was renamed the Center for Veteran and Military Students when it moved from the Indiana Memorial Union to a larger space at 823 E. 11th St.
The university's next step was creating Task Force Hoosier, an effort to improve relationships between students and faculty, coordinate support and reduce barriers. The task force has focused on areas such as career advising and services, and creating and promoting resume workshops.
"We are rapidly increasing programs and services for veterans," Summerlot said.
In 2019, a group of master's students in the Higher Education and Student Affairs program conducted a survey to assess the social climate of veteran and military students at IU Bloomington and determine how the Center for Veteran and Military Students is working for the student veterans. It revealed several eye-opening results.
Female veterans are graduating at a rate of 63 percent from IU Bloomington, while male veterans are graduating at a rate of 70 percent. The overall graduation rate at IU Bloomington is almost 79 percent, he noted. At all other IU campuses, female veterans graduate at a higher rate than their male counterparts, although the gap in the rates varies, Summerlot said.
"So, we are trying to figure out why and what barriers they are running into," he added.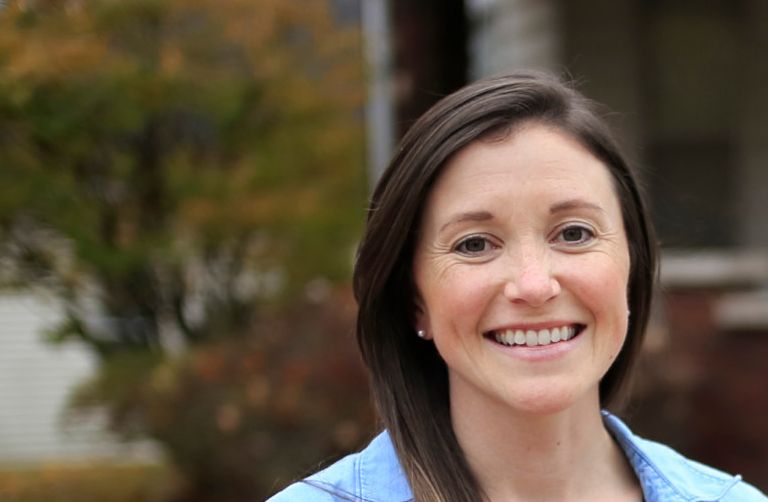 As a result, Sarah Bassett started the job of outreach coordinator for female veterans in September.
"Part of her job is to have conversations with women and veteran students and learn what barriers they are facing, and what we can do better to support them," Summerlot said.
After talking with some female veterans, Bassett said she's learned that isolation tends to be a problem for women following their time in the military.
"They tend to be very self-sufficient and not highly likely to ask for help," she said. "In the military, women had to be this way to avoid appearing weak in front of male counterparts."
Bassett, an Army veteran, said her personal experience with finishing her degree at IU Bloomington involved challenges with money, child care for her 2-year-old daughter and time away from her husband, who was on active duty in the Army and stationed in North Carolina. Bassett said she discovered the Center for Veteran and Military Students as she was completing her degree and wished she has learned of it sooner.
She said she's trying to connect with more female veterans on campus to better understand their personal barriers to finishing education. The Center for Veteran and Military Students is conducting a follow-up survey to look at what barriers the women are experiencing that the men are not, Summerlot said.
The fact that IU does not offer priority class registration for military students is important, Summerlot said, because the GI Bill covers tuition and fees, plus a monthly housing stipend, for 36 months – the equivalent of four academic years. Delays in getting classes can be problematic, he added.
"Veterans who go beyond four years often struggle with how to pay. So, we are not making the most of their 36 months," Summerlot said.
Some veterans also don't get full tuition benefits from the GI Bill, depending on how long they have been on active duty, Summerlot said. Some get only 60 percent.
The estimated cost gap for veterans between GI Bill funding and the actual cost is $2,000 to $3,000 per student annually, Summerlot said.
"We now know what the gap looks like, so now what opportunities are there to close the gap?" he added.
It's important for IU and student veterans to look at fundraising opportunities, better use financial aid resources and find employment opportunities that use their military skills, Summerlot said.
"It's about helping them through that process and helping them get to the next step," he added.