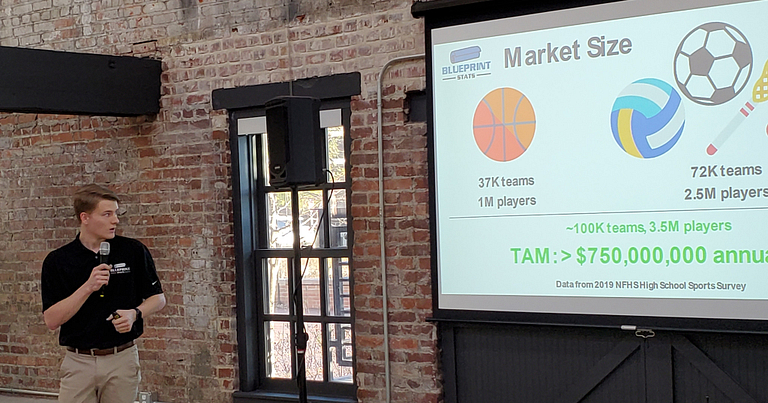 Indiana University students who founded high-tech startups received a boost during the annual five-month B-Start pre-accelerator program offered by the Bloomington Economic Development Corp.
Each company founder was mentored by Bloomington-area innovation experts, and those that completed the program received $750 to apply to their business.
Hunter Hawley, a junior in the Kelley School of Business, fared even better. He won second place during the Demo Day competition on March 3 after submitting a business plan and delivering a five-minute pitch to judges. He received an additional $1,500 and a six-month, part-time membership to Dimension Mill, a co-working space in Bloomington. His startup, Blueprint Stats, provides in-depth basketball statistics, film breakdowns, shot charts and more to its clients.
Hawley, from Cloverport, Kentucky, said the biggest benefit to participating in the B-Start program was the connections he made, and not just those with mentors.
"I met a lot of other entrepreneurs during the program; there were 11 companies and even more founders in this group," Hawley said. "There's a lot of great stuff going on in Bloomington. You can't place a value on being able to meet weekly and share ideas with the people behind it."
Hawley plans to reach out to state high school athletic associations this summer to create partnerships and make Blueprint Stats available to a larger number of clients. The company also will launch products that focus on other sports besides basketball.
Ellyn Sallee, project/development manager at the Bloomington Economic Development Corp., said B-Start was created to connect entrepreneurs with Bloomington's growing entrepreneurial, tech and business ecosystem.
"We believe Monroe County's creative and talented business sector is one of our greatest assets," Sallee said. "The future of our economy will be driven by our innovative talent base and these are the types of businesses our B-Start program aims to develop."