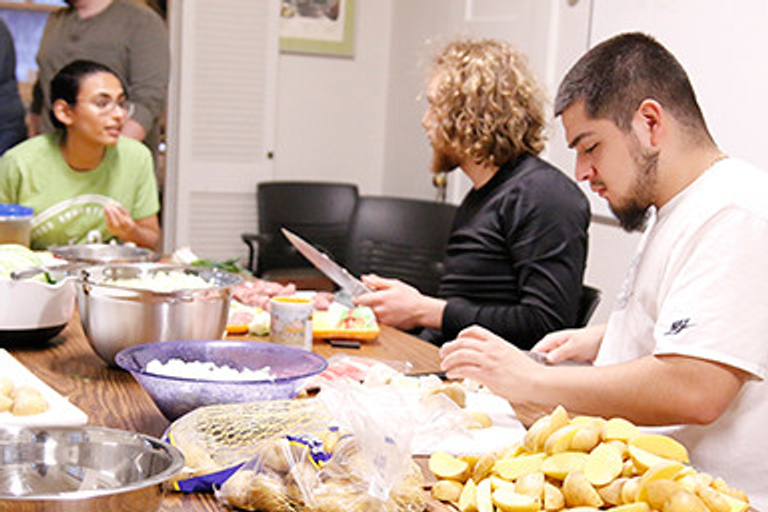 A dozen students sit scattered around a large dining table at the Indiana University Food Project House, chopping onions, cabbages and potatoes on a Friday night. Faint Irish music plays in the background as the students dump ingredients into bowls and pass around knives and chopping boards while catching up with each other and adding to the size of the small hill of potatoes that slowly accumulates.
The group, made up of IU students from a diverse range of majors and backgrounds, gathered March 6 to participate in an Irish cooking workshop in honor of St. Patrick's Day, led by Food Education at IU. The student group, also known as FED, brings together people who love cooking, eating and learning about food.
Calla Norman, the president of FED, stands in the kitchen preparing traditional Irish soda bread. Buttermilk, egg, baking soda and flour are combined, kneaded together and popped into an oven for 45 minutes. The end result is a dense bread that is perfect for eating with stew.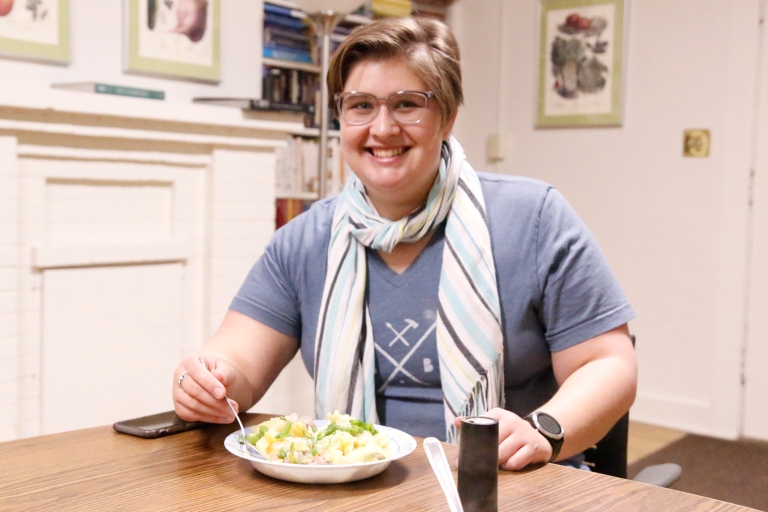 According to Norman, FED was born in 2017 when two Kelley School of Business students created a documentary about college students and food as part of their Compass project.
"They saw the opportunity for a student organization there and decided to start a club in their last semester at IU," she said. "I joined that first semester as a freshman and then became president in the fall of 2018, and I've been president ever since."
Norman said she hopes people can find a community at FED.
"It was really created for three purposes: to teach college students basics about food, to connect them to the greater Bloomington food world, and to form a community centered around food at IU," Norman said.
For this workshop, they partnered with the Irish American Community at IU, a student organization dedicated to sharing art, music, literature and food from Irish culture with people around IU and Bloomington.
Eamonn Duffy, the president of the Irish American Community at IU, talked to the group about the cultural significance of coddle and colcannon – nutritionally dense foods that are cheap and easy to prepare and thus a staple of the working class – and how the diets of the Irish during the Great Famine may still influence their descendants today through genetics.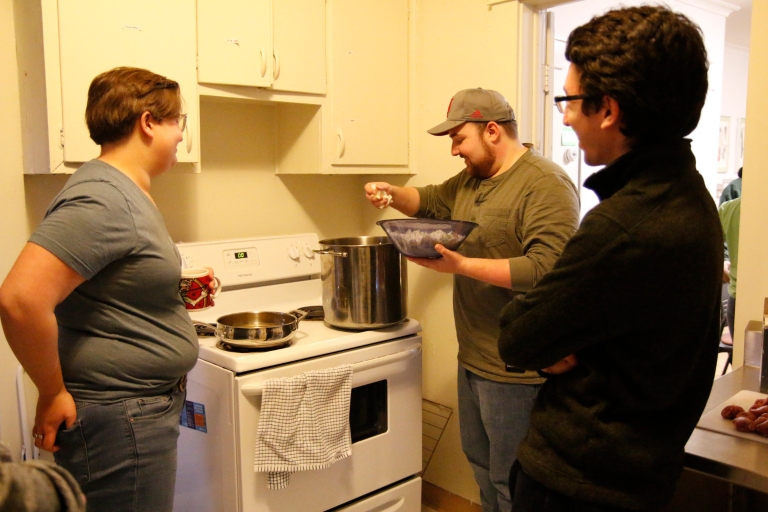 FED partners with other groups whenever there's an opportunity, Norman said. They have run a workshop with La Casa, making several different Latino aperitivos, or appetizers, and another where they made sweet potato gnocchi with the Sweet Potato Club at IU.
FED also tries to do at least two culture focused cooking workshops a semester as food is a great way to learn about other cultures. Norman said the Irish workshop was created because one of her freshman members, Chris Clegg, wanted to showcase his family's recipes.
"Food is a universal thing; we all need to eat," Norman said. "Our board comes from a variety of different backgrounds, so like with Chris and his Irish workshop or an Indian workshop we had last semester led by board member Harsh Kotwal, we get to experience our friends' cultures through food."
Clegg led the group through the process of creating two Irish classics: coddle and colcannon. Coddle is made by cooking pork sausage, bacon, chicken stock, potatoes and onion together in a pot, while colcannon is made by frying cabbage and bacon and combining them with mashed potatoes made with heavy cream, butter and milk.
While the prep work is relatively simple, the cooking part is more chaotic. The students, divided into teams, run around the two kitchens in the house, watching bubbling pans of stew, chicken stock and boiling potatoes and wrangling pans of frying bacon and simmering onion. The soda bread came out of the oven first and was gone within 15 minutes.
Clegg and Norman walk around the kitchens, offering advice and help when needed. Norman said that cooking as a group provides a valuable opportunity for peer-led teaching and learning.
"We've had participants come who don't know how to peel an onion and leave being able to peel, chop and saute it after the workshop's over," Norman said.
Once the food was prepared, it was time to sit down and eat. Norman, who is pursuing a certificate in food studies, said she loves Irish food but wasn't sure how the workshop would be received.
"I was a bit worried that students might be put off because of stereotypes surrounding English and Irish food, such as it being too bland or starchy," she said. "But I think those who came to the event were open-minded and were able to learn something and eat some really good food."