The man known to a first-grade class at Fairview Elementary School as Mr. Joey sat with some of the students at a table to help them make inkblots.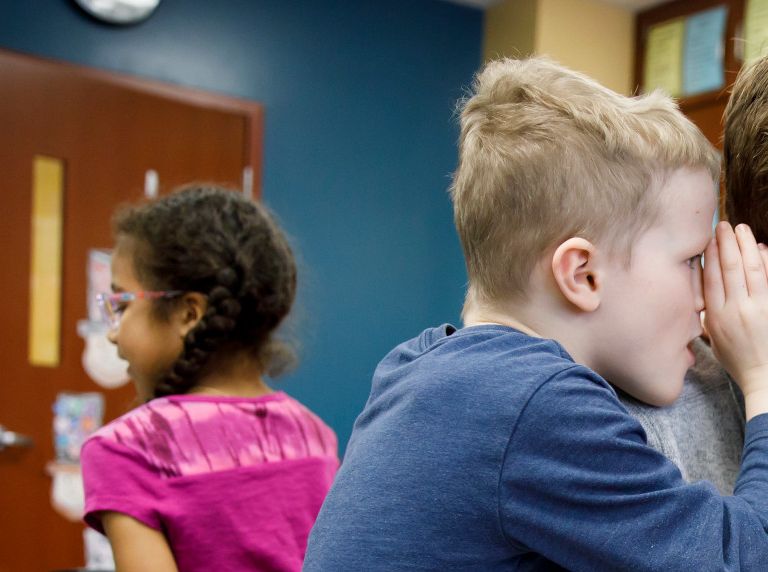 He asked them to choose a paint color, either red, blue or yellow, how big to make the dot and where they want him to place it on the white sheet of paper. The process was repeated until about six or eight dots were on the page. Then Mr. Joey folded the paper, pressed it and reopened it. He asked the students to describe what they saw – an exercise for the class's lesson about perception.
Mr. Joey was dressed like one would expect of a classroom volunteer: blue golf-style shirt, stone-colored slacks, gray zip-up fleece and brown shoes – oh, and blue socks with brown bears. His short, sandy beard makes him appear a little older than his 22 years.
It's not until Mr. Joey stands up that one realizes he's not the ordinary school volunteer. That's because he's the only person in the building who has to duck while walking through a doorway.
Mr. Joey is Joey Brunk, a 6-foot-11, redshirt junior forward on the Indiana University men's basketball team. He's assisting in Jennifer Somes' class once a week on Tuesdays, following his passion for education and a desire to help children.
IU Athletics helps student-athletes volunteer in the Bloomington community through its Excellence Academy's Hoosiers Helping Hoosiers programs.
Brunk – who earned an undergraduate degree in elementary education from Butler University in three years before transferring to IU – heard about the experience of two IU women's basketball players helping in Somes' class last semester and thought it would be a great opportunity for him as well.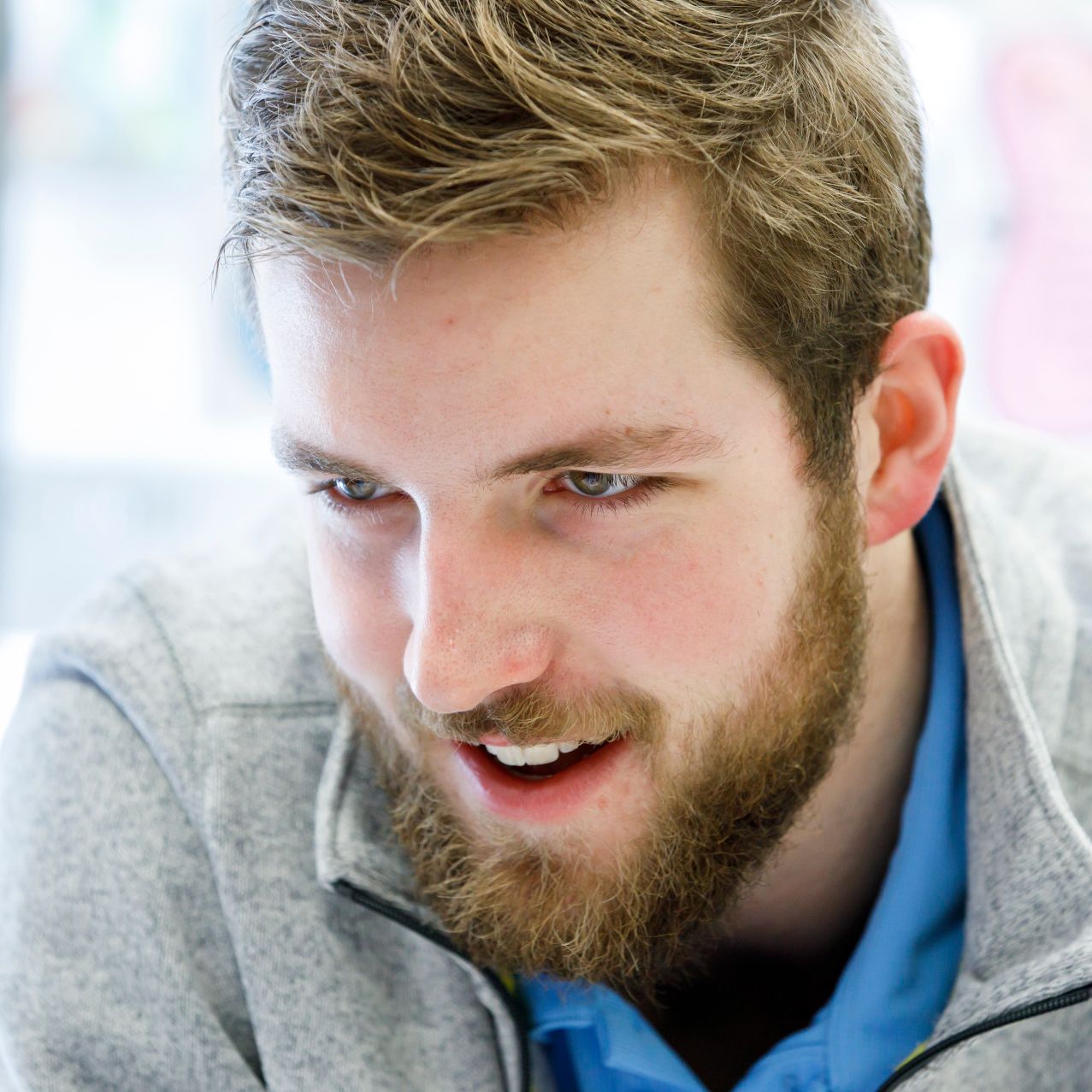 Photos by James Brosher, Indiana University
Somes said some students know he plays basketball for IU, but not all. Rather than being asked if he plays basketball, more often the students ask if he can touch the ceiling.
He can. But he's also trying to touch the students' minds and hearts.
"The kids, it's an influential time in their life. Hopefully I'm giving them a love for learning," Brunk said during his Feb. 25 visit to the class. "They're at a really special age, and they're excited to be here."
Opportunity to help
The Hoosiers Helping Hoosiers programs let IU Athletics reciprocate the support student-athletes receive from the Bloomington community, said Amanda Wagner, assistant director of service learning and community engagement for IU Athletics.
"These programs have a two-pronged approach to community engagement. We begin by looking at the interests of our student-athletes, the majority of whom enjoy working with kids and providing them with experiences and memories that would follow them as they grow up," Wagner said. "The second is to provide opportunities that help student-athletes develop holistically through an exceptional college experience that will prepare them for life after graduation."
Robert Morgan, Fairview's family and community engagement coordinator, said the school and IU Athletics have a long history of working together. Wagner will contact him if student-athletes are seeking volunteer opportunities, and they'll match them with an appropriate class based on their interests.
"We can't be more grateful," Morgan said. "The kids really look up to (the student-athletes) and they teach (the students) that they can do anything they want."
Brunk has helped elementary students before. When he was a senior at Southport High School, his mother, Helen, encouraged him to volunteer in a fifth-grade class at Southport Elementary, which he had attended. At Butler, Brunk spent a semester helping with a second-grade class at Butler University Laboratory School, as part of a practicum.
He's also done an internship with the Indiana Department of Education.
"Helping kids, it's something that's close to my heart and important to me," Brunk said. "You know you are doing something good for someone else."
Brunk said he's still close to several teachers who had a positive impact on him at different levels of school, and he's grateful to have had them in his life. He said he wants to use the small window his platform as a student-athlete provides to do something good with it. Helping the students in Somes' class is one way.
After his college basketball career ends, Brunk said he plans to go to law school and would like to have a career that involves child advocacy.
Morgan describes Brunk as humble, a great person and someone who wants to help however possible.
"It seems like Joey really loves it here," Morgan said.
Making a positive impact
Brunk talked calmly and encouragingly to the students as he helped them make inkblots.
Jovianna Waterford-Harris, wearing a maroon shirt and a maroon-and-gold bow in her hair, sat at the table with Brunk. She had him start the painting with a big blue dot in the middle of the paper, then instructed him to add smaller yellow dots, a big red dot and another big blue dot.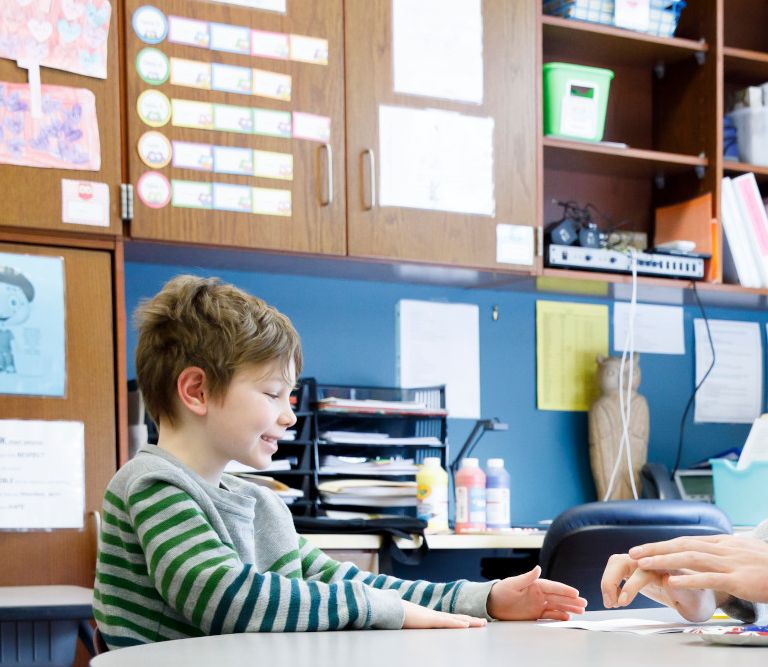 Brunk folded the paper, pressed it, opened it and asked Jovianna what she saw.
She told him she saw a red heart, planets and a tongue.
"That's kind of cool, isn't it?" Brunk said.
He told Jovianna, like he did the other students, "The only rule is you are not allowed to tell anyone what you saw. Deal?"
On another day, the students were to look at what their classmates made and say what they saw. Somes said the class is working on a unit about perception, how one views things they make and that other create. She didn't want the students to know in advance what the creators of the inkblots said they saw.
Before Jovianna scooted away from the table, Brunk gave her a fist bump for a job well done.
Later, Trevontae Holmes, wearing a white T-shirt with a basketball on it, walked to the table where Brunk was sitting.
"What's up, buddy?" Brunk asked.
Trevontae instructed Brunk on which colors he wanted to use for dots, how big to make them and where to place them on the paper. Brunk then folded the paper, pressed it and unfolded it.
"You have a prediction?" Brunk asked, before Trevontae inspected the images.
Trevontae said he saw footsteps, a note, a person, a clown's nose and a face.
"There's a whole story with this," Brunk told Trevontae.
Somes said Brunk has done a lot of one-on-one or small-group work with the students, particularly with reading or learning new vocabulary words.
The students don't focus on the fact that he's a basketball player. Rather, they're excited to have someone spend time with them.
"A lot of it is they enjoy having an adult role model that is willing to sit down with them one on one," Somes said.
Brunk said he is trying to build relationships with the students by learning their interests. Many of them love movies that are based on Marvel Comics superheroes, such as Iron Man, he said.
They're fond of Mr. Joey, too, and it shows on their faces.
"They've been very sweet. I've loved getting to work with them," Brunk said. "I don't think it has anything to do with playing basketball. I'm just somebody else who wants to help them. They've been a lot of fun."