"Opportunity" is Jill Lees' favorite word. The chief of the Indiana University Police Department-Bloomington uses the word daily in mentoring fellow officers and IU Police Academy cadets, encouraging them to always be ready for the next chance to learn, grow and improve.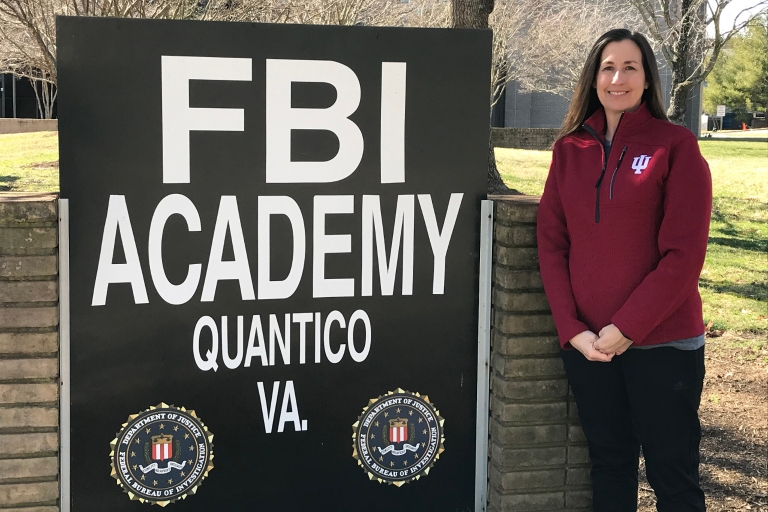 It's a principle she lives by – and is living now – as she nears completion of the FBI National Academy, an elite, 10-week course of study for law enforcement professionals from across the U.S. and around the world. Lees is expected to graduate March 13 and return to work March 16.
"Training at the National Academy is something I've aspired to my entire career," Lees said during a phone interview from the academy's headquarters in Quantico, Virginia. "While it's a personal goal for me, it's also an opportunity to become a stronger leader and better police chief for our department and campus."
Originally known as the FBI Police Training School, the National Academy recruited its first class in 1935 following a study five years earlier that called for standardizing law enforcement training throughout the U.S. Participation is by invitation only through a nomination process, with invitations extended to the top 1 percent of law enforcement professionals worldwide. Associate Vice President for Public Safety and Institutional Assurance and Superintendent for Public Safety Ben Hunter supported her nomination.
IU has been well represented at the academy. Two current members of IUPD-Bloomington – Lt. Brice Teter and Deputy Chief Shannon Bunger – attended the FBI National Academy in 2018 and 2019, respectively. Dating back to 1951, 17 current and former IU police officers are graduates.
Education, physical training and networking are the three pillars of the academy experience. Classroom training for Lees and the 255 members of the current class includes options for courses in intelligence theory, terrorism/terrorism mindset, management science, law, behavioral science, leadership, law enforcement communication, forensic science, and health and fitness.
Physical training, an integral part of the program, includes weekly fitness challenges leading up to completion of the academy's highly regarded "Yellow Brick Road," a grueling six-mile wooded trail run and obstacle course built by the U.S. Marine Corps.
"Committing to a program like this means you're willing to take a closer look at yourself, build upon strengths and recognize opportunities for improvement," said Lees, who is taking six graduate-level courses, including contemporary issues in law enforcement, managing the law enforcement image, and seminars on emotional intelligence and leading at-risk employees. "I look forward to bringing back what I'm learning to strengthen our department and enhance our commitment to student and campus safety, which is our number one priority."
Lees is one of 31 women in residence at the academy and one of seven law enforcement professionals representing college or university campuses. Networking with both groups has offered opportunities to discuss the issues facing women in policing and the circumstances unique to keeping a campus community safe.
"Knowing that once you graduate from the academy you have a strong professional network and lifelong friends to stay connected with and learn from is very gratifying, especially as law enforcement continues to change," Lees said. "I'm grateful to Ben Hunter, associate vice president for public safety and institutional assurance, for this opportunity and my IUPD colleagues for their support."