BLOOMINGTON, Ind. – Indiana University has presented former Ambassador Marie L. Yovanovitch with the inaugural Richard G. Lugar Award.
The award was bestowed on behalf of IU's Hamilton Lugar School of Global and International Studies, which is named in honor of the late Sen. Lugar and in honor of former Rep. Lee Hamilton. The award honors Lugar's legacy as a leading figure in American diplomacy and an internationalist who was renowned for his commitment to bipartisanship and to principled, pragmatic and non-partisan foreign policy.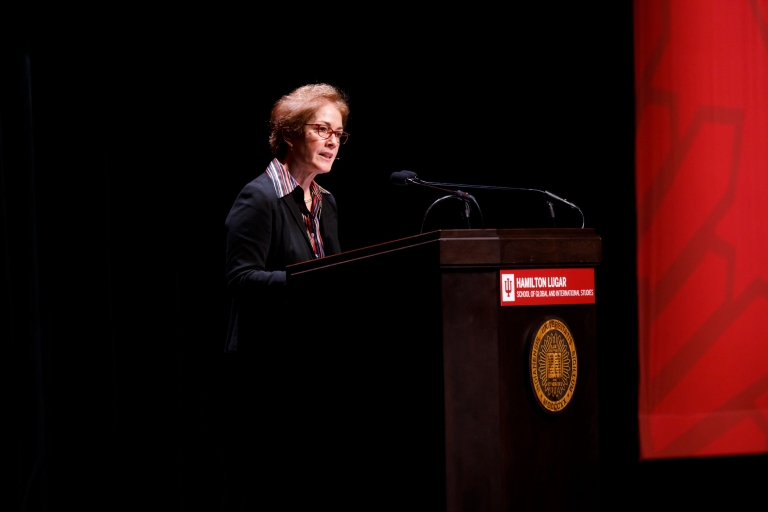 IU President Michael A. McRobbie presented Yovanovitch with the award during the fifth annual America's Role in the World Conference at the Hamilton Lugar School.
"Ambassador Yovanovitch's distinguished career reflects the principles we seek to uphold at Indiana University and the values we seek to instill in our students – a commitment to understanding other cultures and societies; an ability to master difficult subjects and to explain them clearly to non-expert audiences; a willingness, to speak truth to power effectively and dispassionately; and a commitment to the best traditions of this country's founding principles and to its Constitution," McRobbie said.
Yovanovitch served as U.S. ambassador to Ukraine from 2016 to 2019. She previously served as ambassador to the Republic of Armenia and the Kyrgyz Republic. From 2012 to 2013, she was the principal deputy assistant secretary of state for the Bureau of European and Eurasian Affairs, where she was responsible for policy on European and global security issues.
She also served as the senior advisor to the undersecretary of state for political affairs from 2004 to 2005. She retired from the Department of State as a career minister in January 2020. Yovanovitch is also a 1979 alumna of IU's Summer Language Workshop, which is part of the Hamilton Lugar School.
Following the award presentation, Yovanovitch delivered remarks before taking part in a moderated discussion with former Ambassador Lee Feinstein, founding dean of the Hamilton Lugar School.
An archived stream of the award presentation, remarks and discussion will be available soon on the IU Broadcast website.