BLOOMINGTON, Ind. – Indiana University expressed its appreciation to Sen. Todd Young, who earlier today delivered the university's inaugural Richard G. Lugar Lecture. The lecture honors the legacy of the late Sen. Richard Lugar, one of the namesakes of the IU Hamilton Lugar School of Global and International Studies.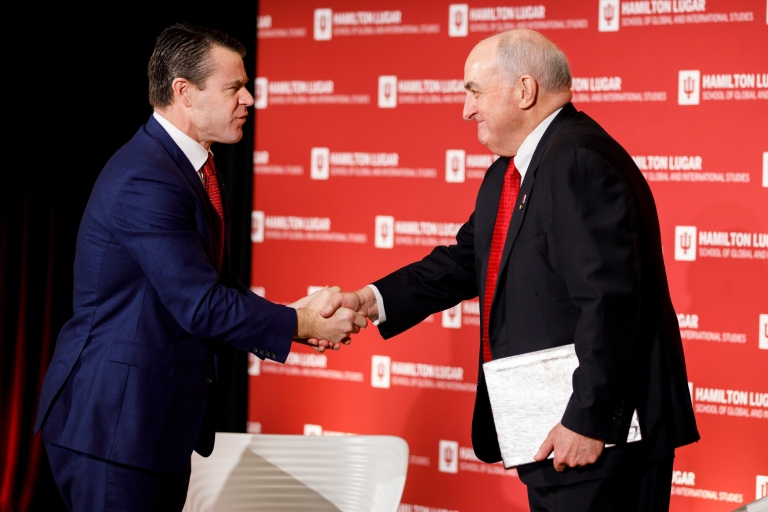 Young, Indiana's senior U.S. senator, delivered the Lugar Lecture during the Hamilton Lugar School's fifth annual America's Role in the World Conference. Following his remarks, he took part in a discussion moderated by former CBS News network correspondent John Stehr.
An archived stream of Young's lecture will be available soon on the IU Broadcast website.
A fifth generation Hoosier, Young was elected to the U.S. House of Representatives in 2010 and represented Indiana's 9th Congressional District from 2011 to 2017. In 2016, he was elected to the U.S. Senate seat formerly held by another alumnus of IU's McKinney School of Law, Dan Coats.
Young continues to champion the U.S. Department of Education's Title VI program, which works to develop and maintain capacity and performance in area and international studies and world languages. In 2018, IU announced that a record number of 11 IU area studies centers and programs within the Hamilton Lugar School were awarded grant funding for 18 separate programs under the Title VI program. This represented the best outcome for IU in the 60-year history of the program.
Young earned his J.D. from IU's McKinney School of Law.