Have you filled out your 2020 Census Form? If not, the time is now.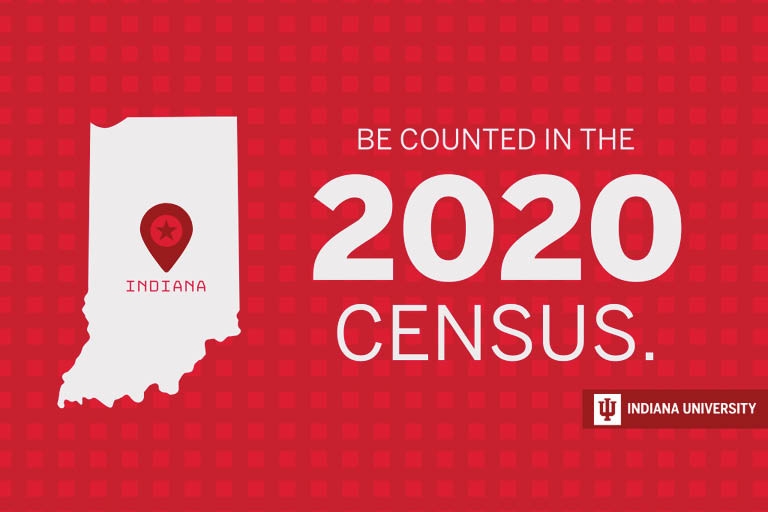 Full participation in the 2020 census is not only required by law but is drastically important to the health of a community. Data collected from the census measures the country's demographics, is used to draw boundaries for congressional, state legislative and school districts, and determines how more than $675 billion in federal funds are distributed annually to communities across the nation.
"The Indiana University family is vast and the financial impact each of us has on our campus communities through representation in the Census is critical to the ability to obtain federal funds over the next 10 years," said Valerie Peña, assistant vice president and chief of staff in the IU Office of Government Relations and Economic Engagement. "COVID-19 has created a challenge in what is an already difficult task in gathering information for the census."
Peña said all staff, faculty and students should visit census.iu.edu to make sure they're counted correctly. The site has a full list of frequently asked questions, including whether students should fill out the form based on their permanent address or their college address – a common question during this unusual academic period.
Why is it so important that staff, faculty and students fill out the form? Peña said information available through the Indiana Data Center Program estimates that every person in the state of Indiana counted in the census potentially creates $2,710 in available federal funding. Over 10 years, that amounts to nearly $30,000 per person.
"People who are not counted affect our campus communities' ability to provide Pell Grant funding, maintain roads and bridges, provide funding for numerous social organizations that service children, seniors, wildlife and the arts just to name a few, as well as affect your community's representation in both the Indiana Legislature and Congress," she said.
IU students in particular need to make sure they are counted where they go to school, even if they aren't living in that community due to the COVID-19.
"There is a tremendous amount of confusion on where people should put 'home' because of COVID-19," Peña said. "According to the U.S. Census Bureau, everyone should fill out the census as if COVID-19 never happened. So in the case of our IU students, they should list 'home' as their campus location."
All people, regardless of legal status, should complete the census knowing the information is confidential and protected under Title 13 of the United States Code. Census responses cannot be shared with anyone, including law enforcement, immigration, tax agencies or the president of the United States. Personally identifiable information from census records remains unavailable for 72 years, and U.S. Census Bureau employees take an oath to protect responses or be subject to a fine of up to $250,000 and/or five years in federal prison.