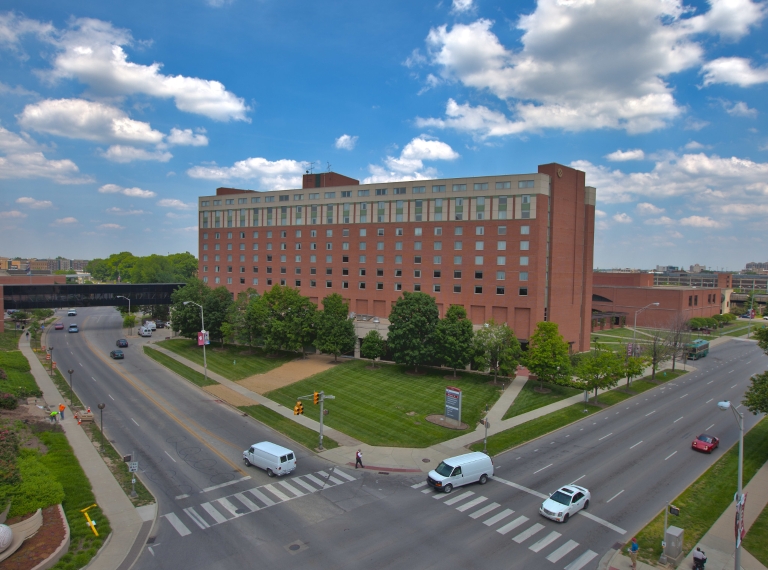 As Indiana and the majority of the country continue to prepare for the peak of COVID-19, Indiana University is working with the medical community to support their needs and the needs of those working on the front lines caring for patients.
Making space
One of the biggest needs health care providers have amidst the global pandemic is space for physicians, nurses and other medical professionals to rest between shifts. To support this critical need, Indiana University is working closely with hospitals in Indianapolis and Bloomington to make space available.
At IUPUI, University Tower is being transformed into an area for medical professionals to use as a respite and for those who may need to self-quarantine. Rooms are available for doctors, nurses and any other medical professional to use in between shifts or as a place to stay away from family members in the case of being exposed to the virus.
"At IUPUI, we have a special connection to health care professionals across the state since many of them were educated right here on our campus," IUPUI Chancellor Nasser H. Paydar said. "As a public institution, it is our responsibility to help them help the community, and IUPUI is strategically located among a number of major hospitals to provide support. At this time of crisis, we are working together to find innovative and effective ways to protect the safety and health of our community."
Similarly, Briscoe residence hall on the north side of the IU Bloomington campus is being made available to IU Health medical workers in south-central Indiana. The goal is to give those working long shifts a close and convenient place to rest. A second area in the residence hall will be opened if needed for health care workers who may have been exposed to COVID-19 so they have a place to stay without putting others in their household at risk.
Donating protective equipment
In addition to the availability of physical space to help the health care community, IU has donated personal protective equipment to hospitals and first responders across the state. Including N95 masks, goggles and gloves, the university community has pulled from stockpiles, current supplies and even personal stashes to give to those most in need.
Creating safeguards
IU is also using its resources and the talent and expertise of its faculty and staff to create PPE for health care workers. Volunteers are sewing fabric masks, while others are using the 3D printing capabilities in various areas of the university to create masks and other protective equipment that will then be donated to area health care facilities and workers.