BLOOMINGTON, Ind. – The Indiana University community is mourning the passing of Dr. Steven C. Beering, dean emeritus of the IU School of Medicine and president emeritus of Purdue University.
Beering served as dean of the IU School of Medicine and director of the IU Medical Center from 1974 to 1982.
"Dr. Beering was a highly distinguished scholar, physician and administrator who served as a physician to astronauts, architect of Indiana's highly successful medical education system, dean of one of the country's leading medical schools and, ultimately, a university president who helped build the institution he led into a top public research university with a renowned engineering program," IU President Michael A. McRobbie said. "Whenever I saw him, I always found his insights into the history and issues in higher education in Indiana to be of great value. He was always generous and thoughtful with his advice.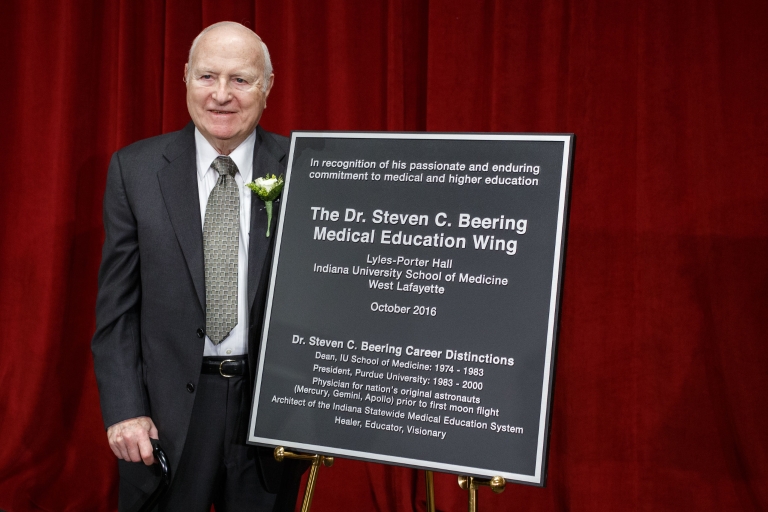 "IU and Hoosiers across the state will forever be grateful to him for designing Indiana's bold and visionary statewide medical education system. This system, which has since been widely replicated nationwide, extended the high-quality education and research of the IU School of Medicine to all corners of the state and ensured that many of the school's graduates would practice medicine here in Indiana. The subsequent transformation of IU's regional medical education programs from two-year to four-year programs – and the recent introduction of the new multi-institutional Stone Family Center for Health Sciences in the heart of the city of Evansville, Indiana – derived, in large measure, from Dr. Beering's original vision and leadership.
"On behalf of all of us at IU, I want to share our deepest condolences to Dr. Beering's family, friends and former colleagues and all of those individuals who are mourning the passing of a true Hoosier legend whose impact on the health and well-being of our state will be felt for generations to come."
Beering was born in Berlin in 1932 and immigrated with his family to the U.S. when he was 15. He spent 11 years in the Air Force Medical Corps, rising steadily in the ranks to become a lieutenant colonel and chief of internal medicine at Lackland Air Force Base in San Antonio, Texas. There, he served on the medical support teams for the Mercury, Gemini and Apollo space programs, and his research into hormonal changes that occur in the body as a result of environmental stress were particularly relevant to the early space program.
He joined the IU School of Medicine faculty in 1969 as professor of medicine and assistant dean. Among his many contributions to the school and the state was his leadership in establishing the Indiana Statewide Medical Education System. This system established community-based regional centers for medical education in Evansville, Fort Wayne, Gary, Lafayette, Muncie, South Bend and Terre Haute.
Beering was named dean of the School of Medicine in 1974, becoming the youngest dean in the school's history. He served in that role until 1983, when he was selected as the ninth president of Purdue University, where he served until his retirement in 2000.
In 1983, the IU School of Medicine established the Steven C. Beering Award to honor internationally recognized individuals for outstanding research contributions to the advancement of biomedical or clinical science. The award is presented annually and consists of a medal and a $25,000 prize. Eight Beering Award recipients also received Nobel Prizes, either before or after receiving the Beering Award.
"When you look back at Dr. Beering's life story – the harrowing adversity he faced as a young boy fleeing Nazi Germany and the significance of his impact as a trailblazer in Hoosier academia – you can't help but be humbled," said Dr. Jay L. Hess, dean of the IU School of Medicine and IU's executive vice president for university clinical affairs.
"Dr. Beering's fingerprints are on so much of what we pride ourselves on at the IU School of Medicine – a statewide medical education system being just one of his many accomplishments. The wisdom and integrity with which he led for decades, first here at IU and later at Purdue, serve as a compass for all those who followed in his footsteps."
A four-time recipient of Indiana's Sagamore of the Wabash, Beering also received a number of honorary doctorates, including one from IU, conferred on him in 1988.
Beering received IU's President's Medal for Excellence, the highest honor an IU president can bestow, in 1999. In 2016, IU recognized his commitment to medical and higher education by renaming the medical education wing at the IU School of Medicine-West Lafayette the Steven C. Beering Medical Education Wing. A commemorative plaque hangs in the wing.
Read the Purdue University news release for more on the life and legacy of Beering.