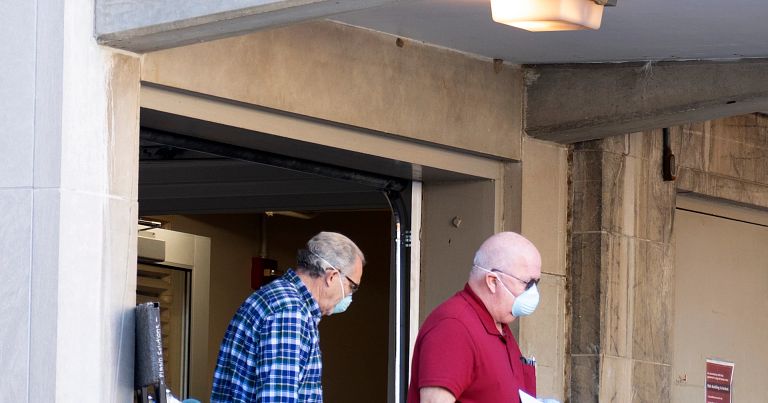 Tracy Wong was concerned when Indiana University's 2020 spring semester classes were moved entirely online. As a master's degree candidate in piano performance in the Jacobs School of Music, Wong knew her semester included collaborations and ensemble work that require face-to-face interactions.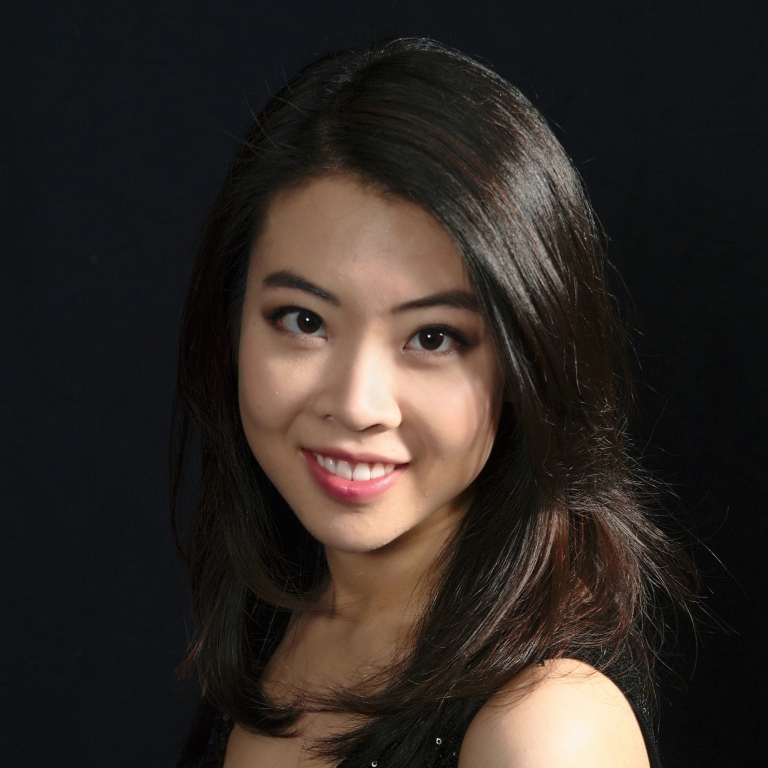 "When I heard about the shutdown, I was most concerned with the fact that I had no idea how I was going to graduate if the bulk of my work for this semester was going to be impossible to complete," Wong said.
Additionally, the stay-at-home order from Indiana Gov. Eric Holcomb meant Wong would not be able to use the school's practice rooms, graduate student teaching studios or instruments. The lack of an instrument is critical for performance majors, who commonly practice anywhere from 30 to more than 50 hours per week.
"To excel in performance, a pianist must spend hour upon hour in the practice room in order to deal with the virtuosic demands of the music, to cultivate technique and to allow the music to become second nature," said David Cartledge, co-chair of the piano department at the Jacobs School of Music. "Significant practice time allows a pianist to develop a sense of nuance, touch and sound, as well as developing and maintaining the conditioning required for high-level performance."
Cartledge and co-chair Norman Krieger brought their concerns to David Henry Jacobs Bicentennial Dean Gwyn Richards, who consulted with them, the piano technology department and Jill Piedmont of the school's business office.
"Dean Richards arranged for the school to rent 80 new digital keyboards," Cartledge said. "He also worked with the school's instrument rental and facilities personnel to distribute them so piano, early instrument, organ and composition majors in Bloomington can practice at home while engaging in social distancing."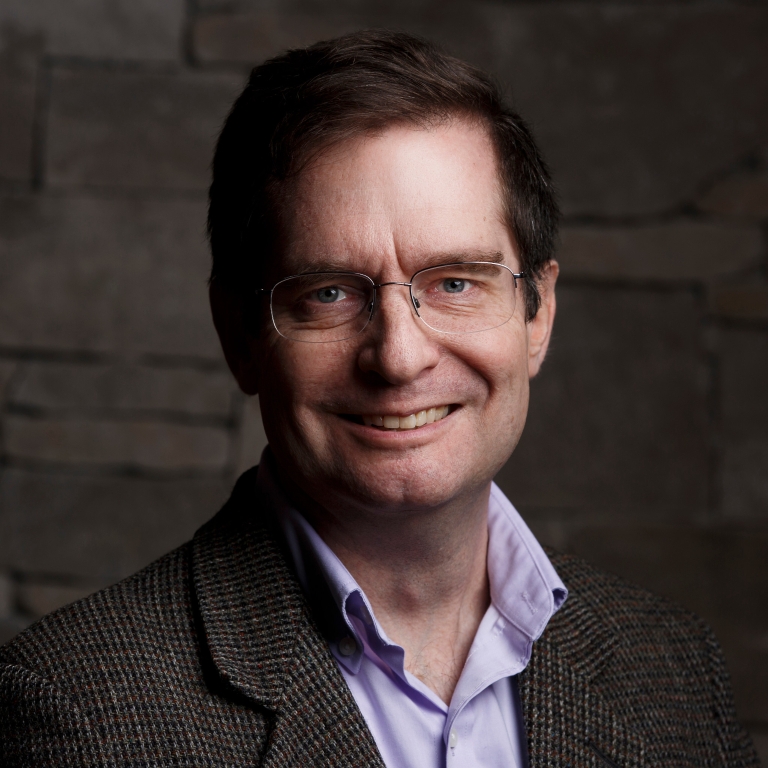 Jacobs School of Music leaders decided to rent the digital pianos from Carmel, Indiana-based Piano Solutions, which has a longstanding relationship with the school. Owner Brian Hostetler said Richards contacted him and co-owner Greg Durthaler on March 20, and all parties worked together to determine what was needed to support the students.
"The keyboards had to be digital pianos with a full 88-note weighted key feel, and with a good grand piano tone," Hostetler said. "They also had to be lightweight and portable so students could transport them to their home."
Eighty Yamaha P-125 digital keyboards were shipped from Yamaha's Midwest warehouse to Piano Solutions' store in Carmel. Hostetler and Durthaler wore gloves and masks to deliver the instruments to the school the morning of March 30, using a pre-planned and clear path to an empty receiving area.
But there still remained the hurdle of distributing the instruments to the piano performance students, which Wong called "a weird, surreal experience."
"We students got about 16 hours of notice when the keyboards were ready, and were provided a specific window of time in which we could drive by and pick it up, very detailed instructions about where to stop, where to load and where to open our doors," Wong said. "I got to the drop-off zone, and the facilities personnel got me loaded up and checked in within probably three minutes, and then I was ushered on my way.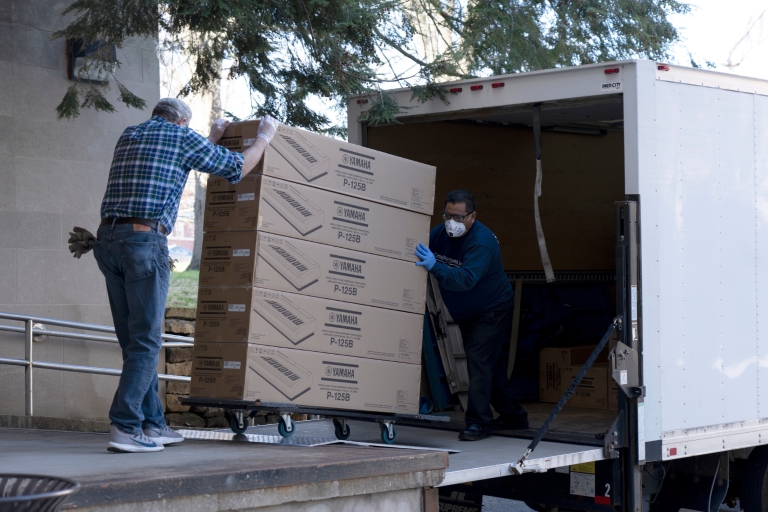 "I felt like I had just been handed a super top-clearance state secret in the form of two Yamaha boxes, one with the piano and one with the base stand, in my trunk."
Wong expressed gratitude for the school, piano department and facilities personnel for their timely response to meet students' needs during the shutdown.
"This was handled with strong leadership and concise communication, which I think we as students were all needing in order to feel taken care of. We felt the school had our backs, even with the bureaucratic nightmare that the pandemic has caused," Wong said. "I've used the keyboard every day to practice and teach. And because I'm spending more time than I ever have before with an electronic instrument, I'm teaching myself how to interface with programs like Logic Pro, GarageBand and Finale. It's been a good opportunity to learn something that I probably never would have taken the initiative to start on my own, or even really thought about with an acoustic instrument."
Wong said being able to practice has benefited her emotionally and mentally.
"I think the inability to practice had really taken a toll on many people's health. Most of us were feeling like we were forced to stand still and pause what we are passionate about as a byproduct of COVID-19," Wong said. "When your job, schooling and career happen to be something you love, having that taken away all at once can feel like a terrible loss of agency during a situation where you already feel hopeless. Having the option to practice at home has given a lot of us some normalcy and a way of coping."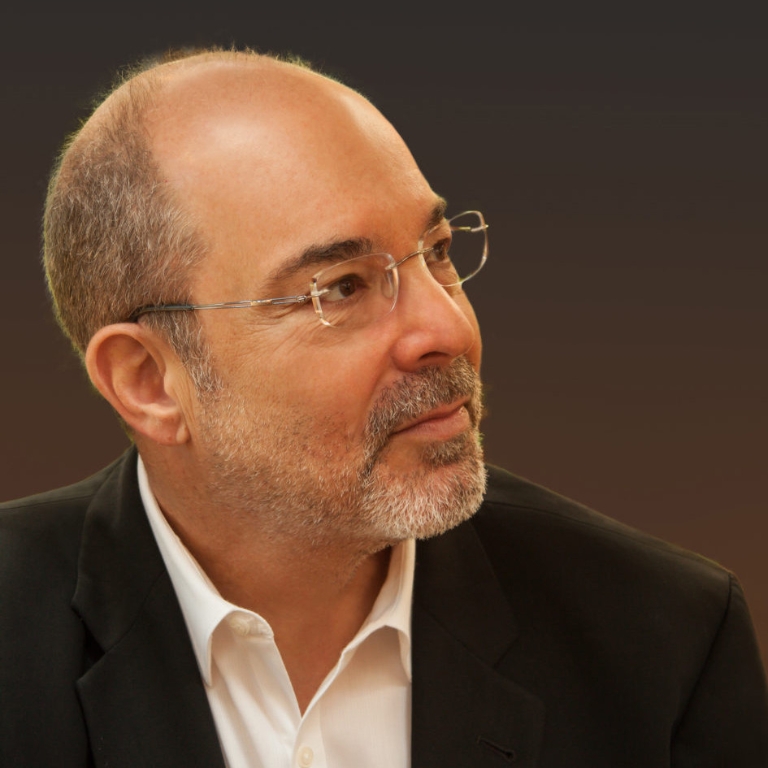 Cartledge said that providing pianos to students in Bloomington was an amazing team effort.
"Ron Sebben, who runs our instrument rental office, did an amazing job making student contracts and keeping track of everyone," Cartledge said. "Denver Wrightsman, our director of facilities, and Christina Kruse, our facilities assistant, figured out how to distribute the instruments in a way that was safe and complied with campus requirements for physical distancing."
Krieger said the Jacobs School of Music is a family made up of its faculty, students and staff, all of whom love music and are eager to make the world a better place.
"Music reminds us of our duty to serve others, especially those who are unable to attend live concerts," Krieger said. "This is the great part of technology today. We can still practice and learn as well as send our music to the world via many different social media platforms. Music is the universal language that binds the world together."