MFA in studio art
The need for artistic expression never diminishes, even during pandemics.
Twenty-three Master of Fine Arts candidates in the Indiana University Eskenazi School of Art, Architecture + Design will virtually exhibit their work with the Grunwald Gallery of Art in the media of ceramics, digital art, fibers, graphic design, metalsmithing and jewelry design, painting, photography, printmaking, and sculpture. The shows, starting April 27, are being hosted on the school's website.
Three MFA students – Yingqi "Puffy" Zhao, Caroline Gerberick and Jonathan Christensen Caballero – spoke about their artistic background, their medium and their work to be exhibited.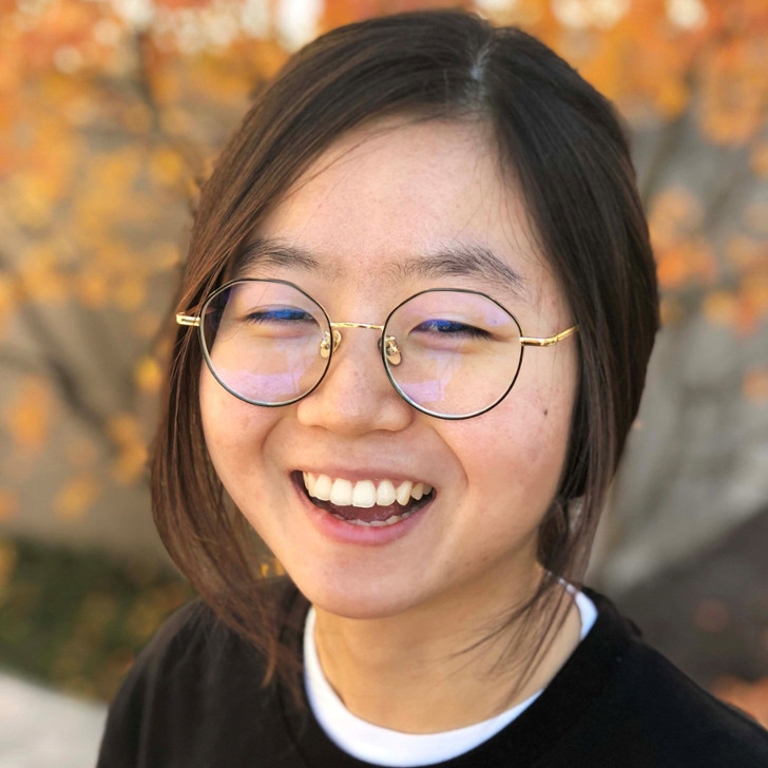 Metalsmithing and jewelry design
Yingqi "Puffy" Zhao remembers begging her mother for jewelry during her childhood in Shenyang, Liaoning, China. Zhao said she could never pass a jewelry store without stopping.
"I was drawn to the delicacy and shininess of jewelry," Zhao said. "I gradually grew into a maker who is very much interested in jewelry as wearable and sculptural objects that simulate utmost intimacy in relation to the human body."
Zhao is drawn to microscopic structures of living forms, and the perception of creatures by human eyes could be entirely different from imagery revealed by a microscope.
"I ponder whether I am able to capture the reality of anything merely through direct observation and visual reproduction," Zhao said. "So, instead of depicting the familiar human form that is exposed to naked eyes, I choose to present the imagined segments, episodes and versions of human form from a cell perspective, which are processed by the microscope in my head. My interest in looking at the human body from a microscopic perspective is my strategy of exploring myself from deep within."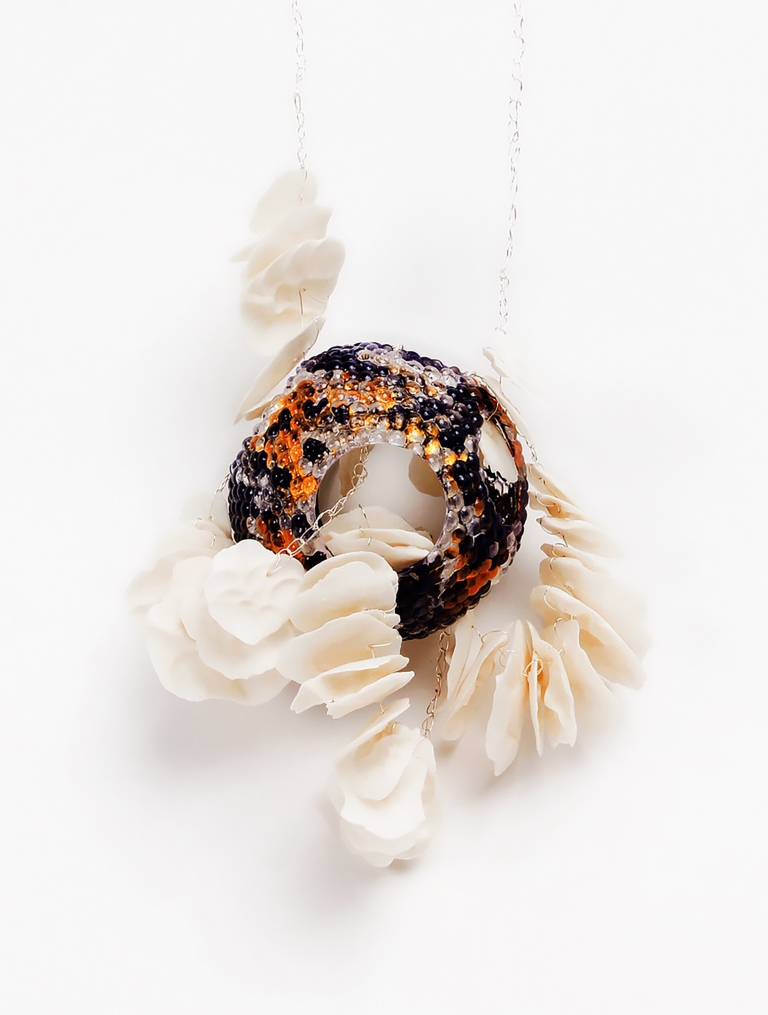 Zhao is usually precise when creating her work, first rendering delicate, repetitive lines on intricate contours.
"Then I refine my design drafts through orthographic drawings, which represent three-dimensional objects in two dimensions," Zhao said. "I model three-dimensional objects using software that can build up volumetric forms through assigned points, lines and surfaces. Points and lines can be traced based on the drawings, and precise forms can be created from the points and lines. The metal fabrication process would start from blueprints I create and then be assembled to arrive at the designed format."
But sometimes Zhao is less precise.
"On the end of the scale, I would sometimes start from one simple and vague thought. I would start fabricating a thing, then I would move on to a second component, a third component, or until something sparks and begins coming together," she said.
Zhao said the virtual MFA thesis exhibition provides her an opportunity to explore a large series of work and push her limits with both subject and labor.
"This exhibition will be my starting point of exploring the expansive subject matter of human anatomy and physiology from this perspective of a cell," she said.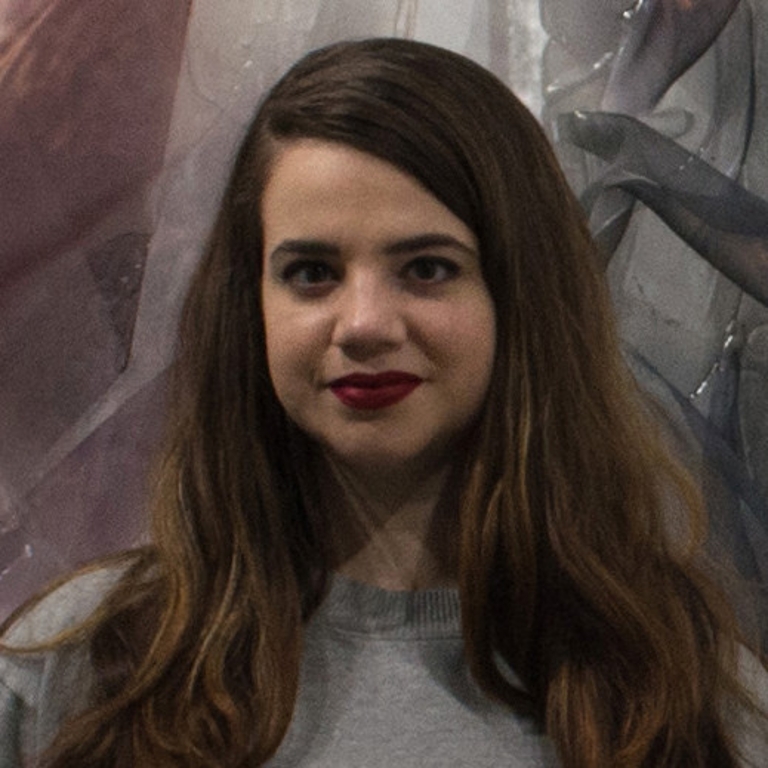 Fibers
Caroline Gerberick of Cincinnati, Ohio, said fiber art creates meaning through materiality. The art has evolved since the 1960s and 1970s, and the variety of materials and acceptance of interdisciplinary practices continue to change.
"The effect created by seeing something soft or draping versus hard and reflective is an opportunity to create a connection to the viewer," Gerberick said. "Fiber-based art could be anything from the more traditional processes like weaving, quilting, spinning, dyed material, etc., to a glass or steel structure."
Gerberick's interest in fibers began while an undergraduate at the School of the Art Institute of Chicago. She said there is a balance between understanding the technicality and science behind the process and the "magic" they result in.
"For example, when weaving you start with yarn that is chaotic and uncontrolled, and it becomes a structure that has order and durability and is a true visual of time and labor accumulated or recorded," she said. "Or, that a red flower can give you a green dye and that when using indigo, you can watch a transformation of color happen right in your hands. So really what captured my interest was the direct connection to materials and processes and the endless opportunities of using them."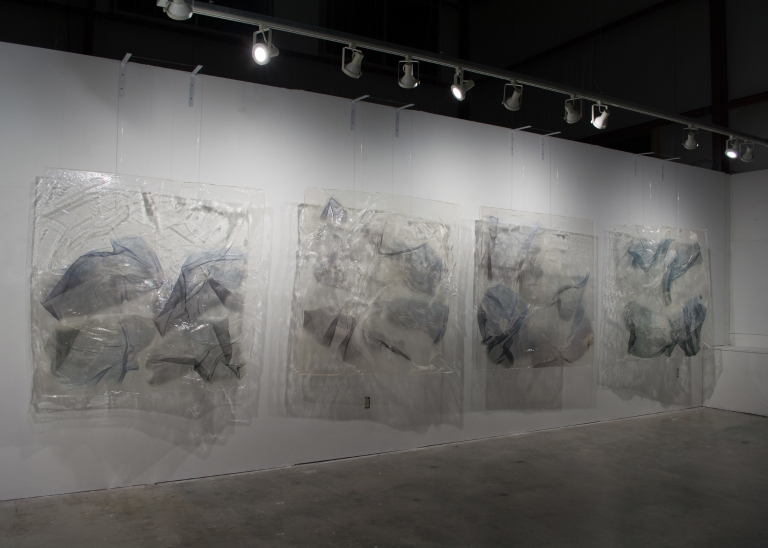 Gerberick said her art portrays her desire for an experience that mimics meditative or contemplative states.
"In my work I use the experience of being in water to talk about how we can float between spaces and really be with our bodies, but separate from our worlds simultaneously," Gerberick said. "I often say that I am trying to create a poetic space. I hope my work is a place to get lost looking through, into and beyond the surface into a place that is hard to grasp but beyond our sense of physicality and reality."
Gerberick said the virtual MFA thesis exhibition represents her growth as an artist and a person while a graduate student at the Eskenazi School.
"I've gained the skills to defend and think critically of my own work in a productive way. This will give me the foundation to present my work in new ways and continue to expand my practice and skills," Gerberick said. "I'm incredibly grateful for this opportunity and how much it has given me to move forward as an artist."
Ceramics
Jonathan Christensen Caballero of Provo, Utah, became curious about ceramics through the pottery his father had made as a teenager. Caballero explored this interest by taking a ceramics class in high school and later as a student at Snow College.
Caballero said the concepts of his narrative figure sculptures have to be emotionally profound if he is going to dedicate months to creating them.
"My main strategies to develop the concept for each narrative rely on reading, sketching and recorded performances," he said. "Once I settle on the narrative and the figures' pose, I transition to working with many different materials to fabricate the life-sized sculpture."
Those materials include clay for each figure's face and hands, steel to serve as the armature for the rest of the body, secondhand clothes broken down into strips and pulp for the body and headdress, and construction materials for the sculpture's base.
"The last step in my process is finding ready-made objects for symbolic communication unique to each narrative," Caballero said. "My process is very interdisciplinary with an expansive use of media, so I have to trust in the strength of the idea to guide all the materials and choices along the journey."
Caballero's art is based on his identity: growing up with parents who worked labor jobs and a mother who is a Central American immigrant.
"My figures give representation to people who contribute to society at the cost of their physical bodies," he said. "For this reason, my sculpture is rooted in a Latin American identity, socio-economic status and present-day politics. The personal is political, and I feel a moral imperative to create art that critiques the oppression of Latin American laborers in the United States."
Caballero said the usual benefits of an MFA thesis exhibition – including bonding and celebrating with peers and mentors – will be disrupted because of the COVID-19 pandemic. But there still will be long-term benefits to the virtual exhibition.
"With a concise and developed body of work, the show will become a cohesive portfolio," Caballero said. "This portfolio – combined with professional connections I have made while at IU – will open opportunities to exhibit nationally in galleries and museums, and the ability to apply for careers within the arts, grants and artist residency programs."