Although Indiana University Bloomington staff, faculty and students are stuck in their homes during the COVID-19 crisis, that doesn't mean they have to be stuck on the couch.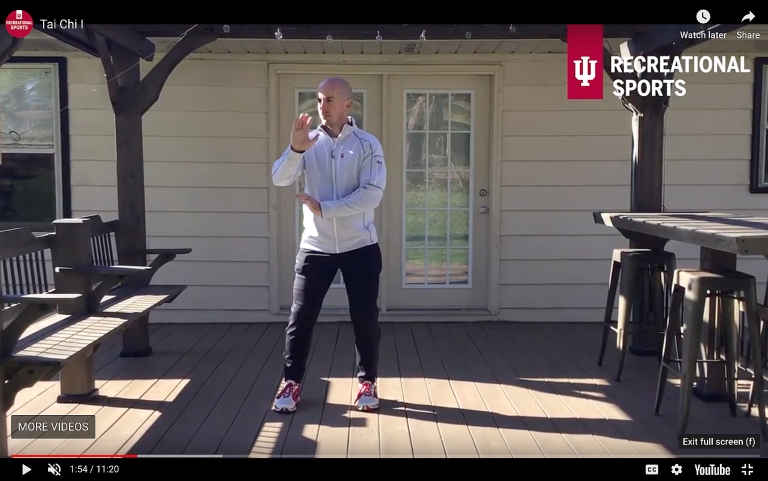 Two departments are providing a variety of online resources for home workouts, even if exercise equipment isn't on hand.
Campus Recreational Sports has started posting 30-minute-or-less workouts on its website. The workouts are provided by members of the professional staff team – all with national certifications – to meet the physical and emotional needs of staff, faculty and students, said Chris Arvin, the department's program director for fitness, wellness and informal sports.
He said they're intended to be simple and accessible.
"We understand folks are limited by equipment and space at home," Arvin said. "The workouts are easily adaptable to the home environment and something anybody can do."
IU Athletics strength and conditioning coaches are conducting live workouts by using the Zoom video conferencing service, which allows staff and faculty to join in. Strength and conditioning coaches also have devised individual workouts for 750 athletes, based on the resources they have at home, so they can continue their training regimens, said Tom Morris, senior assistant athletic director for athletic performance.
"IU Athletics is trying to keep everyone healthy physically, mentally and emotionally, so when we come back to campus we can pick up where we left off," he said.
Laugh, move, reduce stress
Kathy Bayless, executive director of Campus Recreational Sports, said that as soon as it became apparent that staff, faculty and students would have to work, teach and learn remotely, the department began devising a plan to provide online workout sessions.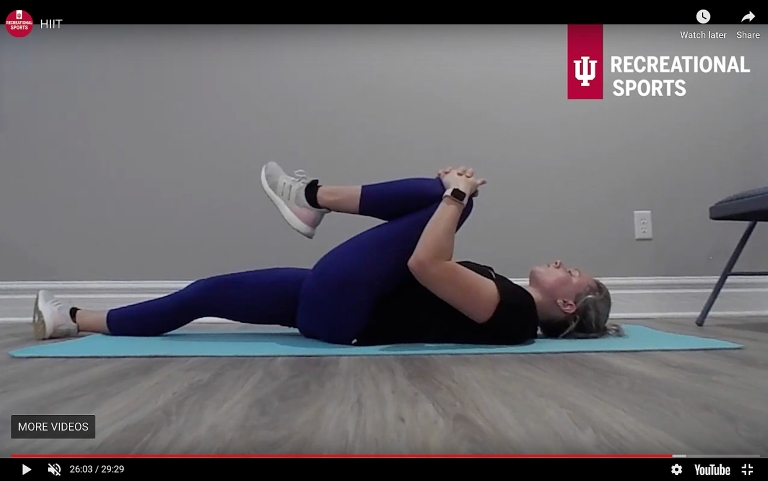 The first phase was posting content that could be accessed online anytime, she said. The guided group exercise videos are available by clicking the Rec Sports at Home feature on the department's homepage, or on its YouTube channel.
To submit questions about home workouts and wellness, click on the Ask the Trainer feature on the homepage; trainers will reply within one business day.
A possible second phase, Bayless said, could involve live streams of workouts that could be joined via Zoom, like IU Athletics is doing.
All the sessions that are being created are intended to get people moving, get their heart rates up, help them stay strong and aid with stress management, Arvin said.
"We want them to laugh, to move, to reduce their stress. We know physical activity is good for one's health, but at a time like this it's even more so for our emotional well-being," Arvin said.
Sessions will include yoga, strength training, Zumba, cardio kickboxing and tai chi, among others. The goal is for new workout videos to be posted every Monday, Arvin said.
Creative connections, training
IU Athletics staff is a big family that is accustomed to a lot of personal interaction throughout the week, Morris said, so offering workouts through Zoom keeps everyone connected.
Morris and his wife recently led a morning yoga session that was designed to get the body moving and ready for the day, he said.
Athletic Director Fred Glass is sending email notices about upcoming online workouts to all athletics staff members.
"I think the sessions have been very well received, and everyone's been very appreciative of it. I think there is a value in it," Morris said.
Strength and conditioning coaches also are using Zoom sessions to keep in touch with athletes, and the website indianastrength.com is a resource to help them keep up with their training, Morris said.
Athletes can access content created by their respective strength coaches, as well as COVID-19 information and helpful articles. Strength coaches have devised both limited-equipment and no-equipment training plans, which could range from simple in-home exercises like reverse crunches and bear crawls to more intensive outdoor workouts like flipping tires or pushing cars up and down the road. Some athletes have been creative, such as having younger siblings sit on their shoulders during certain exercises to provide resistance, Morris said.
"If we keep preparing them and giving them overload, they will get stronger," Morris said.