The Indiana University Maurer School of Law has honored five faculty members with prestigious teaching awards.
A special committee of students presented award recommendations to Dean Austin Parrish, who made the final selections. Because of the COVID-19 pandemic and Gov. Eric Holcomb's stay-at-home order, presentation of the awards has been postponed until the IU campus has reopened.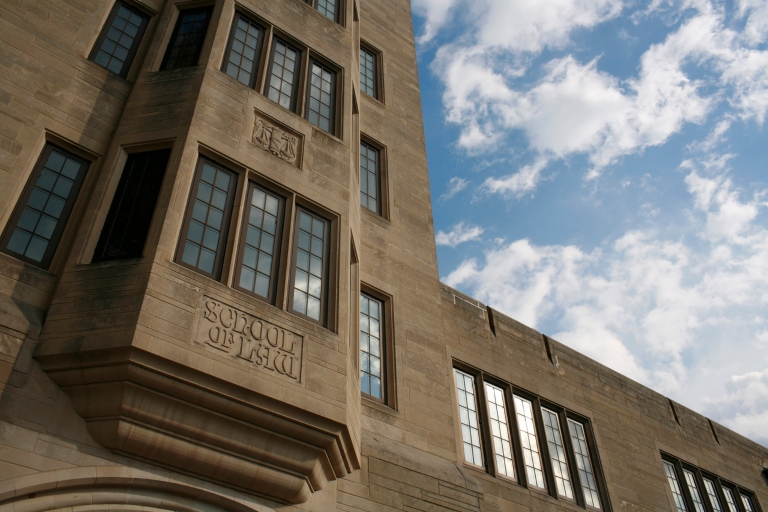 Recipients are:
Laura Daghe
Daghe was presented with the Leon H. Wallace Teaching Award, named for the school's former dean. This is the highest teaching honor given to Maurer faculty. Daghe teaches the required first-year course in legal research and writing, where students described her as "direct and no-nonsense" as well as "passionate, articulate and committed to the constant goal of continual improvement." Students said Daghe also shows a level of support and genuine interest in their lives that goes beyond ordinary expectations.
"If you use Professor Daghe as your model," student nominees wrote, "you can be confident that you might lose, but you will never fail."
Luis Fuentes-Rohwer
Fuentes-Rohwer received the Trustees' Teaching Award. for his innovative teaching techniques. Students said that the feedback process he uses in his seminar on civil rights requires them to present and critique not only their own work but the work of others. This enables them to "assess the strengths and deficiencies of their own work as they watch their classmates wrestle with their own arguments." Fuentes-Rohwer was also credited for his work as advisor to the Indiana Journal of Law and Social Equality, where he has guided students in its growth and development.
Steve Sanders
Sanders, who received the Trustees' Teaching Award, teaches constitutional law and family law. Students in these courses said he devotes a significant portion of class to exploring their perspectives and thoughts on the legal and political matters and that "he has a particular penchant for it that creates a special classroom experience." He was cited for moderating and controlling discussions without being overbearing or disrespectful, resulting in something "much more meaningful than just an hour of lecture." Students also noted his active and enthusiastic participation in the law school community as a panelist, moderator and interviewer at numerous constitutional law-related events.
Carwina Weng
Weng, who received the Trustees' Teaching Award (Clinical), is a clinical law professor and director of the school's Disability Law Clinic. Students called her a "refreshing change of pace from the typical doctrinal law school professor." They said she uses a modern approach in her classroom that includes simulations, role-playing and peer-based instruction. Students said these techniques "inspire her students through encouragement rather than anxiety or intimidation." She was also praised for insisting on kindness, compassion and self-care as part of the law school learning experience. As one of her students wrote, "If you want to learn how to be a real lawyer, take Carwina's class."
Jose M. Rodriguez Jr.
Rodriguez was honored with the Adjunct Faculty Teaching Award. Students said Rodriguez "ushers his courtroom procedure students from relative ineptitude to competence, and more important, confidence." As a longtime circuit court judge in Miami, Rodriguez brings examples and guidance from his courtroom experience to the classroom, which helps students overcome preconceptions about doctrinal classes and prepare for the real world of the legal system. Students said his classes are "full of vigor and laughter" and that they make mistakes but are able to learn through his "wry tutelage." Rodriguez is also a dedicated alumnus, serving on the Maurer Alumni Board and frequently hiring students as judicial clerks.
Parrish, who is also the James H. Rudy professor of law, said the school prides itself on having a faculty known not only for legal scholarship and service to the university and the profession, but for their strong commitment to students and to exceptional classroom instruction.
"Our faculty recognizes that teaching is an important part of their responsibility as faculty members, and they receive consistently high marks from our students every year," Parrish said. "There are many wonderful teachers at the Maurer School of Law, and it is an honor to recognize and celebrate them."
Ken Turchi is the assistant dean for communications and administration at the IU Maurer School of Law.