Rented keyboards let piano majors practice during social distancing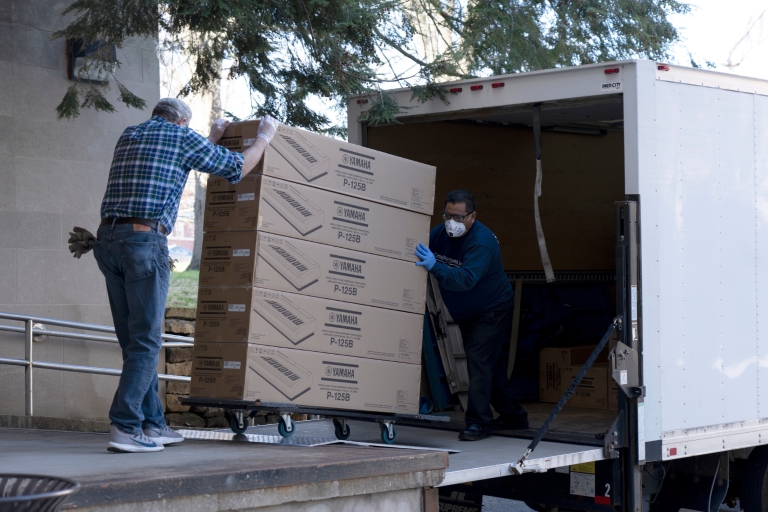 When the coronavirus pandemic forced IU to switch to remote learning, it posed a dilemma for piano performance majors in the Jacobs School of Music who were used to practicing in school facilities and collaborating in person.
In response, Jacobs School of Music leaders rented 80 new Yamaha P-125 digital keyboards and distributed them so that piano, early instrument, organ and composition majors in Bloomington could continue to practice while maintaining physical distancing.
The keyboards were delivered to the school the morning of March 30 and soon after were distributed in a safe and well-orchestrated manner to the students.
"When your job, schooling and career happen to be something you love, having that taken away all at once can feel like a terrible loss of agency during a situation where you already feel hopeless," master's degree candidate Tracy Wong said. "Having the option to practice at home has given a lot of us some normalcy and a way of coping."
IU Health Center offers free prescription delivery
IU Bloomington faculty, staff and students who need medical prescriptions but want to follow physical-distancing recommendations have an option from the IU Health Center, which is now offering free prescription delivery by mail.
This service is available only if one's delivery address is in the state of Indiana and the prescription is not for a controlled substance, a decongestant or something that needs to be refrigerated. Those interested can take advantage of the free prescription delivery by filling out a form online.
Consider these cybersecurity tips for working, learning remotely
Cybersecurity experts have seen more attacks over the past several weeks as many people have had to work and learn remotely during the coronavirus pandemic.
That means working outside many of the safeguards provided by the IU network. In order to keep a computer system and data secure, one needs to assume more of the responsibility for cybersecurity.
Here are 13 tips to consider for greater security, such as keeping antivirus software current, setting secure passwords and using approved cloud services when possible.
IU research projects key in fight against coronavirus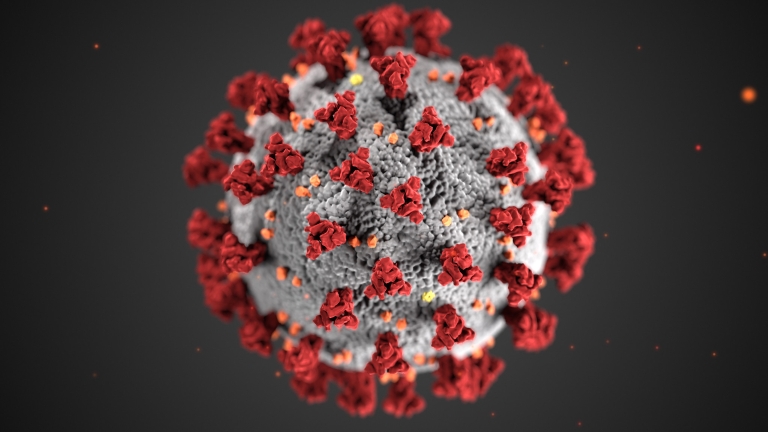 COVID-19 research at IU is focused on ways to detect, treat, manage and eliminate the coronavirus threat.
Because of significant financial pressures resulting from the pandemic, IU is making strategic decisions about how to allocate limited resources to serve growing and immediate needs.
Projects related to scientific, economic, social, policy, humanistic and artistic responses to the current COVID-19 pandemic are receiving financial support to produce impact or startup investment in the near term to garner longer-term external support.
Participate in a virtual poetry-writing workshop
Putting into words all that one is experiencing and feeling in these challenging times of isolation can be difficult.
However, award-winning author and IU Provost Professor Catherine Bowman is offering help with a free, seven-week virtual poetry workshop, "This Imperfect Paradise, Writing Our Lives in Troubled Times." It's open to all levels of writers and offered in partnership with public libraries across the region.
Bowman will guide participants through the writing process and offer optional practices, exercises and more. Register soon for the online series, which begins April 24.
Cheng Wu Innovation Challenge winners announced
Sixteen IU students across a variety of academic disciplines showcased eight innovative projects during the fifth annual Cheng Wu Innovation Challenge, which encourages students to use technology to address compelling problems.
Teams were required to include at least one student completing a minor or major within the Luddy School of Informatics, Computing and Engineering, which organizes the event.
Teams pitched their work to judges via eight-minute-long videos on April 9, outlining the problem they were attempting to address and how their innovative projects worked. The two winning teams pitched ideas for innovative prosthetics and for improvements for Alzheimer's care; each team won $7,500 to further develop their work.
WTIU to premiere concert film
Public television station WTIU explores the traditions, historical significance and meaning of black church music in its new concert film, "Amen! Music of the Black Church."
It premieres at 7 p.m. April 26 on WTIU and Facebook Live and features IU's African American Choral Ensemble.
Ensemble director Raymond Wise leads the group in a performance of sacred music spanning from African traditions to contemporary praise and worship music. The performance was recorded before a live audience at Second Baptist Church in Bloomington.
IU Theatre announces 2020-21 season performances
The works of five female playwrights are among the scheduled stage performances for the 2020-21 season by the Indiana University Department of Theatre, Drama and Contemporary Dance.
Survival in tough economic times, murder, heroic journeys, historic disasters and unrequited love are among the themes that will be presented.
The season is schedule to start in late September and run through May 1, 2021.