Natalie Hedrick knew ballet was physically demanding, but she never thought it would require dancing around her pet cat.
"My cat is always roaming around, so sometimes I have to dodge her," Hedrick said.
Hedrick participates in a daily technique class from her Pennsylvania home, connected to the more than 60 other Jacobs School of Music ballet majors via Zoom. The department quickly came up with a way to move instruction online following IU's announcement that classes for the remainder of the semester would meet virtually because of the coronavirus pandemic.
The adjustment required some creative thinking from faculty, as ballet is typically taught in a large classroom setting. While dancing at home, students all have different spaces to work with. Hedrick, for example, said her slippery wood floors have been a challenge. Few have mirrors to dance in front of.
"Because of the restriction in space, my movements have become a lot more methodical," Hedrick said. "I've been able to focus a lot more on myself than maybe placing pressure on a much larger environment."
Co-chair of the ballet department and associate professor Sarah Wroth said that during the Zoom class, she demonstrates or explains a combination and plays music, and then students perform the movements. Feedback is crucial in ballet, so Wroth uses gallery view to keep an eye on each dancer. But she's had to adjust how she provides corrections in the virtual environment.
"Where I would walk up to somebody and shift their arm myself, everything has to be a verbal correction now," Wroth said.
The classes are recorded, so students don't have to join them live. That ensures that even those with limited internet access can participate.
In addition to the daily Zoom instruction, written assignments require students to give feedback on videos that are shared, or prompt them to explore what impact they want to have on the ballet world.
Faculty also give students a weekly choreography challenge to be done in their at-home spaces. A recent assignment asked students to create a piece that commented on social distancing.
Wroth said the virtual instruction can't duplicate the in-studio experience of a technique class, but it gives students the opportunity to shift their focus.
"It's all about just acknowledging there is always something beautiful and nuanced to work on," Wroth said. "It's an art form that's made up of grand movements, and it's also an art form made up of beautiful details. And this is a time when each dancer can work on the beautiful details."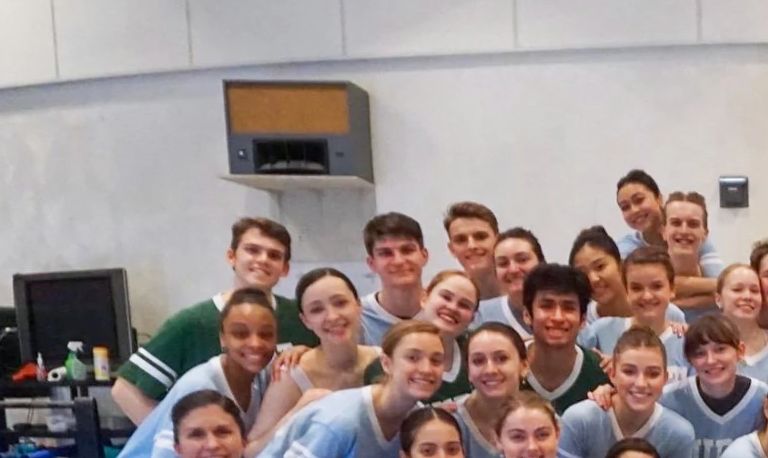 Ballet major Elizabeth Corsig is working on those details in her North Carolina home. She said she appreciates the daily Zoom classes because they give her some semblance of a routine when much of the world is upended. She logs on a few minutes early every day so she has a chance to see everyone's faces before they start dancing. Corsig said the virtual connection motivates her.
"For the first time ever, I think, it's helping me mentally cope more than anything," Corsig said. "The hours of ballet I'm doing in my kitchen have become a sort of meditation."
Getting lost in the movement helps distract from the uncertainties Corsig and her classmates are facing. Many of their planned summer intensives with professional ballet companies are on hold because of the pandemic, so the ballet department is planning virtual summer intensives as an alternative.
Corsig said she appreciates the faculty's efforts to support and connect with students while they are away from campus.
"Even though we aren't a sports team, we are still a team," Corsig said. "And I feel like we have all realized through this that we require community."