During the second week of March, the staff of the Indiana Daily Student was prepped and ready to break some big news. Universities and colleges across the country were announcing online alternatives to in-person classes, and these student reporters knew there was a strong possibility that Indiana University could take similar measures to limit the spread of coronavirus.
News briefs had already been drafted when the management team got an alert on March 10 that IU President Michael A. McRobbie would announce IU's shift to online learning for two weeks after spring break that afternoon. Editor-in-Chief Lydia Gerike ran into the newsroom to hustle her staff and make sure the IDS could be the first to break this news to students, but posting the story was only the beginning of her work. She'd have to figure out how the newspaper could continue to operate when the newsroom was closed.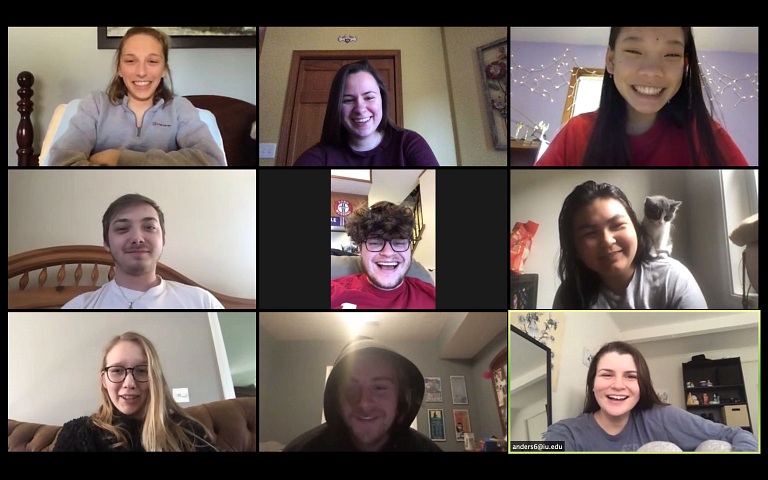 The IDS usually doesn't publish at normal capacity during breaks, but this spring break was different. News kept happening, and the IU and Bloomington communities continued to rely on the IDS for updates.
"I had friends and parents of friends reaching out to me to ask what information I knew – when is graduation going to be, what will happen with Little 500 – because they knew I was with the IDS," Gerike said. "It made me realize that more than ever, people were paying attention to what we do."
When the announcement came during spring break that IU would continue online learning for the remainder of the semester, the IDS staff was less prepared. Gerike received a text from her non-journalist friends, and she quickly put a call out in the staff Slack channel for someone to write a news brief. When no one responded, she started writing it herself.
"All of a sudden, I'm writing about my last Little 5 being canceled and my own graduation being postponed or possibly canceled," Gerike said. "I barely had time to process what was happening myself, but at the end of the day we needed to get the news out.
Once again, as editor-in-chief, Gerike had to consider how the newspaper would continue to operate for the rest of the semester. She said she never considered stopping production; the community relied on the IDS for important information, and the staff relied on their jobs for supplementary income and clips for their portfolios.
Ultimately, the management team did make some changes in light of the circumstances – the biggest being that print production would halt for the remainder of the semester. Instead, the staff has been producing e-editions that allow designers to keep working and will serve archival purposes in the future. The IDS still plans to mail a printed commencement edition to every graduate and will send printed copies of its Orienter New Student's Guide to next year's freshmen, too.
Designing the newspaper outside of the newsroom has presented challenges, though, according to art director Tristan Jackson. Design files are typically edited and stored on a server that can be difficult to access off campus. Reporters have had to get creative about story ideas, too, as most events are canceled, and reporting in person can be risky. Staying in touch with co-workers who are usually a shout away in the newsroom has been the biggest challenge, according to Jackson and Gerike.
"The hardest part of all of this has been how much we miss each other," Jackson said. "The part of my job that I really love is working with other people and building connections with them. Once we get back in the newsroom, I think we will have a new appreciation for being able to sit down with each other."
Though there have been challenges for the staff, their efforts are paying off: Reader engagement is way up. The recent e-editions of the paper have garnered more views than any other edition in the past six months, and the staff has seen an increase in feedback from readers as well as story ideas.
Increased engagement is Lexi Haskell's goal. The engagement editor has been testing creative ways to interact with readers when face-to-face interaction isn't possible. Haskell continues to send the Daily Rundown and Weekly Update newsletters, and she posts "Three things to know today" on the IDS' Instagram story.
The digital team also created a Facebook group where IU students and Bloomington community members can get the latest news on COVID-19. Haskell said reporters share their published stories and post about what they're working on to be transparent and help readers get to know the people behind the stories.
The paper also started publishing interactive games every Sunday and hosting bracket tournaments for topics like the best quarantine activity. Haskell said the hope is that students who engage with these games will eventually engage with the paper's news coverage, too.
Welcome to the Indiana Daily Student's completely 100% legitimate quarantine activities March (April?) Madness. After surveying various staff members, the digital team assembled the following bracket: pic.twitter.com/Rmt8ELzQjl

— Indiana Daily Student (@idsnews) April 5, 2020
As editor-in-chief, Gerike said she's proud of how her staff has responded and thinks the hard work will continue through the summer as Jackson takes the helm. Many on staff have had their summer internships canceled because of the pandemic and plan to stay on as reporters at the IDS for the summer, meaning the staff will be in a better position to continue to cover the coronavirus.
"I was afraid at first that the staff wouldn't want to keep working, and I wouldn't blame them," Gerike said. "It's weird and hard to keep doing your job in this situation. But people have really stepped up. The story ideas are so good, and editors are there every morning ready to edit, and reporters are there ready to write. Having that support and knowing everyone is ready and willing to do their jobs has kept me sane through all of this."
Reporting from the Indiana Daily Student can be found on the newspaper's website and in e-editions available through Issu. Subscribe to digital newsletters, or follow the paper on Instagram and Twitter and like on Facebook to get the latest updates.