While hospitals are the front line of the COVID-19 battle, every facet of health care is affected, including mental and behavioral health services.
In Indiana, where access to counseling and mental health care is already a concern, the virus has forced social workers to shift services from in-person to virtual – with many making the transition for the very first time.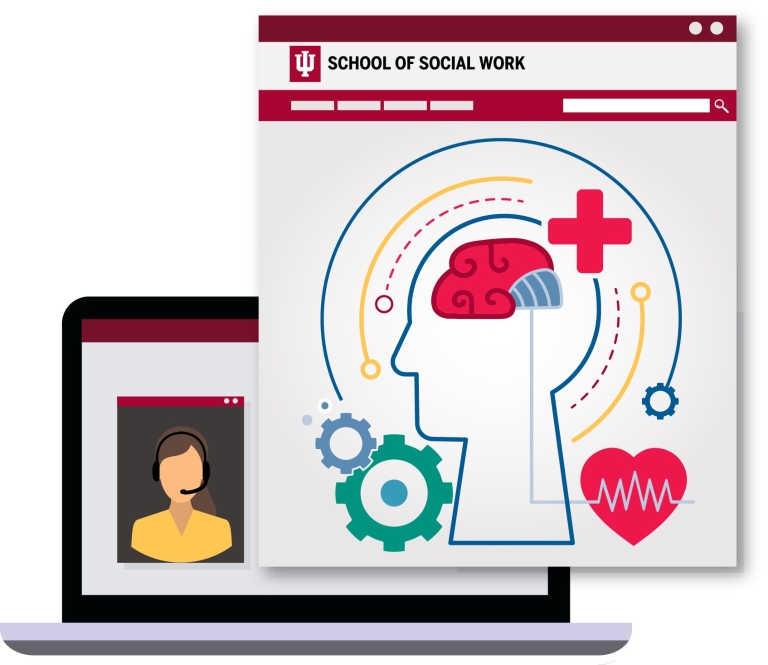 In response, the Indiana University School of Social Work has developed a free introductory course, "Telebehavioral Practice Basics for Social Work Educators and Clinicians Responding to COVID-19." The self-paced offering is available online and provides strategies and skills for engaging with clients virtually. The course's three-modules address risk management, ethical guidelines, service policies and strategies for practice.
The School of Social Work was able to respond quickly with the targeted online program due to its expertise in e-social work practices. The school has offered e-social work courses since 2017, and in January 2019 it launched the nation's first and only graduate certificate program in e-social work practice.
Interest and enrollment in the school's individual telebehavioral health courses, as well as the full 12-credit certificate program, have grown rapidly in the past three years, with nearly 150 students projected to complete the foundations course in 2020.
"More than 60 percent of mental health professionals are social workers, yet our field has been very hesitant to come on board in providing mental health services virtually," said Samantha Wolfe-Taylor, clinical assistant professor and creator of the school's online practice simulations.
"It's become increasingly important for our field to be at the forefront in providing e-health services, especially in light of the barriers to access that existed even before COVID-19."
Since the pandemic began, Wolfe-Taylor and David Wilkerson, an assistant professor and director of the school's online program, have fielded calls from hospital systems asking for advice on how to quickly transition their mental and behavioral health services online.
"Studies completed before the pandemic show that over 50 percent of people with mental health issues do not receive services," Wilkerson said. "Sometimes it's because providers aren't available, especially in rural areas, but often it's because people simply can't access in-person services due to work and family commitments or transportation issues. It's a real problem that virtual social work practice can help address."
In addition to the Foundations of e-Social Work Practice course, the certificate program includes a class in providing telebehavioral health services to individuals and a similar course in working virtually with groups. The fourth course required to complete the certificate is an informatics elective, with students choosing from instruction on health information exchange, security and privacy policies, or clinical information systems.
The courses not only teach students how to practice effectively and responsibly online; they also address practical methods for practitioners to build an online rapport with clients and how to use nonverbal cues and practice active listening in an online setting.