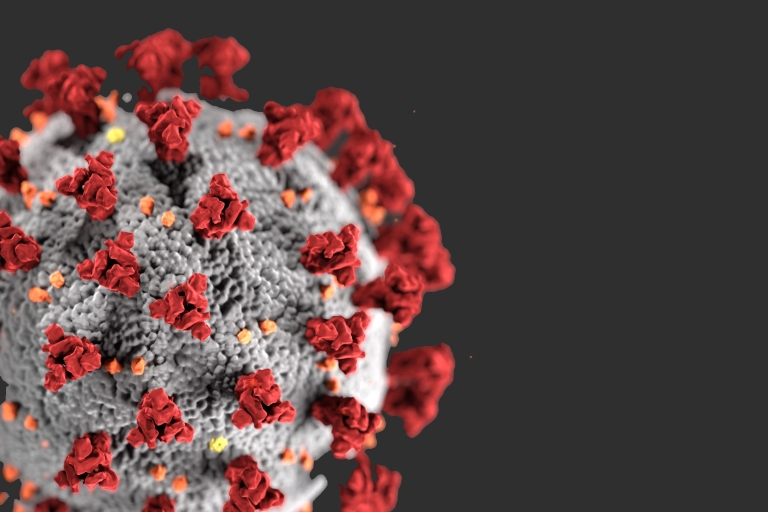 During this time of uncertainty and confusion, a collection of IUPUI librarians are helping fight the COVID-19 pandemic locally with their best asset – truth and facts.
The Indiana Clinical and Translational Science Institute's Monon Collaborative and the Family and Social Services Administration of Indiana have partnered to create a COVID-19 Evidence Based Rapid Response Team.
IUPUI librarians are working with the team to help answer COVID-19-related questions from state leaders and health care providers involved in Indiana's frontline response to the pandemic.
"What we're really trying to do is make sure that we're finding and synthesizing the best evidence that is available," said Amy Blevins, associate director for public services at the Ruth Lilly Medical Library. "This evidence provides answers to questions that support decisions being made by state leadership."
Blevins leads a team of six librarians from across campus who use evidence-based literature and research in responding to a wide range of COVID-19 questions:
Hannah Craven, research and scholarly communications librarian, Ruth Lilly Medical Library.
Rachel Hinrichs, health sciences librarian, University Library.
Chelsea Misquith, emerging technologies librarian, Ruth Lilly Medical Library.
Miriam Murphy, director and senior lecturer in law, Ruth Lilly Law Library.
Caitlin Pike, health studies librarian, University Library.
Sean Stone, director, School of Dentistry Library.
The team uses annotated bibliographies – lists of citations to books, articles and documents with brief descriptions – to share its research with health experts, who then review and verify evidence before communicating with state leaders and health care providers. Documented responses are also archived online at Indiana CTSI's COVID-19: Expert Responses to Key Questions.
Over a month into the venture, the librarians have answered more than 40 questions. Blevins assigns incoming queries to the team upon receiving them, with a 24-hour turnaround time expected. Some urgent questions require immediate action, and the team responds accordingly.
Now that the team has organized their processes and absorbed the initial rush of questions, they have become accustomed to handling inquiries both minute and complex. Pike says it takes her at least three hours to properly research an incoming question.
"Each question takes a pretty significant amount of time," she said. "We want to be thorough in our research and look in different places for answers, especially considering how detailed the question is."
When fighting a public health crisis, factual information from informed sources is crucial to educating the state's leaders, health care providers and general public. These librarians are doing what they do best to provide comprehensive information.
"It's a better use of time to have the librarians do literature research," Blevins said. "What we are really doing is using our strengths to save time so that those on the front lines can focus on reviewing the best literature out there."
The librarians have also been working with academic experts to strengthen search strategies and increase efficiency for daily blogs on Indiana CTSI's Expert Review of Relevant and Emerging Literature page.
This is difficult time for everyone, especially those in the medical field. To help mitigate that, these librarians have expanded their workload, deviated from a typical 9-to-5 schedule and taken on a purpose bigger than their normal responsibilities.
"This gives me something positive to focus on," Pike said. "I'm not in the medical field, and I'm not on the front line – I'm in my loft at my house. But it does allow me to feel like I'm helping, and in a way I never thought I would get to in my role here as an academic librarian."
Most people's jobs have been affected by the pandemic in some way, and this frantic new pace of work for the librarians is an adjustment.
"It's exciting to feel like I'm contributing at a pretty high level," Pike said. "It makes the anxiety and uncertainty of working from home and COVID-19 a little bit better.
"At the same time, it is stressful because you worry you are going to miss something. Or that the second you hit Send, someone could have published new research that completely discounts what you said."
For this group of IUPUI librarians, it's been an enlightening experience coming together as a group from different schools united for a joint purpose. While the circumstances are unfortunate, the group has responded robustly.
"We are able to collaborate across libraries even though we operate under different leadership," Blevins said. "Being able to pull all of these people together, with the skills that they bring, makes me proud."
For up-to-date and accurate information, review Indiana CTSI's COVID-19 Daily Digest page with statistics and an interactive map.