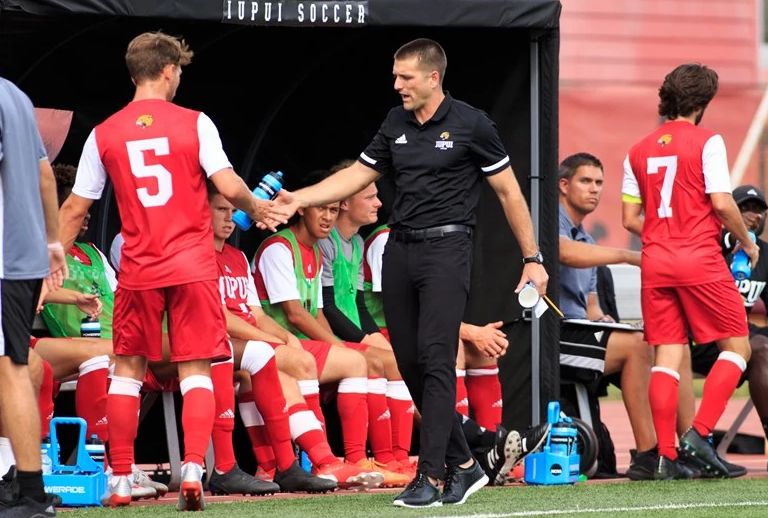 The fields and stands are empty. Scoreboards are blank. Whistles are silent.
As much of the globe copes with the COVID-19 pandemic, the normally busy world of college athletics is at a standstill.
On March 12, the NCAA canceled all yet-to-be played winter and spring championships. As campus transitioned to remote learning and stay-at-home orders were implemented, all 18 IUPUI Athletics Division I sports were disrupted.
The women's basketball team won its first Horizon League Tournament championship and earned its inaugural berth in the NCAA Tournament just two days before the NCAA's ruling.
Every spring sport – from softball to men's and women's golf, tennis, and track and field – had its season canceled. All other sports had their offseason training and conditioning suspended.
"It's been a challenge in many ways," men's and women's golf coach Jamie Broce said. "As a coach, you want to have the best advice for your team. Now with everything changing at such a fast pace, it's difficult to know how to answer everyone's questions."
The situation is especially difficult for senior student-athletes. They have lost this special time of camaraderie in their last season with their teammates. They are missing out on the celebrations and closure that ceremonial activities like senior nights, postseason events and banquets provide.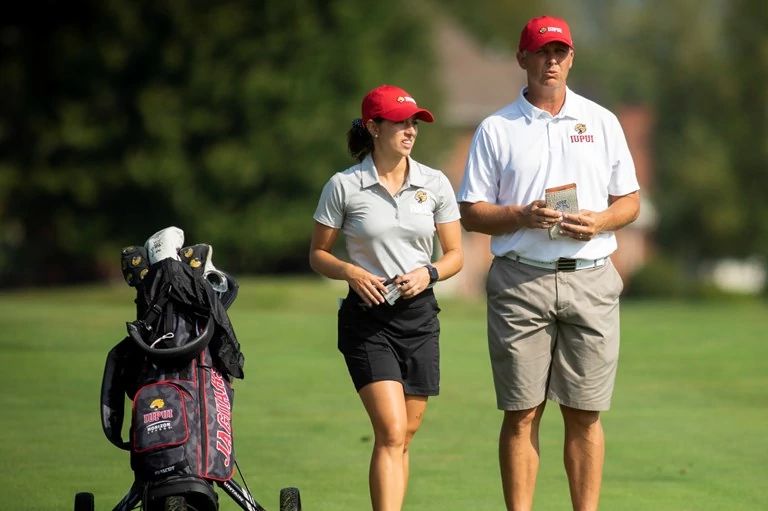 The NCAA recently helped lessen the sting of the situation by announcing that student-athletes in spring sports will receive an extension in eligibility. Every student-athlete's situation is different, but coaches have said that some are considering a return. Regardless of who wants to or can return, the uncertainty of the pandemic remains.
"We will not get to have everyone together to say goodbye," Broce said. "The hardest part is not being around each other. We are a close-knit bunch, and just being around each other brings energy and excitement.
"Both teams had very high hopes with six weeks left in the season. We had some smiles up ahead."
IUPUI coaches are still regularly communicating with their teams through Zoom meetings and emails. Non-mandatory workouts for student-athletes are available through an app called TrainHeroic. But as anyone who has transitioned to working remotely during this time can understand, virtual communication can't replicate face-to-face interaction and instruction.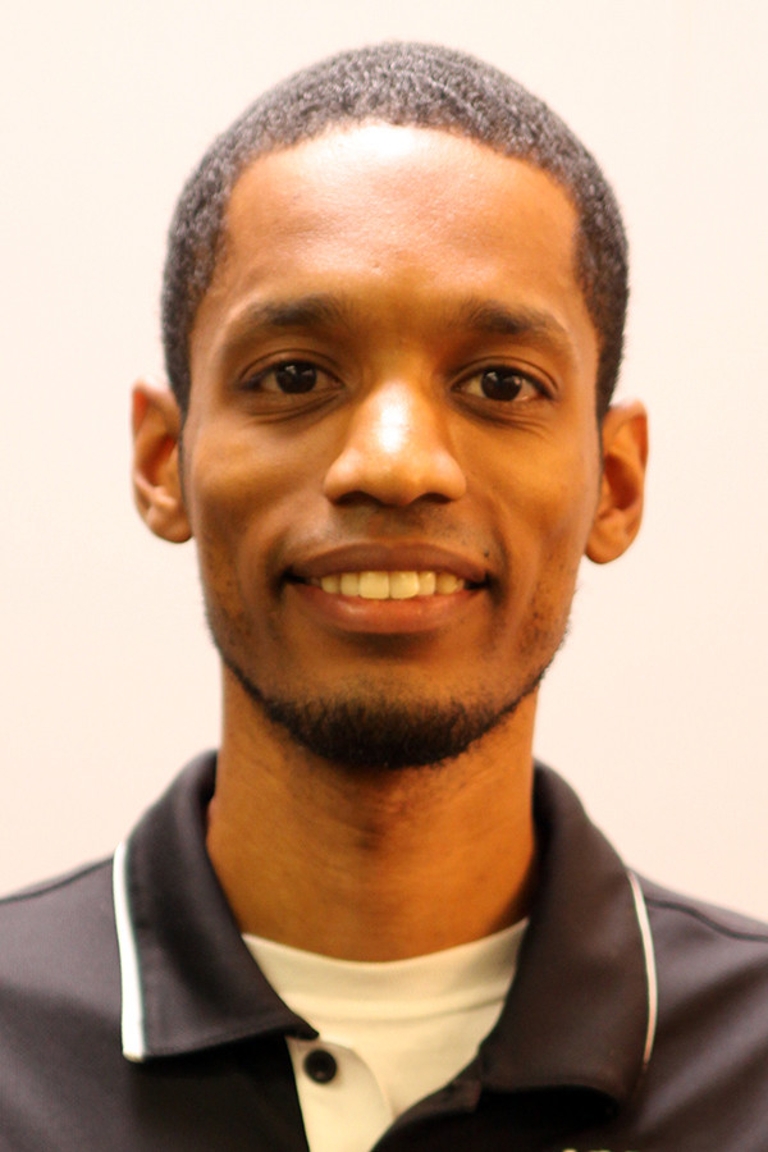 "Hands down, the thing I miss most is interacting with the athletes on a day-to-day basis," women's track and field and cross-country coach Tony McDaniel said. "I miss watching them work hard to succeed at a goal. I even miss seeing them fail at a goal, learn from it and then accomplish it later. I miss the random inside jokes we have as a team that only make sense to us."
For women's soccer head coach Chris Johnson, trading the pitch for the computer has provided its challenges.
"I didn't get into coaching because I wanted to sit at a computer for six to eight hours a day – it's exactly what I didn't want to do," he said. "This doesn't suit me well. From a personal standpoint, it's been very challenging. But communicating with the team and the incoming freshmen keeps me positive."
For both the men's and women's soccer teams, these months are usually a time of friendly exhibition games focused on individual player development. While his players can't necessarily expand their skills on the field now, men's soccer head coach Brian Barnett wants them to continue dedicating themselves to the classroom. The men's soccer team has had the highest team cumulative GPA in the athletics department for two consecutive semesters.
"Right now, this is a less-than-ideal time, but we talk about being a great student, a great athlete and a great person in our program," he said. "We can't do anything exponentially to make anybody a better athlete at this point because of NCAA requirements and the distance between all of us. For us, it's about being the best students we can be under the circumstances."
When the men's soccer team does meet virtually, they are not focused on film review or soccer tactics; instead, they are playing cooperative, strategic board games like Forbidden Island and Mysterium. Barrett had played these types of games with his family and thought they would be good for the team. Teamwork is required in these games, as the group must collaborate to beat the game, not each other. The coach in him enjoys the strategy involved and requirement of teamwork built into the games.
"I don't have any mythical expectations that we are going to gain anything fantastic from it other than it's an opportunity for us to stay connected with one another, communicate in a way we haven't before and support situational leadership," Barnett said.
Barnett has also used this opportunity to encourage the student-athletes to enrich themselves by reading, learning a new skill and examining personal priorities. The fourth-year IUPUI coach has preached finding a silver lining in this situation. He's been thankful for the extra time with his wife, Brittany, and three kids, Blake, Kate and Connor, that he hasn't had as a coach. There's no time for a pity party, he says – just a chance for personal development through a difficult time.
"Life is full of challenges. It's full of roadblocks and hurdles, and this is just one of them," Barnett said. "Some challenges are bigger than others and require more of yourself to get through them.
"Ultimately, the only way is to go through adversity. You don't go over it; you don't go under or around it. You go through it."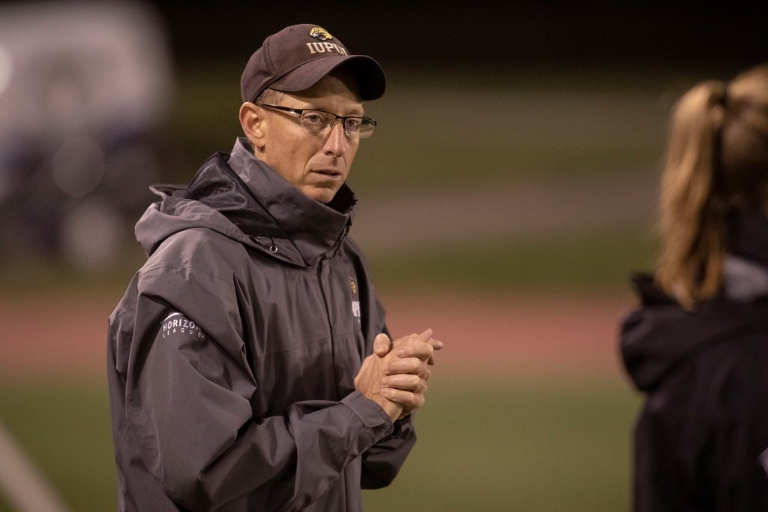 Johnson thanked the leaders of his women's soccer team – Morgan Rymer, Valentine Pursey, AP Woodall and Natalie McNally – for helping while he lacks an assistant coach, who took a different job before the pandemic happened.
"They have really stepped up to the challenge," he said. "Those kids have really helped me out in terms of keeping the team together."
No one knows yet when a return to normal will be possible. There will be many lessons learned from this experience that will stick with us all.
"There will be a greater appreciation for things we have taken for granted in the past," Johnson said. "Nothing has interrupted sports like this in the 51 years I've been alive. We've always had practices and games coming up – those things we took for granted would just continue to happen.
"This shows you they are not guaranteed. They are a gift and things we need to be appreciative of."