The engineering and technology profession has a distinguished and proud history of responding to crises through innovation and creativity under multiple constraints, including time.
A classic example is the challenges NASA faced to bring the crew of Apollo 13 home alive after an explosion that resulted in the loss of oxygen due to a major system failure, putting the astronauts' lives in jeopardy unless a solution was designed and deployed very quickly.
The COVID-19 pandemic has presented analogous challenges for health care workers as they strive to treat patients. One critical area faced by Indiana University Health and other health care systems was contingency planning to provide enough ventilators to patients who might need them. Thanks to the outstanding relationship between the School of Engineering and Technology at IUPUI and IU Health, our faculty were ready to respond when IU Health reached out for assistance with creative solutions.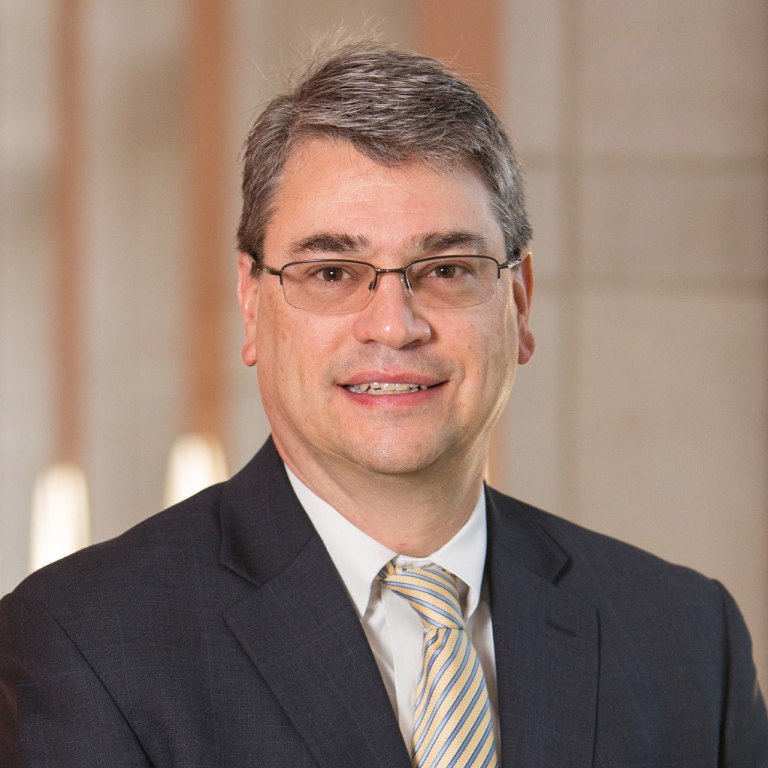 IU Health requested an initial design and fabrication of components by the School of Engineering and Technology that would be able to serve 100 patients with 50 ventilators, along with the capability to provide more components proportional to demand as part of surge planning.
Paul Yearling, a clinical assistant professor of mechanical engineering technology, along with other faculty members from the Department of Engineering Technology, reverse-engineered, redesigned and fabricated ventilator parts and other critical electrical and mechanical components required to split a ventilator's function to serve two patients if necessary.
An engineering solution to achieve the same functionality with half of the originally designed capability, in this case ventilators, was reminiscent in many ways to the creativity required with Apollo 13 to provide oxygen for the astronauts after the major system failure.
In addition, given Yearling's well-established relationship with IU Health, he was also able to rapidly start up and lead the production to 3D-print much-needed personal protective equipment, or PPE, as a backup for IU Health.
And the School of Engineering and Technology's contributions do not end there.
Professor of electrical and computer engineering Stanley Chien, using facilities provided by the Transportation and Autonomous Systems Institute at IUPUI along with facilities provided by IUPUI's energy, mechanical and motorsports engineering programs, fabricated intubation boxes to protect health care clinicians from virus-laden aerosols often resulting from intubation procedures. Such a just-in-time fabrication was particularly helpful for some rural and regional hospitals in the Midwest that did not have adequate personal protective equipment.
In addition, four teams led by faculty in mechanical and energy engineering worked diligently to complete innovative ventilator designs and created rapid prototypes ready for testing. An ambu-bag-style ventilator was created by Jaime Arcos, a former visiting scholar at IUPUI, in close collaboration with associate professor Andres Tovar.
Moreover, a pneumatic-powered ventilator with a sophisticated electronic control system was created by Fazni Aziz, who received his bachelor's in mechanical engineering from IUPUI, along with Razi Nalim, executive associate dean for research and global initiatives.
A prototype ventilator based on a full-face snorkel mask was designed and built by Hamid Dalir, an associate professor of motorsports engineering, and a ventilator with greater mechanical reliability was designed by associate professor Jing Zhang.
The collective work of these faculty and alumni of the School of Engineering and Technology is providing a much broader array of ventilator technology and capability, from vastly improved designs for state-of-the-art ventilators to low-cost alternatives that could be particularly useful for financially disadvantaged regions of our world as they respond to the COVID-19 crisis, as well as future crises that may require the rapid deployment of ventilators.
The School of Engineering and Technology also has faculty members supporting the COVID-19 response through computing and algorithm development. For example, Xiao Luo, an assistant professor in the Department of Computer Information and Graphics Technology, has been "seconded" to the state of Indiana to assist with COVID-19 analysis and prediction efforts through an employee interchange agreement.
Luo is using artificial intelligence and data analytics techniques for a variety of efforts, including identifying and extracting patient symptoms from unstructured health records to help improve data accuracy for various disease prediction models, including COVID-19.
Throughout this entire COVID-19 crisis, the willingness and dedication of the School of Engineering and Technology's faculty, staff, alumni and students to respond to unanticipated challenges has been truly inspirational. They are eager to apply their expertise and the school's facilities to help those in our region and beyond.
These outstanding individuals are working together to provide short-term solutions for emergency situations as well as longer-term enhancements for various devices, equipment and other innovative solutions that will help us through the COVID-19 crisis – as well as the next unanticipated challenge, which is just over the horizon.