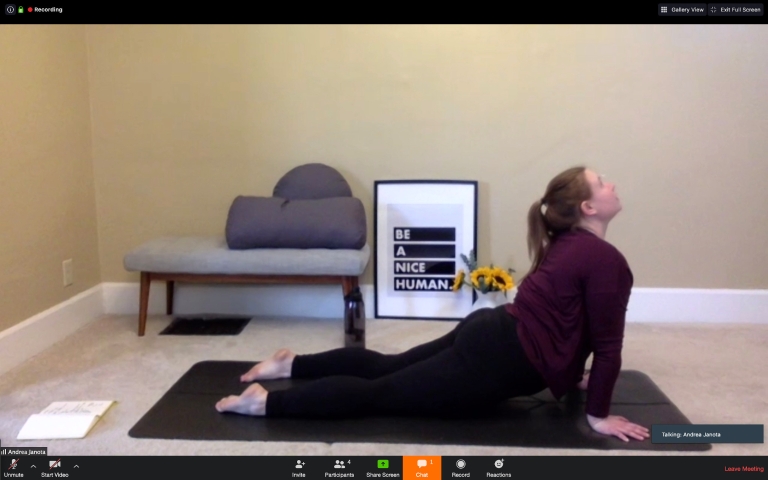 Swap the dumbbells for a digital device – IUPUI Campus Recreation is virtually helping to keep campus moving during this unprecedented time.
With a focus on exercises that use bodyweight and no equipment, the organization has transitioned its group fitness classes online and is using its Instagram account to share fitness resources with everyone for free.
Even though there is a lack of in-person fitness facilities options for students, staff and faculty, now is not the time to shy away from personal fitness.
"Things are hectic. Things are very fluid and uncertain, and it maybe feels grim, but we still need to make ourselves a priority and focus on what's best for us," said Dylain Hensley, fitness specialist for IUPUI Campus Recreation and the Division of Student Affairs. "Physical activity is going to benefit us by putting us in a better mood, increasing productivity and alleviating stress."
Nine virtual fitness classes, open to all skill levels, are being offered Monday through Friday through Zoom meetings or Instagram Live. The classes hosted on Instagram Live are available for the 24 hours following the class. The full schedule is available on the Campus Recreation website and on Instagram.
Broadcasting through Zoom and open to all levels of experience, instructor Andrea Janota teaches Power Yoga and Yin Yoga. These classes offer different benefits depending on what the attendee is looking for:
Power Yoga is described as "A strength and cardio experience that pushes you to your physical edge. There are challenging sequences of poses, and every breath is a new movement. It's meant to make you feel powerful and feel strong when you're done."
Yin Yoga is described as "It's like a yoga nap. All lying on the floor and holding poses for 5 to 10 minutes depending on the pose. It's meant to be edgy, as some poses are a little bit uncomfortable."
The uncertainty and stress from the COVID-19 pandemic affects us all differently. Yoga presents an opportunity to clear the mind while working the body.
"Our brains are meant to think, and it's hard to quiet your brain," Janota said. "When there are lot of things going on in the world, and there's stress and anxiety in a way we aren't used to, it can be hard to sit with your thoughts and be still. This is a good opportunity to practice that and find that inner calm."
For Janota, also interim director of the Center for Public Health Practice and the ECHO Center at the Fairbanks School of Public Health, this new way of teaching classes is of course a change. But she's enjoying the opportunity to connect with familiar faces and meet new ones.
"Being able to have that sense of community and a semblance of normal activity is good. It's nice to engage with people," Janota said. "I'm not necessarily in a studio or a room of people, and that feels weird. But I'm still seeing so many benefits of teaching these classes online."
Regardless of whether you choose to join a virtual exercise class, both Hensley and Janota recommend finding ways to use physical activity to battle cabin fever. Reducing some of the inactivity caused as result from staying at home will have a variety of benefits.
"Letting that element of being stationary infuse its way into your muscles and bones is what can reinforce that feeling of being stuck," Janota said. "By moving our bodies, we are engaging blood flow and getting that rush of endorphins and dopamine that reinvigorates your body."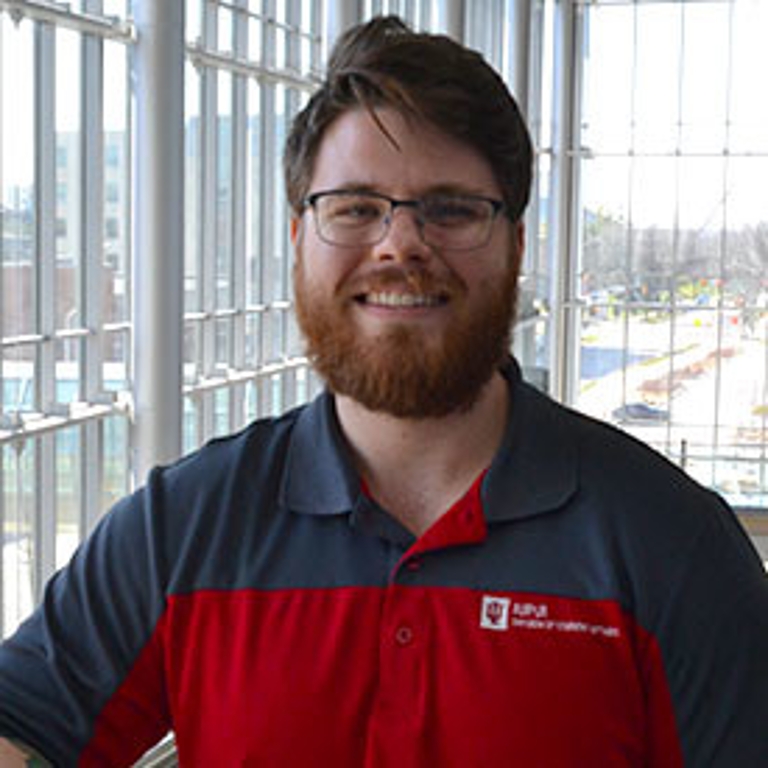 Hensley suggested: "Step away from the screens and whatever you are consuming or working on. Take some time for yourself. Whether or not you do some physical activity, if you're able to pull away for a bit, it will allow you to clear your mind and set you up for a better mood."
New routines are still being set. Our new normal is consistently changing. Because gyms have been temporarily closed, most people are confined to the space and equipment available at their homes. Adapting to the situation will aid your short-term and long-term health goals, the experts said.
"Any movement – anything that you do – is going to push you forward," Hensley said. "Whether that's a small step or a big step, it's going to bring you closer to that goal."
Hensley, who trains in Strongman and powerlifting, has seen his training thrown off by not having access to the proper facilities and equipment. But with everyone facing the same issue, now is the opportunity to be creative.
"Try to get outside as much as possible, while of course maintaining the proper social distancing," Hensley said. "I try to do all of my exercises in my driveway, and I do a lot of running around the neighborhood. That aspect of being outside helps me mentally. If you can go outside to do some of this stuff, try it."
Hensley built two sets of at-home workouts with no equipment required.
For a conditioning circuit, try four sets of the following exercises back-to-back for 45 seconds each. When you've finished a set, rest as needed before beginning the next set.
Jumping jacks
Mountain climbers
Plank
High knees
For a resistance/strength circuit and depending on your fitness level, try doing three to four sets, with 8 to 20 reps each, of the following:
Bodyweight dips
Bodyweight squats
Pushups
Lunges
For a tougher challenge, "superset" two or more of the exercises by pairing them together or reducing the amount of rest you take between sets.