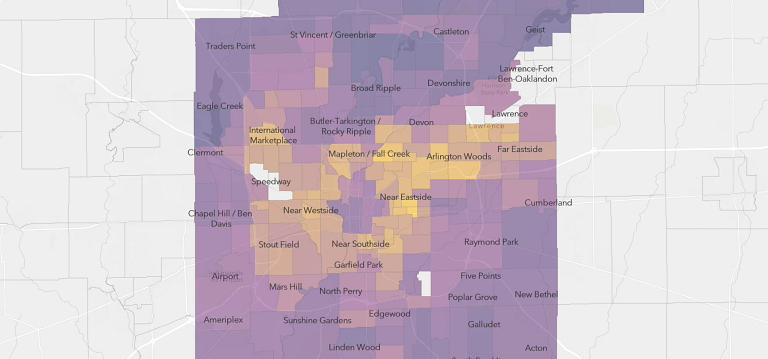 The Polis Center at IUPUI is applying its years of community knowledge and extensive data resources into a website that is proving to be a key bookmark in the COVID-19 information marketplace.
On the Coronavirus Data Hub, anyone can track the number of cases in Indiana via a live dashboard, both in total number and by county. Risk factors for COVID-19 are also tracked on a county-by-county basis, and Central Indiana neighborhoods with higher risk of severe and deadly cases are highlighted.
For Marion County residents, a partnership between Polis' SAVI information systems and United Way of Central Indiana has resulted in a map of food and meal resources for citizens, alongside food desert areas.
The latest addition to the site is an interactive story map that shows the local risk of social isolation in older adults 65 and over, based on an index developed by the United Health Foundation's America's Health Rankings Senior Report. A local version of the social isolation index is being developed by Polis in conjunction with the Central Indiana Senior Fund.
"The idea was to have a common repository of information that we think may be helpful to the community," said Marianne Cardwell, a geographic information systems project coordinator at The Polis Center, which is part of the IU School of Liberal Arts at IUPUI.
"When this started hitting close to home, we looked at how we could help. SAVI has so much data, so we asked, 'what kind do we have that could be useful to the community?'"
The dashboard highlighting total cases in Indiana draws from Indiana State Department of Health data, including the all-too-familiar chart with a rising curve from the middle of March to the present. The county-level cases and risk factors page shows factors such as heart disease deaths, diabetes deaths and cancer incidences per 100,000 residents by county, along with over-60 populations and populations without health insurance – all higher-risk factors for the coronavirus.
Using SAVI data, the coronavirus neighborhood risk-levels area of the data hub explains how neighborhoods just outside downtown Indianapolis have the highest estimated risk when analyzing factors related to income such as lack of health insurance, smoking rates, and conditions including asthma and diabetes. Age-related risk is more geographically diverse, with areas in northern Marion County, the far-east side and the south side having high-risk populations according to risk factors.
"Many societal problems hit the least among us hardest, so it was no surprise that risk factors like smoking and lacking health insurance were concentrated in low-income neighborhoods," said Matt Nowlin, an information designer at The Polis Center. "But COVID-19 is also different, because risk factors related to age are often concentrated in wealthier neighborhoods. This virus affects everybody, but inequality can make it harder for people without insurance to access health care."
The map displaying the risk of social isolation to adults 65 and over differentiates urban and rural areas and is based on data from the American Community Survey focusing on four factors thought to contribute to social isolation: poverty, living alone, marital status and disability. As defined, urban areas generally have much higher social isolation scores than rural communities. Populations in poverty, unmarried households, living alone and having disabilities tend to concentrate in cities and towns.
The data hub is proving useful to a number of nonprofits and other data-driven entities including the Northwest Indiana Data Commission and the Indiana State Data Center.
"If we can give people something to look at to have a sense of where we are, and to help people in charge to somehow help, that's all we want to do," Cardwell said. "We want to put our resources to good use."
COVID-19 resources for journalists
Looking for more Indiana University expertise related to the novel coronavirus? Find the latest list of IU scientists, researchers and clinicians who are available to discuss a wide range of topics, such as COVID-19's impacts on our physical and mental health, the economy, politics, globalization, and more. This resource will be updated as we identify more experts to share with the media, so please check back often.