Visiting campus for the first time. Attending a Red Carpet Day program as an admitted student. Spending the night in a residence hall, possibly for the first time, and exploring campus during New Student Orientation. Attending Traditions and Spirit and CultureFest alongside nearly 8,000 of your classmates.
Many of the rites of passage that typically help new students become Hoosiers look very different amidst a pandemic – both for those still making their college decision and those who have already chosen IU. But the Office of Admissions, Office of First Year Experience Programs and other teams throughout the Office of Enrollment Management have spent months working tirelessly to ensure the Class of 2024 receives a proper welcome into the IU family.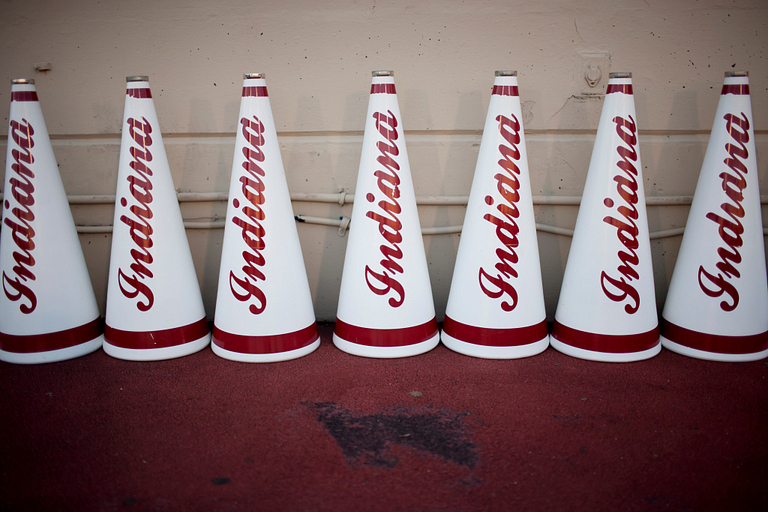 "It has been a tremendous team effort from staff in the Office of Enrollment Management and from colleagues across the campus to coordinate moving our entire new student experience online," said David B. Johnson, vice provost for enrollment management at IU Bloomington. "From online informational events and tours to an online New Student Orientation program, it has been inspiring to see such trust, professionalism and quick action on the part of our staff to adjust our in-person work to a high-quality online experience that will help students see IU as their university."
Throughout the spring, the IU Bloomington Office of Admissions has been making accommodations for both prospective and admitted students to address barriers caused by the pandemic. In addition to extending the enrollment deadline from May 1 to June 1, the office is developing new ways to deliver the information students need to make this important decision.
For those who didn't have the chance to attend an in-person Red Carpet Day, IU's special campus visit program for admitted students, the Office of Admissions has made virtual alternatives available. Students who have never been to campus can watch a video tour or immerse themselves in a 360 virtual tour. Admissions representatives have also been available for one-on-one, virtual consultations with admitted students and their parents, and they have kept in close contact with high school college counselors through email and virtual conversations.
Admissions representatives' help doesn't stop at the logistical steps of admission and enrollment. They're also counseling families through the loss that comes with graduating from high school during a pandemic and the uncertainty regarding the start of their college career. Many families are now facing difficult financial circumstances. Others are concerned about being too far away from home during the crisis. With so much uncertainty about the pandemic, some students are wondering if they should defer their admission and take a gap year between high school and college.
"We don't have the information to perfectly articulate what fall will look like, but we also can't confidently tell a student that in a year everything will be back to normal," said Sacha Thieme, assistant vice provost and executive director of admissions at IU Bloomington. "What we can tell students is that Indiana University is committed to providing a robust and productive experience for our students and keeping them on their academic path so they do not have to put their college and career plans on hold for this pandemic. There may be disappointment ahead, but there will also be really important connections to be made and exciting new IU traditions to be part of."
Visit virtually
So much of what admissions counselors do relies on face-to-face interaction, and that's what draws many to the profession. Thieme said that not being able to engage with students and families in person has been hard on her staff who gain so much fulfilment from those experiences. She also said that a shift to online college research and visits has put a magnifying glass on every piece of information on every page of the admissions website, challenging staff to consistently develop new content that is clear and of interest.
"I was on a panel with admissions directors from other schools recently, and a student attending said it was the fifth panel she'd attended that day," Thieme said. "This could be one of the most well-informed and well-researched classes we've ever enrolled. They are participating in the events, reading our websites and engaging with our content, which is great, but it requires a different kind of investment in a very condensed period of time and puts different pressures on our systems.
"We absolutely could not accomplish all that has been done without the strong collaboration and partnership from every corner of IU. It takes an entire university community to recruit, enroll and retain an IU student, and we are so thankful to have such a powerful and engaged community participating in this process."
For those high school seniors starting IU classes in the fall, New Student Orientation will be completed remotely. The Office of First Year Experience Programs launched online modules for transfer student orientation two years ago to accommodate that group's unique circumstances and meet their needs. Before the pandemic, plans were in place to supplement every new student's orientation experience with online modules this summer, which made the team better prepared to add additional modules and videos to host a completely online orientation.
Much of the business of becoming a student, including accessing academic and support tools, registering for classes and learning about campus resources, translates well to an online experience. In fact, online modules will allow students to learn at their own pace and may help retain information without distraction, according to Melanie Payne, director of first year experience programs. But IU staff are paying careful attention to the aspects of orientation that require more of a personal touch.
"When students feel comfortable, they are more likely to reach out for help, seek answers to questions, use resources and feel less helpless," Payne said. "Oftentimes that comfort level comes from being comfortable in their surroundings and from having a person – whether it's their advisor or their orientation leader – to connect to, but building that familiarity is harder to do online. We are working very hard to plan for that; we'll find paths to help students connect with each other and with current students and staff."
This year, students will have one-on-one virtual appointments with academic advisors and take part in online sessions with orientation leaders and other new students. Payne said she's grateful that university leadership recognized the important role that orientation leaders, who are current students, have played and will continue to play in the process.
Some aspects of orientation may have to be shifted to programming that will be part of Welcome Week, a series of events coordinated by First Year Experience Programs during the week before school starts. Regardless of how the fall semester looks, Payne said her team is well aware that Welcome Week is unlikely to proceed as usual. Some larger events may need to be broken up into smaller sessions, while others could be converted to self-guided activities. Some events will become virtual, while others may be postponed. Welcome Week may even be stretched out over several weeks.
"We are really thinking about how we can honor the purpose of Welcome Week – to further connect students with the campus, make them familiar with places like the IMU, cultural centers and IU Auditorium, and connect them with people like their floormates and RAs – but do it in a way that is safe," Payne said. "This involves developing multiple options for Welcome Week depending on how and when we are able to resume normal or partial operations on campus."
She said that special care and consideration for the Class of 2024 will continue throughout their first year and their entire Hoosier career.
"All of us on this campus are so aware of the things this class has missed out on and will miss out on because of this pandemic," Payne said. "But they will get the information they need, make the transition and ultimately be OK, because this whole campus will be here for them – even in ways we haven't had to be before."