Football ticket discounts available to staff, faculty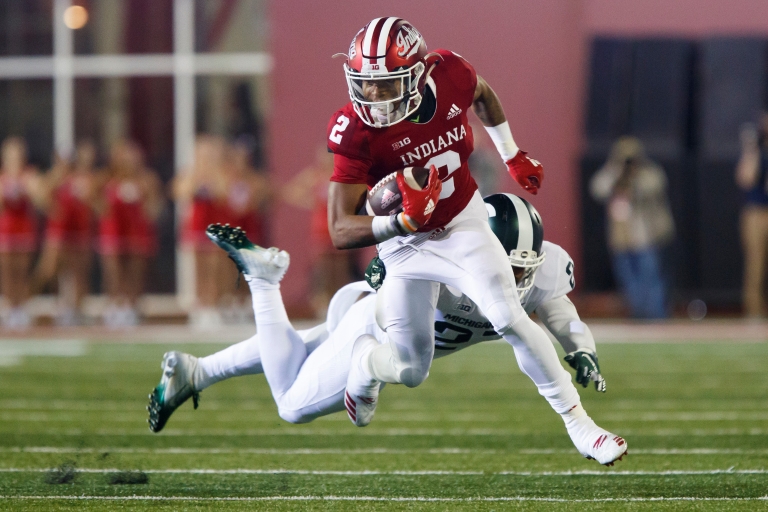 IU Athletics will offer IU faculty and staff significantly discounted game tickets to IU football's 2020 Sept. 12 home opener against Western Kentucky as part of its IU Faculty and Staff Appreciation promotion.
In early June, full-time faculty and staff members will be able to purchase up to 10 adult game tickets for the Western Kentucky game for $25 apiece, a nearly 50 percent savings off the standard $45 rate. Youth tickets, meanwhile, are available for as little as $15. In addition to this offer, IU faculty and staff can purchase 2020 season tickets at 10 percent off the regular price.
New app to help 2 rural Indiana counties track COVID-19 symptoms
IU and rural health care providers are joining forces to track patient reports of COVID-19 symptoms, analyze the virus's spread and help residents make informed health care decisions.
Software developer and data analyst David Tidd, doctoral student Kristina Mullis and associate professor Jon Macy in the IU School of Public Health-Bloomington developed a tool in partnership with the IU Center for Rural Engagement and Southern Indiana Community Health Care that residents in Orange County and Crawford County, Indiana, can use to monitor their own symptoms and inform providers and public health officials of potential people infected with the novel coronavirus.
Interim dean announced for Jacobs School of Music
Gwyn Richards, the David Henry Jacobs Bicentennial Dean of the Jacobs School of Music, will step down June 30, after a successful two-decade career as the school's leader, to return to the faculty in choral conducting. 
Jeremy Allen, the Eugene O'Brien Bicentennial Executive Associate Dean for the Jacobs School of Music, will be appointed as interim dean of the school on July 1.
A search for a permanent leader of the school will begin in the next academic year.
Watch latest in documentary featuring class of 2020 graduates
Watch the latest in the IU 2020 Series, a four-year documentary project following the lives of students from IU Bloomington's class of 2020.
They come from Indiana's smallest towns and the world's largest cities. They are scholars and artists, athletes and musicians, activists and thespians. And they are united by that brave desire to move beyond who they are to see who they can become.
Learn more about the project from the Office of the Provost.
IU athletes read children's books on YouTube
If you're looking for something to do with your children, check out a playlist of IU athletes reading children's books.
The full playlist – which includes such well-known titles as "Chicka Chicka Boom Boom" and "The Wonky Donkey," as well as Inside IU Bloomington's favorite "Miss Rumphius" – is available on YouTube.
Join a conversation with NSF's Arthur Lupia
Arthur Lupia, head of the National Science Foundation Directorate for Social, Behavioral and Economic Sciences, will visit with IU faculty via Zoom from 10 to 11 a.m. Thursday, May 14.
Lupia will discuss "Science, COVID and Opportunities in the Post-Pandemic: An Update from the Social and Behavioral Sciences," followed by time for Q&A.
Join the meeting to learn more about what the future looks like for NSF-funded social, behavioral and economic sciences research as well how researchers can best position themselves for success.
Swain Hall project receives LEED Gold certification
Swain Hall is the latest building on the IU Bloomington campus to receive LEED Gold certification.
Indiana University now has 13 LEED Gold projects, and 25 certified projects overall, across all campuses. The Bloomington campus alone has 10 gold projects.
In 2000, the U.S. Green Building Council developed the Leadership in Energy and Environmental Design certification system, known as LEED. Its four certification levels – Platinum, Gold, Silver and Certified – are now globally recognized symbols of sustainability achievement.
Inside IU Bloomington's summer schedule reminder
Inside IU Bloomington will shift to its summer publication schedule following the publication of the May 12 edition. Inside IU Bloomington will publish June 9 and July 14, before returning to a weekly schedule in the fall.
This schedule is subject to change should emerging news of importance to staff and faculty be announced.