Indiana University Bloomington's seniors face a much different post-graduation future than they did a few months ago. Their thoughts about a first job, an internship or graduate school are now wrapped in the context of how the COVID-19 pandemic will affect the next step in their lives.
That's a significant concern for staff and faculty within various colleges and schools at IU Bloomington, who want to see graduates achieve and succeed in their careers.
Such concern has prompted multiple initiatives to reach out to seniors to see how they're doing, and to offer resources and assistance. Here's a sampling of those efforts.
College of Arts and Sciences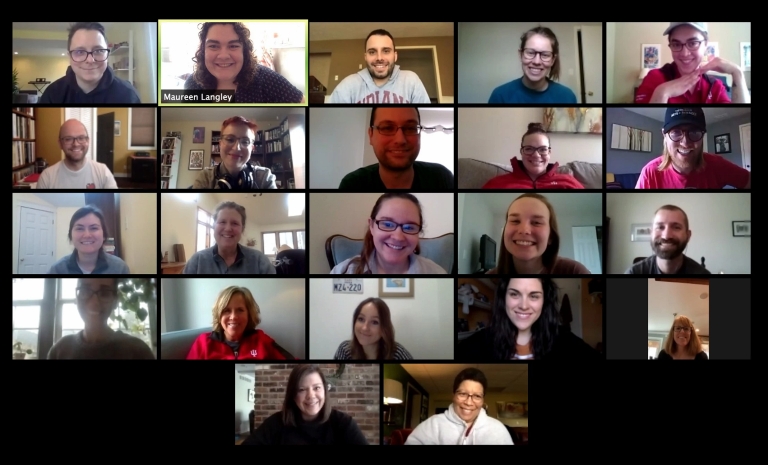 From April 13 to 24, staff members at the Walter Center for Career Achievement called the more than 2,000 graduating seniors in the College of Arts and Sciences to see how they were doing, and to offer help with job searches, graduate school applications or other situations. About 15 faculty and staff members made 75 to 150 phone calls each.
"We wanted to make it like a wellness check," said Joe Lovejoy, Walter Center director.
The calls were designed to be sensitive to the students' needs, because some have had job offers and internships rescinded because of the pandemic's impact on employers, Lovejoy said.
The caller wanted to understand the student's situation, and then would follow up with a tailored email and provide them with whatever resources they might need, Lovejoy said. If a student didn't answer the call, a follow-up email was sent that included information about various resources.
Among the resources shared with students was a document offering 10 tips for job and internship searches.
Some students were excited to share about their admittance to graduate school or a job that they are about to start. In other cases, callers learned about hardships and provided resources related to food, housing and mental health, Lovejoy said.
"Many of the students expressed support for us reaching out, and many were surprised because they didn't expect that personal touch from a place as big as the College of Arts and Sciences," Lovejoy said.
The Walter Center has reached out to students in other ways, too.
"Career coaches have met with over 500 students virtually, conducted weekly webinars discussing common areas of concern for students such as online job searches and video interviews, and connected College of Arts and Sciences students to over 3,000 alumni that are willing to help through the Walter Center Success Network," Lovejoy said. "We've also curated and continually update a list of organizations who are currently hiring."
The Walter Center team also has been a steady hand for both students and their parents who are feeling uneasy about the future.
"We sent over 8,000 letters to junior and senior families with career resources," Lovejoy said. "A new webpage is also available that directly addresses families and their concerns in this unprecedented time."
Luddy School of Informatics, Computing and Engineering
The Luddy School of Informatics, Computing and Engineering surveyed its graduating students to learn about the status of their job searches and whether things had changed due to COVID-19. The school also asked if students would like individual follow-up contact with an adviser, said Kelsey Keag, the school's director of marketing.
For those who had their job or internship offers rescinded, options were suggested to help them moving forward in their searches.
Luddy surveyed employers to get a sense of where they stood with their hiring needs, and its employer relations team reached out to all partnering and engaged employers and offered suggestions on how each could help students with their job and internship searches, and provide general career advice, Keag said.
Additionally, Luddy used surveys to check on its graduate students, a population of concern because many are international students on F-1 visas, she added. Based on the responses, the career advising team followed up with those who had lost internship opportunities. Resources on how to still have a productive summer and ways to expand skills that set themselves apart next year were shared with those students.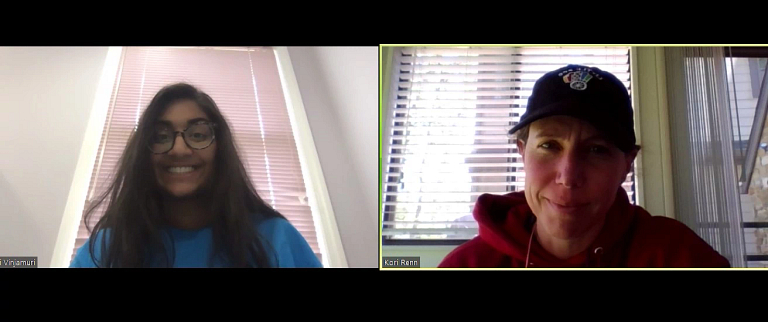 Kelley School of Business
A lot of services for students remained the same, except they went virtual, said Rebecca Cook, executive director of undergraduate career services in the Kelley School of Business.
For example, scheduled appointments with staff and drop-in conferences with peer coaches continues, but by Zoom. Other extra efforts were also made.
"We're trying to be proactive and do a lot more reaching out," Cook said.
Efforts to connect with the 2,000 seniors in the Kelley School of Business included text messages and weekly newsletters.
More virtual programming was conducted. Cook and her team led Zoom sessions with seniors to discuss actions they needed to take and share ideas about how to expand their job hunt. Alumni from 2008 to 2010 talked with students about how to search for jobs in a recession.
A video for parents was created, which talked about how they could help their students, and posted to the Kelley Parents Facebook page.
Josh Zaacks, a senior who majored in finance and law, ethics and decision-making, said his career coach, Kori Renn, emailed him in April to check on him, and they ended up speaking by phone.
"Kori asked how I was feeling and what she could do to help," he said.
Zaacks told her that the start date for his corporate finance job with a major U.S. airline had been delayed until early 2021, and that he was concerned it could be rescinded later. Renn shared proactive steps that Zaacks could take for success in an uncertain job market, and how to strategically invest his time before starting the job, he said.
"I'm grateful for my Kelley support system," Zaacks said. "Having Kori reach out was a powerful reminder that staff and faculty still have our backs and are invested in our success."