INDIANAPOLIS – A team of recent graduates from the School of Informatics and Computing at IUPUI and the School of Science at IUPUI has been awarded $70,000 from the National Institutes of Standards and Technology, or NIST, for developing artificial intelligence technology to help police officers conduct their work more safely and efficiently.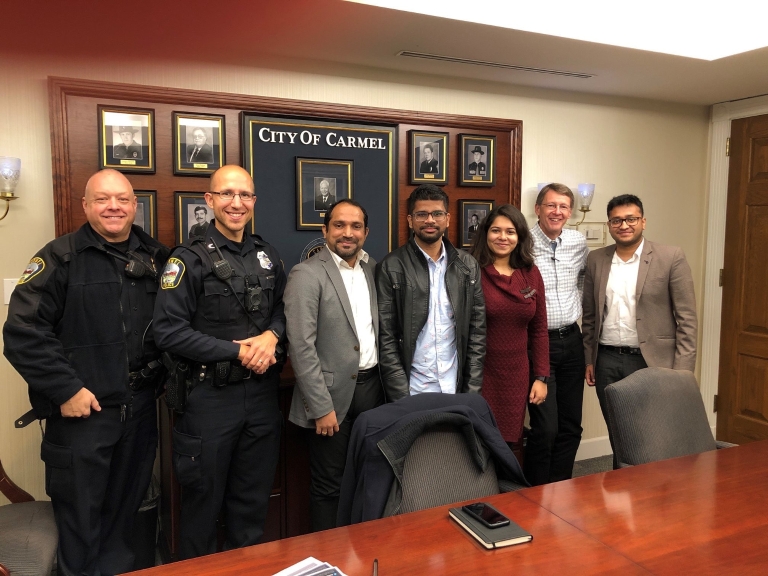 Along with funds previously awarded, NIST has granted the team a total of $112,500 under the Tech to Protect Challenge, a competition sponsored by the institute's Public Safety Communications Research Division that provides entrepreneurs, programmers, students and others the opportunity to create solutions to public safety communications challenges faced by fire, law enforcement and emergency medical service responders.
The support recognizes the team's development of Zenext, a voice-command virtual assistant based on Google Assistant that helps law enforcement conduct critical tasks hands-free. The technology works similarly to Siri or Alexa.
"This work contributes to the growing need for crisis-response technology," said Sonny Kirkley, an adjunct assistant professor in the School of Informatics and Computing and an affiliate of the IU Crisis Technologies Innovation Lab, who is one of the team's mentors.
"As technologies like artificial intelligence and voice automation mature, it's important to tailor their capabilities to specific tasks and professions," Kirkley said. "Zenext uses voice technology to bridge the gap between police officers and dispatchers and provides connectivity to important emergency agencies like fire departments and EMS."
Members of the IUPUI team are:
Bhavani Prasad Rao Ejanthkar, a 2019 master's degree graduate in computer science from the School of Science. Ejanthkar was responsible for application development on the project.
Aamir Khan, a 2020 master's degree graduate in human-computer interaction from the School of Informatics and Computing. Khan contributed software-engineering expertise to the project.
Swarnamouli Majumdar, a 2018 master's degree graduate in data science from the School of Informatics and Computing. Majumdar served as the program manager and technology lead for data science and artificial intelligence on the project. She is currently a lead data analyst for data science strategy and cloud migration for the state of Indiana.
Mayur Srivastava, a 2019 master's degree graduate in human-computer interaction from the School of Informatics and Computing. Srivastava played a major role in user and market research and user testing on the project. He is currently a senior user-experience designer for the state of Indiana.
I Ting "Tiffany" Tseng, a 2020 master's degree graduate in human-computer interaction from the School of Informatics and Computing. A user-experience designer and web developer, Tseng was the key player in designing the Zenext app.
The team's other faculty mentor is Lou Lenzi, a professor of practice in the School of Informatics and Computing.
The Tech to Protect Challenge was composed of 10 contests and 10 "code-a-thons" across the U.S. The team placed first, second and third for three different projects earlier this year at regional code-a-thons in Chicago in September and in Pittsburgh in November, winning a total of $17,500 and $25,000, respectively.
Of the three projects the team had in competition, two were eligible for consideration in the finals. Of those, Zenext was one of only 25 finalists selected to advance to the national award competition that took place May 1.
As the top contestant in the Voice AI category, Zenext was awarded $40,000 for receiving a top rating of "Excellent" at the national competition, as well as $30,000 of seed-round funding to support "product maturation and business development."
Kirkley said the IUPUI team's work stood out due to the strength of their technology and their close partnership with local law enforcement.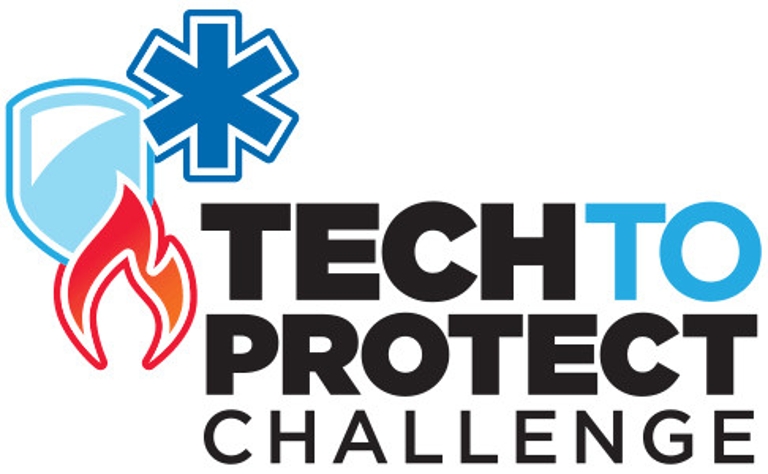 Zenext couples natural language processing and artificial intelligence with user-centered design, added Majumdar, whose earlier experiences merging text-to-speech and speech-to-text technology within an Android software-development platform sparked the initial concept for the project.
In terms of collaboration, the team worked with the Carmel Police Department throughout the development process.
"A police car is really a small mobile office, with a laptop, a printer, a camera – all of which are required for officers to do their job," said Khan, who, along with other team members, participated in ride-alongs with Carmel police. "Officers need to enter license plates, type and communicate with their colleagues – often at the same time they're conducting other tasks."
Zenext reduces the risk of distracted driving because, for example, officers can look up license plate numbers through voice command while pursuing drivers, he said. The technology also automates the process of entering the same information into multiple forms and gives police the power to quickly share critical information using hands-free email or radio communications, which is not possible with current equipment.
The improvement of officer safety and "just-in-time assistance" that reduces time-on-task through natural language processing was a clear win-win for Zenext, Majumdar said.
"I think our collaboration with law enforcement enhanced the authenticity of our project," she added. "You need to talk to real people about real problems if you want to add value. Along with technology, I think the biggest part of our success in the competition was the human-centered design."
As winners in the national contest, the IUPUI team is eligible to compete for another $70,000 during the Progress Round in November. Over the next six months, the team aims to advance their prototype to the beta test stage, including working with a hardware manufacturer to integrate voice-command software and cloud technology into a custom device and with the Carmel Police Department to employ the technology in field tests.
"NIST wants real solutions to real problems and is willing to provide the entrepreneurial funds required to create real products, thereby contributing to the Indiana economy," Kirkley said. "Beyond funding, I think the greatest value of this competition was the opportunity to develop some real-world solutions to critical issues in public safety."