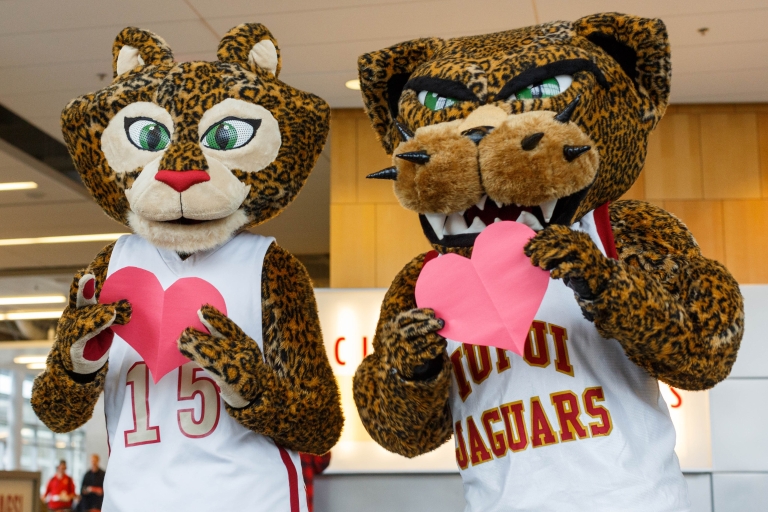 A simple phone call can go a long way.
Amid the uncertainty caused by the COVID-19 pandemic and the campus's resulting transition to remote learning this semester, the health and well-being of IUPUI students remains a top priority. A COVID-19 Resource Guide was created for students and parents with a variety of resource links.
Seeking to extend those resources and to make sure students were on track as the semester drew to a close, Executive Vice Chancellor and Chief Academic Officer Kathy E. Johnson created Jags Check-In. This telephone campaign connected IUPUI staff and faculty volunteers directly with the undergraduate students, who endured a tough transition this semester.
"While everyone is establishing routines and learning how to navigate the new normal, our No. 1 priority is our students," Johnson said. "None of us could prepare for the full transition to remote learning and such a drastic shift in the college experience in a matter of weeks.
"We are hoping these calls provide support and encouragement during this unusual time. No Jaguar should feel alone or lost."
Jags Check-In received overwhelming volunteer support from staff and faculty throughout campus who were concerned about the students. More than 125 staff and faculty collectively made thousands of calls, with the goal of checking in with every undergraduate student at IUPUI, IUPUC and IU Fort Wayne.
Entire divisions and offices have volunteered, as have individuals wanting to help. Each volunteer was assigned at least 100 students to contact.
Some of the volunteers regularly interacted face-to-face with students prior to the pandemic and missed the daily connections. Others were looking for an opportunity to provide a service to the students and were more than happy to offer their time. The care and concern of employees at IUPUI, IUPUC and IU Fort Wayne has been on full display.
"This call campaign is a reflection of how important individual student well-being is to our university leaders and something that all universities should be doing during this health pandemic," said Neil Flick, finance and business administrator for AMPATH, an Indiana University Simon Comprehensive Cancer Center program in the IU Center for Global Health.
Flick volunteered out of a concern for the campus community's well-being. He was excited to chat with undergraduate students; he does not typically interact with them in his work for AMPATH, which is focused in Kenya.
Having spent a decade working in global health, Flick has been impressed with the level of ingenuity, resourcefulness and resilience displayed among populations with low resources in sub-Saharan Africa. He's found inspiration from his conversations with students, as he recognizes similar qualities in the two groups.
"I am continually impressed at how truly resilient IUPUI students are," Flick said. "One student expressed frustration about losing three different part-time jobs, yet she expressed optimism that this will all pass."
The resiliency and ability to adapt have been a central takeaway for many of the Jags Check-In calls.
"Most of the students I talked to are doing a great job of making the best of an unfortunate situation," registrar services representative Madeline Parker said. "They have been generally very understanding that the situation is not ideal, but that we are all handling things as best as we can."
The unexpected calls have pleasantly surprised students and parents who appreciate the outreach. One volunteer had a conversation with a cheerful mother who was very excited that her son's school had called to check in on him and ran through the house to have him to join the call. Another had her "day made" when a student asked her some questions in return and was interested in how she was doing.
"In my job role, I normally talk to students when there is a problem," Parker said. "Making these calls was a really nice change in perspective that allowed me to talk to students and hear about things that are going well. I did not expect the amount of positivity that I heard on these calls."
Volunteers are providing more than a "How are you doing?" check-in; they are becoming instantaneous problem-solvers and resource-sharers over the phone.
Cindy Harkness, outreach and community partnerships coordinator with the Division of Enrollment Management, talked with a student on her birthday and then sent her virtual birthday balloons.
Jill Lyon, a customer service representative in the Office of the Bursar, directed a student to the Math Assistance Center. The student had mentioned having difficulty with a math class and was surprised to learn the tutoring resource was available virtually.
As the spring semester winds down, Jags Check-In has been beneficial for students, staff and faculty, connecting them in positive and supportive ways.
"This experience has been so rewarding for all of us to reach out to our Jaguar community," Harkness said. "It made me realize how much I miss all of our students. We love working with them, and this has personally been a truly enriching experience during this challenging time."