Indy mayor proclaims May 16 'Graduates of IUPUI Day'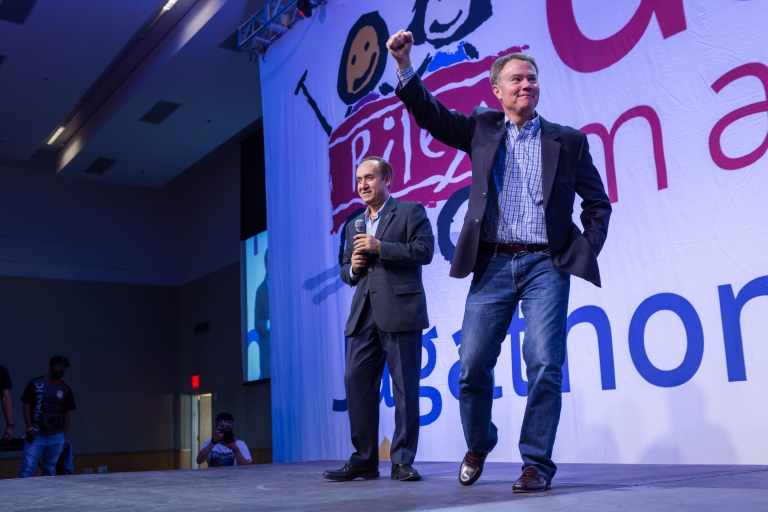 Indianapolis mayor Joe Hogsett formally proclaimed May 16, 2020, the original date for IUPUI's commencement, as "Graduates of IUPUI Day." Hogsett said in the proclamation: "IUPUI 2020 graduates are celebrated today and every day in the City of Indianapolis for their selfless and unwavering pursuit of excellence. A time will come for public ceremony and celebration. Until then, use this time to appreciate the wisdom and fortune granted by an IUPUI education. Congratulations to the Class of 2020 – go Jags!"
IUPUI names outstanding students for 2020
IUPUI's 2020 Top 100 Outstanding Students ceremony took place digitally and recognized the honorees with a video. Chancellor Nasser H. Paydar's salutations to the students were also shared digitally.
Senior Kira Couch was named the 2020 Most Outstanding Student. From Lisle, Illinois, Couch double-majored, earning a biology degree from the School of Science and a Spanish degree from the School of Liberal Arts.
More than 1,700 students were nominated this year. From the Top 100 students, the "most outstanding" and the Top 10 students were chosen by a panel of alumni, faculty and staff. The IUPUI Alumni Council sponsors the annual dinner, which was canceled this year because of the COVID-19 pandemic.
Students are selected in recognition of their scholastic achievement, cocurricular activities on campus, and civic and community service.
The Top 10 students are:
Sabria Abufares, from Zionsville: Biomedical engineering, School of Engineering and Technology, senior.
Rabiah Amjad, from Indianapolis: Biology and neuroscience, School of Science, senior.
Kori Bowen, from Terre Haute: Health sciences, School of Health and Human Sciences, senior.
Alexa Carr, from Indianapolis: Philanthropic studies and biology, Lilly Family School of Philanthropy and School of Science, junior.
Kylie Dennis, from Avon: Neuroscience, School of Science, senior.
Ryan Fraser, from Carmel: Finance and international studies, Kelley School of Business, senior.
Rutuj Gavankar, from Mumbai, India: Physics and electrical engineering, School of Science and School of Engineering and Technology, junior.
Kamna Gupta, from Carmel: Medical humanities and health studies, School of Liberal Arts, senior.
Neema Patel, from Warsaw: Health services management, Fairbanks School of Public Health, senior.
Attiya White, from Hammond: Psychology, School of Science, senior.
Visit the IUPUI Top 100 Outstanding Students website for a full list of honorees.
Chancellor hosts Academic Honors Convocation
Chancellor Nasser H. Paydar – along with Executive Vice Chancellor and Chief Academic Officer Kathy Johnson, interim Vice Chancellor for Research and Graduate Education Janice Blum, and former director of the IU graduate school at IUPUI Sherry Queener – hosted the Virtual Student Recognition.
The video honored student award-winners receiving a variety of campus awards.
ICYMI: IU celebrates graduates with virtual pomp and circumstance
IU had to postpone graduation ceremonies because of the COVID-19 pandemic, but it is honoring graduates with a dedicated website that will host acknowledgements and virtual celebrations, links to video messages, social media interactions, and commencement music playlists.
The site will include messages from IU President Michael A. McRobbie, IU Bloomington Provost Lauren Robel, IUPUI Chancellor Nasser H. Paydar, regional leaders and deans.
Inside IUPUI's summer schedule reminder
Inside IUPUI is now shifting to its summer publication schedule. It will publish June 11 and July 16 before returning to a weekly schedule in the fall.
This schedule is subject to change should emerging news of importance to staff and faculty be announced.